2012 NBA Draft: Most Overrated Players
by Robert Ferringo - 6/11/2012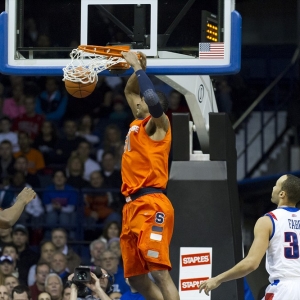 The 2012 NBA Draft takes place on Thursday, June 28 in Newark, New Jersey, and it is all but a total certainty that Kentucky center Anthony Davis and his amazing unibrow will be the No. 1 overall pick by the New Orleans Hornets.
With all the drama gone as to who the first pick will be, there are still a load of question marks about who will go where after Davis is off the board.
There is no consensus No. 2 player in the 2012 NBA Draft. Thomas Robinson of Kansas, Bradley Beal of Florida, Michael Kidd-Gilchrist of Kentucky and even Andre Drummond of Connecticut have all been linked to the Charlotte Bobcats, who have the second pick.
But while that pick will send ripples throughout the entire draft, I feel that the most important subplot, and the storyline that could have the biggest impact on the first round of the NBA Draft, is how NBA general managers size up two of the most talented but enigmatic players in this year's crop: Harrison Barnes from North Carolina and Terrence Jones from Kentucky.
Barnes and Jones are both leaving after their sophomore seasons. And just two years ago they entered college basketball as two of the most highly-touted and most anticipated players of the last 20 years. Barnes was a preseason All-American before he had even played a college game and Jones was expected to be the kingpin of Kentucky's next title team.
Both players had, by any impartial measurement, strong college careers. Barnes averaged 16.3 points and 5.5 rebounds per game over two years with a perennial Top 5 team. Jones won a national title and averaged 14.0 points and 8.0 rebounds per game.
But both were horribly inconsistent and neither really lived up to their advanced billing. Both players were prone to disappearing acts at key times and neither ever really stepped up and took control of their teams. Despite his size, Barnes had only three double-doubles in 75 career games. Jones averaged only 9.4 points per game during Kentucky's last five tournament games and he was held to 10 points or less in 25 of his 78 career games.
So where do each of these players go in the upcoming draft? They both have the bodies and the upside of future NBA all stars. But they have also both shown some major weaknesses, mostly mentally and just with their overall games. I've seen Barnes projected as high as No. 2 and as low as No. 17 in NBA mock drafts. And Jones is projected lower despite the fact that he may be the better player.
The decision as to whether or not Barnes and Jones are underrated or overrated will be a major theme in this year's lottery. However, below is a list of guys that, currently, are completely and utterly overrated in terms of where they are being predicted and projected in the upcoming 2012 NBA Draft.
Here is a list of the most overrated players in the 2012 NBA Draft:
Damian Lillard
I would bet you that 90-95 percent of the people reading this or the people that are going to watch the NBA Draft have never seen this kid play. And most, prior to the recent run of NBA mock drafts, had probably never heard of him. I have. And no one is quicker to stand up and sing the praises of mid-major players than I am. But Lillard is really nothing special. And he is not one of the 10 best prospects in this draft. But there he is, in virtually every mock draft, going in the Top 10. The Big Sky was particularly pathetic last year and Lillard didn't even really seem that dominant. (Weber State didn't even win the league.) In fact, isn't anyone particularly worried that Weber State played BETTER in 2010-11 after Lillard went down with a knee injury? Look, the kid can play. But he's not a Top 10 pick.
Arnett Moultrie
Again, I have been a big fan of Moultrie's since he was doing yeoman's work at UTEP. And Moultrie had a very nice year in his transfer season at Mississippi State. But the Bulldogs were a train wreck and the SEC, generally, stinks. So it's kind of tough to see Moultrie as a Top 20 pick, where he is being projected as kind of a "sleeper big man". His ceiling is kind of an eighth man/rotational big. Are you going to use a Top 20 pick on that?
Meyers Leonard
Twelve months ago this was a guy who averaged 2.1 points and 1.2 rebounds. Now he is a guy that was held under 10 points against SIU-Edwardsville, St. Bonaventure and Nebraska (twice). Leonard isn't nearly as good or as proven as Tyler Zeller, and even Zeller is a guy that might have a hard time sticking in the NBA. Leonard will be in Europe within three years, yet I see someone blowing a way-to-early pick on him.
Moe Harkless
Huh? I have seen this guy in the Top 20 in just about every mock draft that I have seen. Look, he has some raw natural talent. He is 6-8 and he shows a little game. But I never felt like I was watching some future star when I saw him play. He shot a lot more than he should have, considering he was just a 21 percent three-point shooter, and there is just no doubt that he could have used at least another year of polishing before entering the draft. He has some upside, but not enough for me to want him on my team. Especially with a first-round pick.
Andre Drummond
If I were ranking these overrated players I would probably have Drummond lowest on the list. On the one hand, the guy was a stiff in his lone college season while barely averaging 10 points and eight rebounds per game. On the other hand he is a man-child. Drummond is 6-11 and 275, which means he is nearly the same size as Andrew Bynum. But I'm not a big Bynum guy (this was his seventh year in the league and this was the first season I thought he really was a difference maker). Drummond is likely to go in the top eight or nine picks. But that means he is probably going to a terrible team, and can/will any of those clubs give him the time and patience needed for him to develop?
Fab Melo
OK, anyone that would draft Melo doesn't deserve to have a job in an NBA front office. Let's put aside the enormous list of off-court red flags surrounding Melo (including, but not limited to violence against his girlfriend, smoking pot, and not going to class). The fact of the matter is that this guy CAN'T PLAY. I am a diehard Syracuse fan so I have seen every minute of his career. His offensive game is nonexistent. I mean, he's a total spaz on that end of the floor. And his defensive game is limited to being 7-1 and wildly flailing at shots trying to block them. He's not a top-tier rebounder and he had more than one incident where he freaked out on his teammates on the court. This guy shouldn't be drafted in either round. But most mocks have him going somewhere in the 20s. This guy won't be in the NBA in two years. Bank it.
Austin Rivers
This guy was one of the most overrated players in college basketball this year. Now he gets to be one of the most overrated players in the NBA Draft. That's tough to do. Rivers was a completely inefficient player at Duke and I never saw him dominate a game. He had more turnovers than assists, he didn't meld well with the other players in the Duke backcourt, and he shot only 36.5 percent from three-point land (while taking about five threes per game). Nothing about his freshman year impressed me that much. And let's not forget: the ACC was pathetic this year beyond the top three teams.
Kendall Marshall
Marshall was a very nice college point guard. But he wasn't better than Raymond Feltonand he wasn't better than Ty Lawson. Marshall has a very nice feel for the game and is an exceptional passer. But he isn't super-athletic and I don't think he can score at the NBA level. Marshall's job was pretty easy at UNC: run the ball up the court and find whichever NBA-caliber big man was filling the lane. He was good at it. But I don't know about his pro potential. A lot of drafts have Marshall going in the lottery. There is absolutely no way that he is one of the 12 best players in this draft.