NBA Handicapping: Lakers Outlook for NBA Championship
by Trevor Whenham - 1/19/2012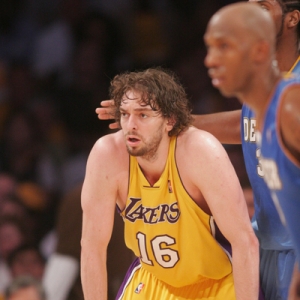 Coming into this NBA season there was all sorts of talk about the Lakers. In fact, it was the biggest topic of discussion. They had had a lousy offseason, they had lost their legendary coach, and there was a belief among many that they were no longer the best team in the Staples Center, never mind the Western Conference. L.A. has been the most public of teams for years, but was that about to end?
So, what have we learned now that we are about a quarter of the way through the season? Not much, really. It has been inconclusive at best. There are positives — they are atop their division, in the heart of the Western Conference race, and have amassed a very impressive 9-1 record at home. There are unfortunately negatives, too, though — they have only one win in five games, depth is a real concern, and their luck with injuries, though already not being great, isn't going to improve.
Let's take a look at four factors that are going to have a big impact on how this team will perform the rest of the way this season, and how bettors should deal with them:
Kobe Bryant
Needless to say, Bryant is the single biggest topic of discussion when you look at this team. It's also a very complicated discussion this year. On the surface he is performing as well as you could possibly hope. His points average is the best it has been in five years, and more than five points per game higher than last year. His rebounds are the best they have been over that period as well, and assists are the best they have been in eight years.
It's not all positive, though. In fact, there are some areas of real concern. He clearly doesn't have a lot of faith in his teammates — at least offensively — and he's taking it upon himself to make up for all the shortcomings. He's shooting more often than he ever has in his career, and he's using up 40 percent of Lakers' positions himself — either as shots, turnovers, or fouls. That's significant because no player in NBA history has had a usage rate of 40 percent or higher in a season.
More concerning than that, though, is that a guy who has generally made decent decisions is taking some truly terrible shots. He's always had the confidence to make shots others may not, but he's doing it more — and that reeks of desperation.
There are many reasons to expect that Kobe could have issues this year. His health is a question, his personal life is in shambles, his long time coach is gone, his faith in his GM absolutely has to be shaken, and he knows he's not getting any younger and his championship window isn't getting any bigger.
To have faith in his ability to keep up his performance at current levels, and to be able to continue to carry the team like he has, is a scary concept. To look at this team without focusing heavily on Kobe would be a huge mistake. At this point in the NBA there is no player who is more significant to their team than him, and it's not even close. That's not a good thing in this case.
Depth
What depth? There were serious concerns about this team heading into the season, and those haven't been alleviated.
Only three guys are scoring in double digits. Point guard was a big concern coming into the season, it's still a big concern now as Bryant's obsession with ball control illustrates, and with Steve Blake out for a few weeks it won't improve.
Health isn't helping beyond Blake, either — only three players have played in every game. Andrew Bynum has already missed four games. When he is playing he's as good a center as there is in the league, but his fragility is yet another cause for big concern with this roster. Teams this shallow don't typically get better as time goes along.
ATS performance
Given that the team has performed reasonably well — especially at home — and that public perception of this team is lower than it has been for several years, you could speculate that this team should be performing better against the spread than they did in the past. If the public is not as convinced by the team then the lines wouldn't be quite as inflated, and would be easier to cover.
So far at least, though, that hasn't been the case. Last year they covered the spread in 48 percent of their games. This year they are 7-8 ATS — they are covering 47 percent of their spreads. The fact that their ATS performance hasn't improved despite the decreased public affection is an indicator of decreased strength for this team.
Road performance
This is where it gets scary. They have been lousy on the road — just 1-4 both straight up and ATS. They have yet to travel further west than Denver, and they have not played two road games in a row. That will change starting right away — they play road games on the 19th and 20th in Florida, and starting Feb. 3 they have a six-game road trip, including four games east of the Mississippi.
Their record has been inflated by their home play so far, so the future gives us real reasons to be concerned — and to look to cash in on their weaknesses.