NBA Handicapping: New York Knicks after Coaching Change
by Trevor Whenham - 3/29/2012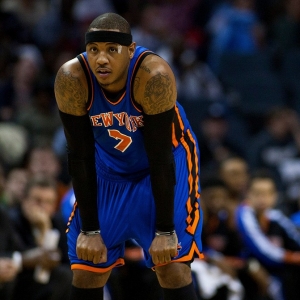 The New York Knicks have looked like a new team since Head Coach Mike D'Antoni 'retired' on March 14. They are 8-1 under interim Coach Mike Woodson, with the only loss being a totally inexplicable road drubbing in Toronto. The way they are playing it is going to be very tough for them to not give Woodson a shot at a full season next year.
They have played their way into a relatively secure playoff spot, and they stand a good chance of finishing above .500 (they are now 26-25). They've won their last two against a hot Milwaukee team and a pretty good Magic squad, and they have done it despite missing both Amare Stoudemire and Jeremy Lin due to injuries.
There is still plenty of time and lots of opportunities to falter — these are the Knicks, after all. For now, though, things are finally rosy in Madison Square Garden.
Whenever a team gets hot right after making a coaching change bettors have to wonder whether the boost is a sustainable improvement in play, or if or when the team is going to come crashing back to earth. Let's take a look at what is likely when it comes to these Knicks:
Carmelo Anthony
You could really start and end this discussion here because this is by far the biggest and most important change that Woodson has made. In Anthony the Knicks have a Top-10 talent in the NBA — a world class player.
D'Antoni seemed unwilling or unable to use Anthony in a way that took advantage of the massive asset that Anthony can be. D'Antoni wanted Anthony to create offense from the outside, creating offense from the perimeter. That's like buying a Ferrari to drive your kids to soccer. Anthony is an elite post player.
As soon as Woodson took over he recognized that and shifted the offense to allow Anthony to go where he belongs. Anthony has spent twice as much time in the post in the last nine games, and it is no coincidence that the team has been much better as a result.
Anthony was unwilling or unable to play how D'Antoni wanted him to, and it created a standoff that filtered through the whole team.
It's not just that Anthony scores more points with his back to the basket. He creates so many more opportunities for his whole team as well. He draws so many more double teams inside because teams can't afford to leave him alone. That allows much more space outside, and allows him to create plays and generate assists. It also allows him to get to the line and score free points much more often. He scores more easy points and shoots at a higher percentage, and he rebounds better as well.
This team is just so much better with Anthony unshackled that it seems impossible to believe that it took this long for him to get this opportunity as a Knick. As long as he is continued to be allowed the opportunities — and he can stay healthy — this is not going to be the same team we saw for much of the year.

Not D'Antoni
Mike D'Antoni is a great coach if he has the right personnel. With Steve Nash in his prime in Phoenix things couldn't have been better. Unfortunately, he's not a guy who can adapt to the personnel he has, and his system is not one that guys can adjust to without the right skills.
The team he had was not a good fit, and it just got to be more and more of a problem — especially when coupled with the circus that sports in New York can be. D'Antoni's presence was quickly becoming toxic, so his absence is a huge boost for this team.

Woodson
Woodson is not D'Antoni. Not even close. He has a different approach to offense, a different demeanor, and a different way of interacting with players. He's also a very good coach.
He got a raw deal when he was not renewed in Atlanta after six seasons. The Hawks did lose badly to the Magic in the second round of the playoffs in 2010, but they had improved in each of his six years, and had turned into a pretty solid team.
He's a perfect voice for this team right now. Given that and his experience I have a lot more faith in his ability to sustain the hot start than I would for most coaches in this situation. It also helps that he only joined the team as an assistant this year, so he's not tainted in the players' eyes by being a "D'Antoni guy".
Stoudemire
It's not a good thing that Amare Stoudemire will miss 2-4 weeks with his latest injury. It's not as bad as it appears, though. The team has some depth — not ideal, but some.
Stoudemire hasn't played great this year, though, and is behind his typical production. With him out of the lineup it's a chance for Anthony to take over the team and make it his own without the distraction of Stoudemire.
Having one player as the face of this team would be a big help. Up to this point Anthony and Stoudemire have been trying to figure out how to make it work together. This will help.

Defense
The big things the Knicks have going for them is that they play very good team defense — disciplined and surprisingly committed for a team that has been so slack in so many other ways at times. Under Woodson that's not going to change, and it could even improve as the team gets more comfortable in roles that make more sense for them.
The defense is something they can rely on, and that can really help them down the stretch and into the playoffs. Outside of Anthony, this is the biggest reason I am optimistic about this team's chances of making the playoffs — and maybe even winning a game against the Bulls.
Doc's Sports is offering $60 worth of member's picks absolutely free – no obligation, no sales people – you don't even have to enter credit card information. You can use this $60 credit any way you please on any of our top NBA handicappers. Click here for more details and take advantage of this free $60 picks credit today.