NBA Handicapping: Spurs Hottest Team in NBA
by Trevor Whenham - 2/21/2012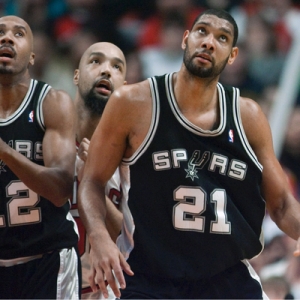 The San Antonio Spurs were a pretty easy team to write off heading into the season. They are getting older and they haven't made a splashy move in a while, so it was easy to think they had fallen a step behind the big guns in the West.
With their play this month, though, they have certainly served notice that they aren't done yet. They have won 11 straight, and haven't lost since Jan. 29. It's a truly remarkable stretch of performance, and it has moved them comfortably into second overall in the Western Conference. So, how are they doing it, what does it mean for bettors, and can they keep doing it? Let's take a look:
Schedule
This is where things get really impressive. Not only have they won eight straight, but eight of those wins, including the last seven straight, have come on the road. The schedule makers threw the Spurs a curve that could have ruined the season in this shortened year, but San Antonio has thrived in the face of the challenge.
There have certainly been some easy spots in that stretch of games — in three straight games they beat loser squads in New Jersey, Detroit, and Toronto. They haven't just feasted on cupcakes, though. They have won in Memphis twice, served up just the fourth home loss in 15 games for the Clippers, and beat Houston and Oklahoma City at home by an average of 10 points.
You certainly can't be critical of the schedule they have played to accomplish this.
The road success is even more remarkable when you look at the team's road record. The eight victories have moved them to just 10-8 on the road this year. That means that they were 2-8 before this streak of success. It becomes easier to have faith in the sustainability of a turnaround when something that dramatic has occurred.
ATS
What is most impressive about this winning streak is that despite the attention they have been getting they have been covering spreads very nicely. They are 9-1-1 ATS during this winning streak. That has lifted them to 19-12-1 ATS on the season, which makes them the most profitable team in the league at this point.
The longer that the streak runs, the harder it will become to cover spreads since the public will bet on the team more. That has shown up already — they are 2-1-1 ATS in their last four, so the size of the spreads is starting to catch up to them.
Tony Parker
As you would expect, the point guard has been a big reason for the success of this team recently. He was already having a solid year, with many of statistical numbers — most notably points and assists — ahead of his career totals.
In the last month, though he has stepped his game up dramatically. His point per game average in the last 10 games is six points higher than his season average. His assists, field goal percentage and steals are all higher, too. He has really stepped his game up, and that has had a huge impact on his team.
We've seen in the past that Parker is able to elevate or depress this team based on his mindset and intensity, so watching him in the next several games will be the best indicator of how the team is likely to fare.

Tim Duncan
Duncan was the first overall pick the year I graduated from college, so it depresses me in a major way that he's now one of the NBA's old men. His production has fallen off in recent years as you would expect, and he's now more of the spiritual leader of the team than the chief producer.
Like Parker, though, Duncan has really elevated his game this month. His averages are up, and he's had a double-double in six of his last eight games. That's especially impressive when you think that he only had five double-doubles in the first 24 games of the season.
He's feeling good and playing well, and his teammates can't help but respond to that.
Injuries
I've been very positive up to this point, but this is sadly where things have to get negative — or at least where they could potentially get negative. The injury big has hit hard this week. First, Manu Ginobli went down on Saturday went down with a strained oblique, and is expected to miss two weeks. Then Tiago Splitter strained his right calf, and will also miss two weeks.
On paper Ginobli is a huge loss. Of course, he was just four games removed from another injury — a broken left hand that cost him 22 games. The team is where they are this year without a lot of input from him. Unfortunately, they didn't play great for the first half of that absence.
Splitter is perhaps a bigger loss at this point. The second-year player has taken a huge step forward this year, and has been eating up more than 20 effective minutes at center each game. That has taken all the pressure off of Duncan, and has allowed him to be particularly effective when he is on the court. Without Splitter the pressure will be intensified on the old guy, and the production out of the center position will decline.