NHL Handicapping: Weekend Hockey Betting Primer With Free Picks
by Dave Schwab - 2/3/2012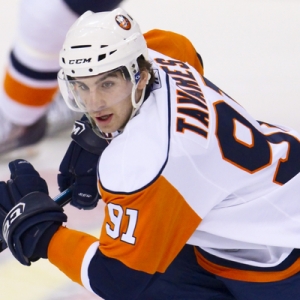 The race to the Stanley Cup Playoffs is now in full gear coming off last weekend's NHL all-star break. There are a few top teams that have not only separated themselves from the pack by their play on the ice, but by providing a profitable return for anyone who has consistently wagered on their games.
The following are our three 'best bets' for this weekend in the NHL featuring teams that have established themselves as proven money makers this year. We will provide these free NHL picks every week.
Friday, Feb. 3
New York Islanders (+140) vs. Ottawa Senators (-160)
New York is mired in last place in the Atlantic Division with 47 points and an overall record of 20-22-7, but it is playing its best hockey of the year with a 6-3-1 record in its last 10 games. Ottawa has lost its last four games in the midst of a six-game road trip, but is still within striking distance of Boston in the Northeast Division with 60 points and an overall record of 27-20-6. It is a profitable +1249 on the money line and sporting the best record in the league against the puck line at 34-19.
These two have yet to play each other this season, but the Senators are 6-3 in the last nine meetings. Ottawa finally gets a chance to play at home where it is 14-9-1 this season verses the Islanders' 9-11-3 record on the road. Stick with the home-town crowd to help the Senators get back to their winning ways.
Prediction: Ottawa 4, New York 1
Saturday, Feb. 4
Pittsburgh Penguins vs. Boston Bruins (OFF)
Pittsburgh is back-on-track with an 8-2 record in its last 10 games to close the gap with the Atlantic Division-leading New York Rangers to seven points. It is coming off a 1-0 loss to Toronto this past Wednesday as a -117 road favorite to fall to 29-18-4 overall and 14-11-2 on the road. Boston has posted just two wins in its past five games, but it still has a six-point lead in the Northeast Division with 66 total points. It is 32-15-2 overall and 17-8-2 at home and one of the most profitable teams in the league on the money line at +1154.
The Bruins came away with a 3-1 victory as 108 road favorites the first time these two met this season and have now won three of the last five meetings. Boston comes into this matchup licking its wounds from a 3-0 loss to Carolina this past Wednesday as an overwhelming -265 home favorite. This is actually bad news for the Penguins since the Bruins have not lost two straight at home since late October.
Prediction: Boston 3, Pittsburgh 2
Vancouver Canucks vs. Colorado Avalanche (OFF)
Vancouver has lost just twice in its last 10 games to open up a 10-point lead over Minnesota in the Northwest Division with a total of 67 points. This streak has helped boost its return on the money line to +814. It is 31-15-5 overall and has the best road-record in the Western Conference at 16-9-1. Colorado is 3-6-1 in its last 10 games and is winless in its last four. It is now 26-25-2 overall, 14-13 at home, and -1008 on the money line.
The Canucks are 8-2 in the last 10 meetings including back-to-back shutouts this season with a 3-0 victory on Nov.23 as -144 road favorites and a 6-0 rout as -200 home favorites on Dec. 6. Combining the recent trends in this series with the current form of both teams, ride the Canucks all the way in this matchup as they roll to another convincing win over the Avalanche.
Prediction: Vancouver 5, Colorado 2