Preseason All-Americans Due for a Letdown
by Trevor Whenham - 8/15/2012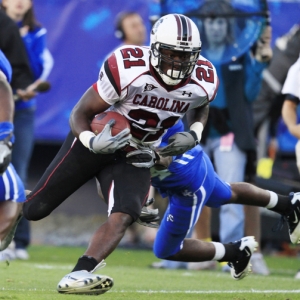 Here's a bold prediction — Tyrann Mathieu is not going to be an all-American at the end of this season. The Honey Badger is out of football — at least temporarily — because he likes smoking pot more than he likes passing drug tests. He was on the Sports Illustrated Preseason all-America list, though. There likely won't be any more players on that list who lose their position in such dramatic fashion. There are inevitably going to be several players, though, that just can't hold onto their preseason position through the season. Here are five Preseason first-team all-America players who stand a good chance of not being on the list when the year ends:
Marcus Lattimore, RB, South Carolina
When he is at his best Lattimore is a very special running back — truly electric. As a freshman he had vision far beyond his years and was able to adapt to hit a hole like few can. He's coming off a knee injury that kept him out for a big portion of last season, though, so I find it hard to trust that he will be at his best again. Really, he's the best argument against picking him to wind up on this list — he emerged as a freshman to dominate, and others have before, so there is no big advantage for an upperclassman at this position. There are a whole lot of talented running backs out there, and there are a lot of coaches who know how to coach the run, so I just think it's much easier to bet against Lattimore here than to trust in him.
Tyler Eifert, TE, Notre Dame
This is ridiculous. Eifert was the leading receiver last year for the Irish, but that's more because they were lousy through the air than because he was any good. His numbers were far from dominating — 63 catches for 803 yards and five TDs. This year he'll be playing for a quarterback who is inexperienced — and it's not clear who will emerge from the QB competition there yet. To assume that he'll develop the chemistry he needs to stay on the first team is a massive leap of faith. The tight end position is enjoying new prominence in the NFL these days, and that's translating to the college game as well. Surely a player will have to do more than Eifert is likely to do to land on the top team.
Ricky Wagner, OT, Wisconsin
Wisconsin is always good at identifying massive cheese-eating boys and turning them into strong linemen, and Wagner fits that mold. He's unquestionably a very nice player. To assume that he is going to be able to make the leap all the way to the first-team all-America this year, though, is truly a stretch. The last two years he has only been an honorable mention in the all-Big Ten year-end lists. It's a big leap from not even being the best in your conference to being the best in your country. He's probably capable of it, but it seems like an unnecessary risk to bet that it will happen.
Jonathan Cooper, OG, North Carolina
This has nothing to do with Cooper — he's a very good player with 35 career starts already to his name. It's just a bad idea to bet that a player from North Carolina can wind up on this list. They are a school with all sorts of issues. Butch Davis was forced out, but the academic scandal facing the school just keeps getting worse and worse. It's going to be a massive distraction this year, and the public will have a very negative perception of the program as a result. It will be very hard for Cooper to get the attention he needs in the face of those issues. On top of all that the team just isn't going to be very good. New Coach Larry Fedora will look to make sweeping changes, and he wasn't left with a whole lot to work with by Davis. There will be players on better teams with a much easier road to this team than Cooper will have.
Star Lotulelei, DT, Utah
Lotulelei is a total beast, and a big part of the reason why Utah quietly led the country in turnover metrics last year. Given what Utah has to offer and the conference they play in, though, it seems very likely that they were overachieving last year, and that they are unlikely to be able to reach those same heights this year. It would be very tough for Lotulelei to make the leap from all-Pac-12 to all-America if his numbers or those of his unit decline. It will also be very hard for him and his squad to get any attention in the Pac-12 this year with the high expectations for USC and the coaches who will be hogging the headlines.