Ranking the Best Bowl Games for 2012-13
by Trevor Whenham - 12/11/2012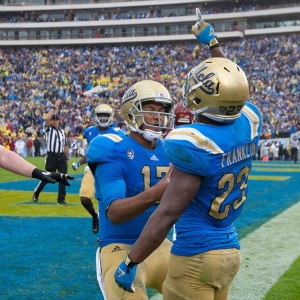 I'm not a Bowl snob. Some people believe that a bowl isn't worth watching unless it is a BCS Bowl or at least played in January. I'll watch any bowl game, though, and I often enjoy games in mid-December as much or more than the ones that get all the headlines and attention from bettors. As I look at the schedule of bowl games this year, here are the 10 games that stand out as the most interesting both as a fan and a bettor. They are presented in chronological order:
Poinsettia Bowl - BYU (-2.5) vs. San Diego State
Both these teams have been tough squads that know how to play defense. What makes this game particularly compelling, though, is the personal story here. BYU coach Bronco Mendenhall worked under SDSU coach Rocky Long for several years at New Mexico, so they have no secrets from each other. I think Mendenhall has surpassed Long as a coach, but this will be a good chance to see if the master still has a few things left to teach the apprentice.
Las Vegas Bowl - Boise State (-5) vs. Washington
Boise State is always interesting to watch in bowl season, and the Broncos have played tough football this year despite facing many changes. Washington is a team that has long been working to take the next step, and the Huskies always seem to come up just short. They were largely disappointing this year, but they won four of their last five. A win here would be a good way to head into Keith Price's last season.
Belk Bowl - Cincinnati (-7) vs. Duke
Cincinnati has lost Butch Jones, so they aren't going to be at their best in this one. That's not what makes this one interesting, though. Duke hasn't played in a bowl game since 1995. And the Blue Devils have played in only two since 1961, so their mere presence in this game makes it noteworthy. They won't lie down, either. They are behind in talent, but they are tough and well-coached and will make this one fun.
Holiday Bowl - Baylor ("pick'em") vs. UCLA
Baylor was a surprisingly tough team this year despite losing Robert Griffin III and so many other key pieces. UCLA stumbled at the end of the year, but the Bruins took massive steps forward in the first year under Jim Mora. They clearly have their QB of the future identified. Both programs could really use a win here to build on for next year, and this should be an offensively creative, high-scoring thriller.
Alamo Bowl - Oregon State (-2) vs. Texas
It seems almost impossible to think that Texas is playing in a bowl game in their home state and yet are an underdog. To Oregon State, no less. That's just where the Horns are, though. They have the ability to show that oddsmakers are wrong and dominate this one. Or they could falter badly and lose by a distance. Until we see the game we can't know for sure. The Pac-12 also looked very good this year, so this — the first game on the schedule between two ranked teams — will be a good indicator of whether the conference is ready for prime time.
Chick-Fil-A Bowl - LSU (-3.5) vs. Clemson
What's not to like in this one? One team has an elite defense. The other one is elite offensively. Only one side can play their game, and it will be a very good chess match as the teams try to find their edge. As an added bonus, with both teams called the Tigers there will be no limit to the puns the media comes up with.
Capital One Bowl - Georgia (-10) vs. Nebraska
I'm a Big Ten guy, but I can't see how the Huskers don't lose this one badly. Really badly. They just weren't a very good team, and they are coming off a shockingly poor performance in the Big Ten Championship. I want to watch this one for the same reason I like to watch a demolition derby. A wreck seems inevitable, and I can't look away. It's bloodlust.
Fiesta Bowl - Oregon (-9.5) vs. Kansas State
This is by far the most compelling BCS game — I have far higher hopes for this one than the BCS Championship Game. Both teams can score like they are in a video game. Both can do a few things on defense, but not enough to shut down their opponent completely. Both are very well-coached, though the two head men couldn't be more different in several ways. This one should be a whole lot of fun. If all goes as it should the question shouldn't be whether the teams can combine to go "over" the total, but rather how early in the game they can do it.
Cotton Bowl - Texas A&M (-4.5) vs. Oklahoma
"Johnny Football" is now "Johnny Heisman". A lot of guys have flopped in their bowl game after winning the biggest individual trophy in sports, but not a lot of guys play like Manziel does. Can he have another superhuman game? Or can an Oklahoma squad that doesn't get the respect they deserve shut him down? Landry Jones would likely love nothing more than to show Manziel up in his last college game.
GoDaddy.com Bowl - Arkansas State (-3.5) vs. Kent State
There are a whole lot of programs heading into bowl games with departing head coaches that got them this far, but this is perhaps the most interesting case. Both teams lost their coaches, but neither was with their program long — two years for Darrell Hazell and one for Gus Malzahn — and both programs knew that the coaches weren't there for the long haul. Most interesting, both departing coaches intend to coach this game, so it will be a chance for both to leave on a high note. If they can motivate their players to play for them then there could be some real highlights.
Doc's Sports wants to give you a great offer to try out our expert college football handicappers for free with no obligation, no credit card required and no salesman ever! These are the same college football picks that our clients receive from any of our Advisory Board handicappers and you can get $60 in picks credit in minutes. Click here for more details and to take advantage of this free $60 picks credit today.