2013 Belmont Stakes Handicapping: Early Look
by Trevor Whenham - 5/21/2013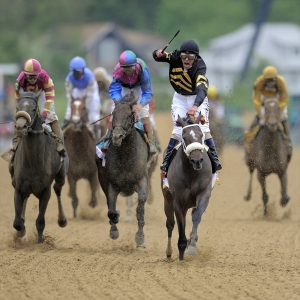 For yet another year we are not going to see a Triple Crown winner. Sigh. While that puts a bit of a damper on the third jewel of the series, the Belmont Stakes on June 8, we still have what should be a good race to look forward to. The lack of a Triple Crown threat means that challengers aren't afraid to enter the race, and that, in turn, means that we are looking at the potential for a large, deep field. At this point there are at least 14 horses under consideration, though that will obviously change, and likely shrink, by post time.
At this point it is at least possible, and perhaps even likely, that we will see a rematch of the Kentucky Derby and Preakness winners in the Belmont. Orb was completely flat in the Preakness after dominating the Derby. He came out of the race fine, though, and he has already returned to his home base at Belmont. He'll go back to the track for workouts starting later this week, and if he looks good we'll see him again. Preakness winner Oxbow is at home at Churchill Downs. Trainer D. Wayne Lukas is old school, and he loves the Triple Crown like nothing else, so it would take a serious setback for his surprising champ to not run again.
Lukas has had multiple horses in both races so far, and it is likely he will yet again. Will Take Charge was a disappointing seventh in the Preakness after a solid Derby. He's a huge horse, though, so the wide turns and very long stretch at Belmont would suit him very well.
After running five horses in the Derby and doing no better than third, Todd Pletcher skipped the Preakness to lick his wounds. He's on track to be back in full force at the Belmont, with four, and possibly more, potential entrants. Revolutionary, a strong third in the Derby, is all but definite. He'll be joined by Overanalyze, who was 11th, and Palace Malice, the runaway Derby pacesetter. Also likely to join the fray is Unlimited Budget, the highly-touted filly who was a disappointing third in the Kentucky Oaks the day before the Derby. Two other colts, Micromanage and Midnight Taboo, are possibilities that could get serious consideration of they continue to work well. Overanalyze and the last three horses are all owned by Mike Repole, the founder of Vitaminwater who is absolutely desperate to win a Triple Crown race after investing millions in horse ownership.
Golden Soul was the surprising longshot who finished a strong second in the Derby. He'll be back here to prove that that performance was no fluke, and his stamina and running style suit the race well. Preakness runner-up Itsmyluckyday is also under consideration, though I would be more surprised if he wound up running than if he saved himself for the summer season. Preakness third-place finisher Mylute is also a Belmont possibility. Trainer Tom Amoss didn't hurry his Preakness decision, though, and is all but certain to take his time here as well.
The Peter Pan Stakes at Belmont, held the weekend after the Derby and run over a mile and an eighth, has become a trendy Belmont prep race that handicappers look to for intriguing outsiders, though it has not produced a modern Belmont winner. This year's winner, Freedom Child, is being pointed at the Belmont. His trainer, Tom Albertrani, won the Preakness with Bernardini.
Trainer Bob Baffert has had a very frustrating Triple Crown season this year. Despite having a very strong stable early in the winter, he didn't have a single horse entered in the Derby, and lone Preakness entrant Govenor Charlie ran a horrible race. Baffert has two horses that are possible for the Belmont, though he has said he will only run one of them. The more likely is Code West, who won the allowance race that immediately followed the Preakness at Pimlico on Saturday. The other Baffert possibility is Power Broker. Neither horse would be among the top betting interests in the race.
If recent history is any indicator, then it would be a good bet that we will see a dozen horses entered in the race. There have been 12 horses entered in each of the last three years, though only 11 entered the starting gate last year after the late scratch of I'll Have Another.
Read more articles by Trevor Whenham