College Basketball Handicapping: Potential Upsets
by Trevor Whenham - 12/18/2013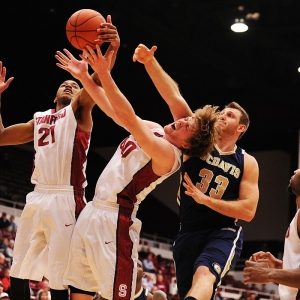 We're heading into what is essentially the last full week of nonconference action in college basketball. After Christmas the glorious conference season gets underway. That will bring a whole new set of handicapping puzzles and opportunities. Until then, though, let's take a last look for some pleasant and profitable potential upsets:
Stanford at UConn, Dec. 18, 9 p.m. ET
The Huskies are off to a red hot 9-0 start. The biggest key to that success has been their incredible three-point shooting — they are hitting a nation-best 46.5 percent of shots from beyond the arc. It's hard to imagine that that is sustainable. The team hasn't played since Dec. 6, so they are going to be rusty. Up against a good Stanford team that rust could get them into a hole early that they could struggle to climb out of. I'd feel better if Stanford wasn't pretty lousy defending the three-pointer, but the Huskies are playing over their heads in general, and this is a good spot for them to come back to earth.
Georgetown at Kansas, Dec. 21, noon ET
Kansas has already lost three times this year, so despite their immense talent they are vulnerable. That's what happens when a team is this young. After a rocky start, Georgetown has won six straight, including a nice win against VCU. They shoot the ball well, they share it around nicely, and they have plenty of depth to make up for a top-end talent mismatch. Kansas is obviously the better team, and I'd feel much better if Otto Porter Jr. was still at Georgetown instead of struggling in the pros, but Georgetown at least has the potential to make things interesting here.
Belmont at Kentucky, Dec. 21, noon ET
How do we know that Belmont is capable of heading into a hostile setting against a ranked team and emerge with a win? Because they have already done it this year. They headed into Chapel Hill and beat North Carolina, 83-80. They haven't been particularly impressive since, but they get up for big games, and this is certainly a big one. Kentucky has three losses, including two in their last three games, so they are vulnerable. Because the team is so young, they don't have experience playing against an outmatched-but-relentless squad like Belmont can be.
Florida State vs. UMass, Dec. 21, 2 p.m. ET
UMass is overachieving. It's as simple as that. Their schedule hasn't been tough, and they just aren't the unbeaten, highly-ranked team that they look like so far. I'm not buying it. Florida State is big and long, and they are going to give the Minutemen a big test. The Seminoles are coming off a confidence-building massacre of Charlotte, and should be ready for this one. It's on a neutral court, but it is in Florida, so the Seminoles have an edge in terms of comfort.
Notre Dame vs. Ohio State, Dec. 21, 7:30 p.m. ET
Notre Dame has been somewhat disappointing this year. Their loss at home to Indiana State was incomprehensible, and losing at home to North Dakota State was even worse. Despite their woes, they have talent, though, and it hasn't been all bad — they sit fourth in the country in assists per game. Ohio State has played a shockingly-weak schedule so far, so the Irish represent their biggest test of the season to date. They are likely up for the test, but there is a chance for an upset.
BYU at Oregon, Dec. 21, 10:30 p.m. ET
BYU has a disappointing 8-4 record, but it has come against a very tough schedule. They have performed well statistically despite the losses — they are Top 10 in the country in scoring, rebounds, and assists. They just haven't managed to put it all together consistently enough. The Ducks are unbeaten at 10-0 but also overrated at No. 13 in the polls. Aside from an opening win over Georgetown, they have played no one particularly tough. They look like a team that can score a lot of points, but given the weakness of their opponents it's hard to have faith in that. BYU is attractive here.
College hoops season is the most profitable time of the year for our Advisory Board of expert basketball handicappers. Find out how we beat the oddsmakers each and every season here. And now you can try our service for free. Click here for $60 worth of free college hoops selections.
Read more articles by Trevor Whenham
---
Most Recent College Basketball Handicapping