College Basketball Handicapping: Teams Better than Nonconference Record
by Trevor Whenham - 12/24/2013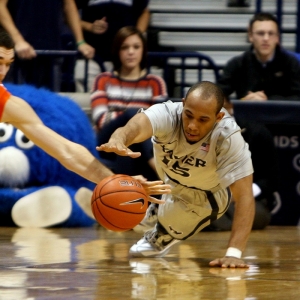 We are nearing the end of the nonconference season in college basketball. As the calendar turns to 2014, the sport turns to the determination of conference champions over the next two months. We know a lot about teams because they have already played about a dozen games. In a lot of cases, though, the nonconference schedule doesn't necessarily indicate what we can expect in conference play.
Here are five teams with disappointing nonconference records that aren't necessarily an indication of what to expect from them going forward:
Xavier: The Musketeers faced a lot of criticism — much of it deserved — when they laid a massive egg at the Battle 4 Atlantis and went home from a tournament that set up well for them with an ugly 0-3 record. That dropped them off the radar for a lot of bettors. Those are their only three losses this year, though. They have added some nice wins along the way, too — they beat Tennessee early, and they have a neutral-site win over Cincinnati and a win at Alabama in their last two. They are still a work in progress, but the new Big East has been somewhat disappointing so far this year, and I like how Xavier is coming into the conference schedule. This is not the team that we saw in the Bahamas. They aren't the best team in the conference by any means, but they belong firmly in the second tier, and in a conference like this new Big East, that's a good place to be.
VCU: The Rams came into the season with a whole lot of attention, but two early losses in Puerto Rico — to Florida State and Georgetown — and people quit paying attention. They also lost at Northern Iowa in a really ugly result. The team is still 10-3, though, and I think we should be a long way from panicked despite the early fumbles. They faced two big and athletic teams in Puerto Rico and didn't handle it well, but that won't be an issue in the A-10. They have also had to make serious adjustments because their Havoc defense was severely handicapped by the new rules brought in by the NCAA this year. They aren't the defensive beast that they were last year — yet — but they are getting better. I'm not a huge believer in UMass — a team that also lost their first game to Florida State — and I really think VCU has a good chance of winning their conference, which is what we expected heading into the season.
BYU: The Cougars stepped up and scheduled a very tough nonconference schedule. Probably too tough, as it turns out. They have five losses, but all of them are respectable. They have lost three on the road and one on a neutral court. They have lost to ranked squads from Iowa State (by two points), Wichita State, UMass and Oregon (in overtime). They also have decent wins at Stanford and against Texas. They won't be challenged in the same way in West Coast Conference play. As they get healthier, and as freshman stud Eric Mika continues to grow and adapt, this team is going to be much better in conference play than they have so far. The real challenge of the nonconference season will serve them well — this will be one of the most seasoned and prepared teams in the conference, and their results will show the positive impact of that.
Maryland: There was some nice hype around this team heading into this season. Then, just days before the season started, their potentially outstanding young point guard, Seth Allen, broke his foot. The team didn't have a viable backup of the same caliber, and their 7-5 record has shown it. The ACC isn't deep this year, though, and Allen is scheduled to be back by the start of conference play or close to it. They won't win the conference, but they are going to be solidly better in the conference than they have been before Christmas.
Michigan: It has not been nearly the season that the Wolverines were hoping for so far. Despite the struggles there have been legitimate excuses. Preseason all-American Mitch McGary has dealt with health issues throughout the season. Replacing Trey Burke at the point has been even tougher than expected, and it will take time. Glenn Robinson III, a projected lottery pick heading into the season, has struggled with consistency and has yet to really find his role. The problems go on and on for this young team. Losses at Iowa State and Duke are acceptable, though, and so is a 72-70 loss to top-ranked Arizona. Only the loss to Charlotte in Puerto Rico is a head-scratcher. The Big Ten is going to be brutally tough, but as this team gains experience and confidence, and McGary gets healthy, they are going to be a far different squad than the largely underwhelming and often frustrating one we have seen so far.
Read more articles by Trevor Whenham
---
Most Recent College Basketball Handicapping