College Basketball Handicapping: Top Freshmen
by Trevor Whenham - 12/5/2013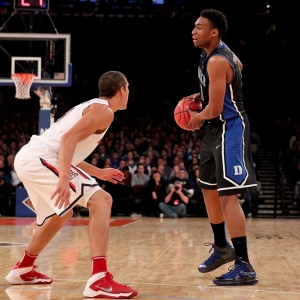 Freshmen seem to be playing an increased role every year in college basketball. This year, though, is particularly special. There are a stunning number of strong young players who are already making a big impact and who could do dramatically more as the season progresses and they grow as players.
I've picked out six freshmen performing at a seriously high level so far to look at what to expect from them going forward, and what they could mean for bettors. What is amazing, though, is the quality of some guys I have had to leave off. Jordan Mickey at LSU has been amazing. The one-two punch of Austin Nichols and Nick King in Memphis is eye-opening. Guard Jon Severe is tearing it up at Fordham. Eric Mika has been special at center for the solid BYU Cougars. Sindarius Thornwell. Nigel Williams-Goss. Zach LaVine. It goes on and on. We're in the midst of a grand era:
Jabari Parker, F, Duke: I've watched Parker play four games now. All four have gone the same way. For long periods of the game I have wondered where he is. He's young and inexperienced, and he can look like it. He'll float and look tentative. Just when you start to wonder what the hype is about, he flips a switch and plays the game like very few are capable of. He's a very special talent, and he's only going to get better with seasoning. Duke had played with a total absence of defense for much of the season and that was going to be an issue. Against Michigan, though, they were stifling and creative — completely shutting down Nik Stauskas and forcing the team into confusion. Parker is as advertised. There will be little betting value — this is Duke, after all — but he'll be fun to watch.
Julius Randle, PF, Kentucky: Sound the alarm — in Randle's eighth career start he fell short of a double-double for the first time. The guy is a freak, with body control and rebounding savvy well beyond what he should have at this stage. While the numbers have come to earth a bit lately, that is at least in part because the rest of the team has found their legs and is carrying more of the load. This is a deep and talented team that is going to go a long way and is only going to get better, and Randle is going to be a big part of that success.
Andrew Wiggins, SF, Kansas: Given the hype that Wiggins came into the season with — and has been facing for the last two years — it was almost impossible for him to live up to expectations. His production has been a step below where it would ideally be, though illness has been an issue in at least a couple of his games. In his head-to-head contest with Parker, though, Wiggins strengthened as the game went on, and he came out with the win. The more he fails to meet the lofty expectations early, though, the better in my eyes. The guy is ridiculously talented and will only improve — as will the team around him as they gain experience and confidence. Kansas isn't going anywhere, and underestimating Wiggins could provide some decent value for a very public team.
Aaron Gordon, F, Arizona: Gordon has had some solid numbers, though not consistently at the level of Parker or Randle. What has really stood out for Gordon, though, is his defensive play. Freshmen just aren't supposed to play defense like this — at least not in November. With the Michigan State loss to North Carolina, Arizona is poised to move to No. 1 in the polls. Gordon is a big reason for that, and he will be a big reason for their future success.
Joel Embiid, C, Kansas: When you look at Embiid's per game numbers, they aren't that impressive — until you realize that he is only averaging 18 minutes per game. He's huge and raw, so the Jayhawks are going to have to be patient and expand his role gradually. He has the advantage of not being close to the biggest focus on his team. If he can grow into himself and carve out the role he is physically capable of, though, he could have a bigger tournament impact than any other player on this list.
Noah Vonleh, PF, Indiana: Vonleh has an engine that never quits. At this point, though, the results have not been consistent. He was very good against Syracuse, but he had two boards and no points against UConn. He would be having a much easier time of things if he was at Indiana last year when they were loaded instead of this year where he is one of the very few bright spots. At this point it's going to be tough to trust Vonleh and the Hoosiers. The key will to be to watch how he and his team develop over the next month. Expectations will be low for the team heading into brutal Big Ten conference play. If he can lift this team on his shoulders by then, he could create some decent value.
Read more articles by Trevor Whenham
---
Most Recent College Basketball Handicapping