College Football Betting: Handicapping Second-Year QBs
by Trevor Whenham - 8/26/2013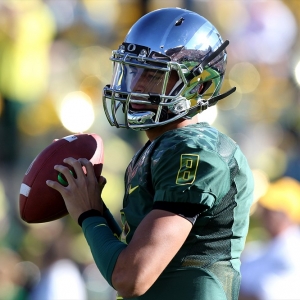 As we sit here on the eve of another college football season, I am incredibly excited about the crop of quarterbacks. I have been watching college football obsessively for far more years than I would admit, and I rarely remember a stronger, deeper group of pivots. One of the most exciting aspects of the group is the incredible group of starters entering their second year in charge of their team. Entering the second year is when a lot of quarterbacks take a big step forward. They know what is expected of them, and they have had a whole offseason to get ready with the first-hand knowledge of what they will be facing fueling them.
These guys are all going to be getting a lot of attention this year — five of the six are among the 28 quarterbacks with individual odds for winning the Heisman listed at Bovada, and one is the defending winner of that award. Despite the attention on them, this group has the chance to be very special — and to deliver some nice profits for bettors:
Johnny Manziel, Texas A&M
I shouldn't have to say much about "Johnny Football" — we've never seen a more scrutinized college quarterback. Given the attention and the controversy, it's hard to believe that at this point last year very few people even knew who he was, and he was far from a lock to win the starting job heading into camp. Now he has a Heisman in his trophy case. There is still no real clarity as to his availability because of the ongoing autograph investigation. There is also a real question about how focused he will be and how well he will adjust to a new quarterback coach and offensive coordinator. If you can put that aside for a second, though, a quarterback as talented as he is should be poised to take a step forward in the second year in a demanding system. That's a scary thought for opponents.
Devin Gardner, Michigan
Gardner is an interesting case. After being a backup earlier in his career, he was moved to wide receiver last year for the pass catcher-starved Wolverines. When Denard Robinson was injured, though, Gardner started the last five games. To say he was effective is an understatement — he had a QBR better than Manziel and Mariota. Now he has a lot going in his favor — an offseason to prepare as a QB, the unexpected return of top left tackle Taylor Lewan to protect him, an improved receiving corps to throw to, a mostly manageable schedule, the maturity of being a redshirt junior who already has his degree, and no shortage of confidence. Plus, offensive coordinator finally gets a quarterback he can work with — he and Robinson never really spoke the same language. So, what can it all turn into? Michigan fans have high hopes.
Kevin Hogan, Stanford
Hogan's rise to a spot on this list is an unlikely one. With Andrew Luck gone last year, the race to replace him was between Josh Nunes and Brett Nottingham, with Hogan as an afterthought. It took until the ninth game for Hogan to earn the starting job, but he didn't lose in his five starts, including the Rose Bowl. Like Gardner, Hogan will benefit dramatically from a full offseason as the starter after not getting many snaps last year in training camp. The biggest concern, perhaps, is that Hogan doesn't have anyone pushing him from behind — Nottingham and Nunes are both gone. Can he be as strong as the clear choice as he was as the underdog last year?
Brett Hundley, UCLA
New coach Jim Mora did more to make this team look professional and competent than anyone in the last decade had managed to. A big part of the reason for that is Hundley. He threw for more than 3,700 yards and ran for more than 500. Very impressive. What's most interesting about him, though, is that despite the huge success he clearly has a lot of room to grow with his decision-making. Like a lot of young players, he tended to try to force something to happen instead of throwing it away and waiting for the next opportunity. That's the kind of thing that can change with experience, and if it does then Hundley could be dominant.
Taylor Kelly, Arizona State
Kelly is the only guy on this list who isn't listed individually in Heisman futures. That has a whole lot more to do with who he plays for than him personally, though. Twenty nine touchdowns against just nine interceptions, more than 3,000 yards passing and 350 yards rushing — he's coming off a very good year. He faded noticeably late last year, though, and has worked hard to be more prepared both physically and mentally for the strain of the season. That, plus more stability as the Todd Graham regime gets comfortable and more established, signals high potential for Kelly.
Marcus Mariota, Oregon
Mariota is the fourth Pac-12 QB on this list — a clear sign of just how deep and impressive that conference is all of a sudden. Though I listed him last, he is far from the bottom of this list. At 12/1 he is fifth in Heisman futures — tops on this list — and those odds would be even lower if teammate De'Anthony Thomas wasn't such a big Heisman hopeful and vote splitter as well. Like Manziel, Mariota was a redshirt freshman last year who shattered expectations in his first year. He had 32 touchdowns, just six interceptions, and was a very dangerous dual-threat. If it weren't for Thomas, Mariota would be my clear Heisman pick.
Read more articles by Trevor Whenham