College Football Handicapping: Teams that Could Improve ATS
by Trevor Whenham - 8/26/2013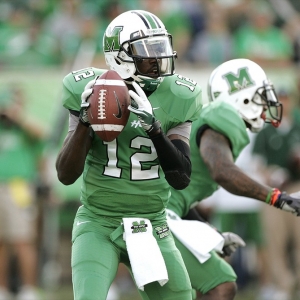 Some teams are just consistently bad. They have no talent and no real hope. There are other teams, though, that really struggle for bettors one year, but which can bounce back and perform much better against the spread the next year. Here are five teams in college football that could be dramatically better against the spread than they were last year:
USC Trojans (3-9 ATS last year)
Last year the Trojans came into the season with extremely high expectations — you can't get higher expectations than a preseason No. 1 ranking in the polls. Pretty much everything went wrong, and they were lucky to wind up 7-5 — a record that was flattering for the effort they put forth on the field. There is no guarantee that they will be a better team this year — they have QB questions, and Lane Kiffin is still coaching. The talent is strong, though, so if they can get on track they could be reasonably dangerous. More significantly, expectations for this team are as far from last year as they can be, and the public has very little respect for them. That could make it easier than normal to cover spreads. If they do start strong then there could be more value on these Trojans than we have seen for years from a betting perspective.
Arkansas Razorbacks (3-8 ATS)
Last year hardly counts for the Hogs. Bobby Petrino's bizarre fall from grace was an almost impossible distraction to overcome, and the hiring of John L. Smith as the interim coach was almost a punishment for players who had already suffered enough. Whether you like the Bret Bielema hire for the long term, there is no question that the new coach brings much-needed stability to the program. He has some nice pieces to work with, and he will be in a much better position to succeed than Smith ever was. It would be a shock if this wasn't a solidly better ATS team than they were last year. The team should be better, but expectations aren't out of control because of the move from the Big Ten to the SEC for Bielema and the talent issues compared to the powers of the conference.
Florida State Seminoles (3-9 ATS)
Last year the Seminoles faced massive expectations, but they didn't quite meet them. Their loss at North Carolina State was humiliating, and though they won the rest of their first 10 games, they didn't consistently do it nearly as well as people expected. They faced big odds and just weren't quite strong enough. This year things could be better. The expectations are dimmed slightly. There is massive hype around QB Jameis Winston, but bettors will be at least somewhat realistic about a young QB breaking into the league. This will likely not be a great ATS team because of a reasonably soft schedule and the hype, but they should be more reliable than last year.
Tennessee Volunteers (4-8 ATS)
Last year the Volunteers just weren't very good. The Derek Dooley era was limping to its sad finish, and everyone knew it. Butch Jones was a solid hire and will be better this year than Dooley was capable of being last year. In his first year at Central Michigan, Jones hit the ground running, and his team looked good. Starting at Cincinnati, his first year wasn't as successful, but he quickly got the team on track the next year. There are still some big holes on this roster, but Jones will have his squad playing with more pride and intensity than Dooley ever did, and that will make a difference from a betting perspective. The schedule is absolutely brutal with eight teams ranked in the Top 10 in preseason polls on tap for the first two months of the season. That could be an advantage from a betting perspective, though — Tennessee will get very little respect, so they will face big numbers as underdogs, and that makes it easier to cover spreads in a loss.
Marshall Thundering Herd (4-7-1 ATS)
Doc Holliday is in his third year with this program, so this is when he really should be able to put his stamp on things. His schedule isn't completely soft, but it is certainly manageable. Two big factors make an ATS improvement likely here. First, Chuck Heater takes over as defensive coordinator and gives that unit a chance to be better than the embarrassment they have been. Second, QB Rakeem Cato is a very special player and should only be better in this his third year in charge of the program. Last year Cato often didn't have much help, but things should be somewhat better this year in terms of talent. This team is going to cover some spreads.
Read more articles by Trevor Whenham