Fillies in the Belmont Stakes
by Trevor Whenham - 6/4/2013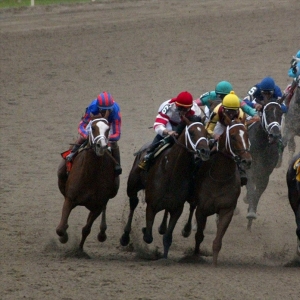 On Monday Todd Pletcher confirmed that he will be entering Unlimited Budget in the Belmont Stakes — one of five horses he has pointed to the race. So why does this one horse stand out from the pack? Well, she'll be just the 23rd filly to take on the boys in the toughest test there is for three year olds.
Yup, Unlimited Budget is a girl. So, can I explain why that matters without coming across as a sexist pig? I'll give it a go. A three-year-old horse — especially this early in the year — is quite immature. In human terms they would be like a teenager. Female horses are typically not as big, muscular or powerful as their male counterparts, and these differences can be amplified when the filly hasn't completely matured and reached the peak of her capabilities. That means that a typical three-year-old filly is going to be at a distinct physical disadvantage against the boys. That is an issue in any race, but the Belmont is far from your typical race. The marathon distance means that it is immensely physically challenging for these horses, and that further magnifies the disadvantages fillies have.
That doesn't mean that a filly can't win the race. Rags To Riches did it in 2007, and she beat the legendary Curlin by a head in the process. It just means that it takes a very special filly to do so. So, is Unlimited Budget that special? The short answer seems pretty clearly to be "no". We'll look deeper than that, though.
Unlimited Budget was unbeaten in four career races heading into the Kentucky Oaks on the eve of the Kentucky Derby. The fact that she had not only won but looked good doing it, yet went off as just the third choice in the field at 9/2, tells you all you need to know in my eyes. She was, and is, a very good horse, but she didn't stand head and shoulders above a solid field of fillies.
She had a rough start in the race, looked like she would threaten in the stretch, but flattened out, and she had to work quite hard to hold on for third. You can contrast that with Rags To Riches, the winner of the 2007 Kentucky Oaks before her Belmont victory. She absolutely dominated the race as the favorite, winning by more than four lengths against a strong field that included champion Dreaming of Anna.
Unlimited Budget also has some breeding limitations. Damsire Valid Appeal can produce runners that can handle distance but definitely has more of a sprint influence. Her sire is better. She's the daughter of Street Sense, the 2007 Kentucky Derby winner who finished second in the Preakness and chose not to face Rags To Riches in the Belmont. As the Derby winner, he obviously had some stamina, though in his young stud career that hasn't overwhelmingly been passed on yet.
I know I sound negative, but it's not all hopeless for the filly. She has four career wins — which only Orb can match in this field. She improved in each outing heading into the Oaks, and she showed real guts and tenacity. She was ridden by Javier Castellano in the Oaks, but Rosie Napravnik is aboard here and seems to me to be a slightly better fit for her style.
The pace of the race should also suit her well. She'll likely be in the group of stalkers pursuing what should be a comfortable early pace. That group isn't particularly impressive — the best horses will be in front of her and behind her — so she has the chance to establish herself and set a tone early on.
You can often evaluate fillies running against boys by looking at the reasons they are facing this challenge. The biggest reason by far for this horse being pointed here is her owner. Mike Repole, the founder of Vitaminwater, spends lavishly on horses, and he is absolutely desperate to win this race above all others. He has two other horses entered as well — Overanalyze and Midnight Taboo. In the absence of a really good chance to win, Repole is going for as many chances as he can.
Beyond Rags To Riches, there have been two other filly winners, but they were both of a different era — Tanya in 1905, and Ruthless in 1867. Since 1980 there have been just five fillies entered — a testament to how rare this is. It's a wildly-impressive group, too. Genuine Risk was second in 1980. She had won the Kentucky Derby and was second in the Preakness, so she was the definition of special. Winning Colors won the 1988 Kentucky Derby and was third in the Preakness before finishing sixth in the Belmont. My Flag won the 1996 Breeders' Cup Juvenile Fillies before finishing third in the Belmont the next year. Coincidentally, Winning Colors and My Flag were trained by D. Wayne Lukas and Shug McGaughey, the two Triple Crown race winners this year. Finally, Silverbulletday won the Breeders' Cup Juvenile Fillies, the Kentucky Oaks, and the Black-Eyed Susan on the eve of the Preakness. She led the Belmont for more than a mile but ultimately faded to seventh.
Wow! Free Belmont Stakes picks. And it could not be easier. Follow the link and sign up (no credit card required, and no salesperson ever), and you can have your free Belmont Stakes picks in minutes. Click here for the no-hassle sign up.
Read more articles by Trevor Whenham