2013 Foreign Horses in the Kentucky Derby
by Trevor Whenham - 4/30/2013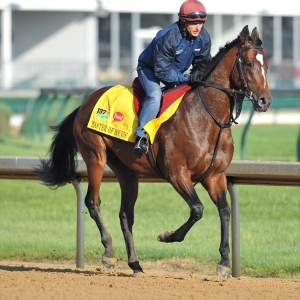 The UAE Derby — a race held on the undercard of the Dubai World Cup, which is the richest race in the world — is a qualifying race for the Kentucky Derby. The winner of that race will almost certainly be able to make the Derby field regardless of what else they have done leading up to the race. That means that for the third year in a row handicappers have to deal with a challenge — a horse based outside of the U.S. running in the Derby.
In 2011 it was Master of Hounds who came here to compete after finishing second in the UAE Derby. He was a solid competitor in Kentucky, finishing strong to wind up fifth.
Last year Daddy Long Legs looked very strong in winning the UAE Derby, and he gained some buzz as an intriguing Kentucky Derby longshot. He really didn't deserve the attention — he was never a factor in the Derby and finished dead last. In hindsight we probably had a clue that the horse wouldn't like the Churchill surface. He had run in the Breeders' Cup Juvenile at Churchill Downs the previous November and stumbled home to a 12th-place finish in the 13-horse field.
This year's contender is UAE Derby winner Lines of Battle. Trained by world superstar trainer Aidan O'Brien and owned by one of the world's top ownership groups, the horse is very well-connected. His UAE Derby win was impressive. Like Daddy Long Legs, though, his last foray to the U.S. was far from a success. The horse ran at Santa Anita last November in the Breeders' Cup Juvenile Turf and was a frustrating eighth. The horse has strong breeding, so the distance and surface shouldn't be that much of an issue. He has never run on dirt, though, and his training on the surface before the race is limited, so it takes a real leap of faith to assume he'll run well on dirt, which is very challenging for horses that aren't used to it.
The Kentucky Derby is the most prestigious race for three year olds in the world. Why, then, is it so rare to see a horse from outside North America attempt to win it? It certainly isn't a lack of desire — major owners like Ballydoyle Stables and the royal families of Dubai are very determined to make a breakthrough in the race. There are a few things working against them or other owners around the world.
First, there is the reality of the calendars. Horses in the Northern Hemisphere all have a universal birth date of Jan. 1. They turn a year older that day regardless of when they were born. In the Southern Hemisphere that birth date is Aug. 1. Southern horses can't run in the Derby, then, because they would either be too old and mature or too young and immature. Either way, it wouldn't be fair.
Any Northern Hemisphere horse would theoretically be eligible. There are problems with many of those as well, though. First, a horse needs to get enough points to qualify for the 20-horse Derby field, and that is very difficult to do outside of the U.S. because a lack of qualifying races. Essentially, a horse based in Europe, the Middle East or Asia would have to make a trip or two over to the U.S. during the prep season in order to qualify to travel back again for the Derby. That would be a huge expense and would also be very hard on a young horse.
Another big factor is that the Kentucky Derby is run on dirt. Racing in Europe or the Middle East is primarily done either on turf or a synthetic surface. Running on dirt is a far different experience for horses because the ground feels harder and horses get dirt kicked into their face from the horses in front of them. Some horses can handle it better than others, and it can be very tough for a horse to compete on the surface if it is unfamiliar — as it is for Lines of Battle this year. European owners and breeders understandably choose horses that are more suited to grass or synthetics than dirt, so they are at a disadvantage to start.
There is an important distinction to make when considering Lines of Battle or virtually all of the foreign-based horses to come before him. Though they are foreign-based and usually foreign-owned, they are almost always American-bred. Lines of Battle is the son of War Front, a Kentucky sire who is turning into a solid producer. Daddy Long Legs was the son of Scat Daddy, who ran in the 2007 Derby for Todd Pletcher. His sire, Johannesburg, won the 2001 Breeders' Cup Juvenile and was eighth in the Derby the next year. Master of the Hounds was the son of Kingmambo. That sire raced in Europe but stood in Kentucky. Arazi, the prohibitive favorite in the 1992 Kentucky Derby who was based in France and finished an awful eighth in the big race, was the son of Blushing Groom, a Kentucky-based sire of winners around the world. Canonero II, the only foreign based horse to win the Derby, was the product of underwhelming breeding in North Carolina in 1968 and was sold to Venezuela for just $1,200 as a yearling because of a deformed front leg.
Doc's Sports is offering free Kentucky Derby picks! New members can receive this offer. No obligation is required, and by signing up (no credit card required), you will get a $60 credit that you can use for Kentucky Derby picks or any Triple Crown race from the horse racing handicappers at Doc's Sports that offer this service. Click here for more details and to take advantage of this free $60 picks credit today.
Read more articles by Trevor Whenham