2013 Indiana Football Predictions and Hoosiers Futures Odds
by Raphael Esparza, the Vegas Sports Informer - 8/20/2013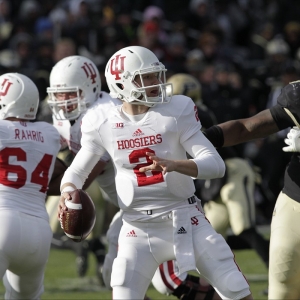 Last year the Hoosiers went 4-8, and normally a that kind of record coming from a school that focuses primarily on basketball is an accomplishment. However, things should change this season as I see Indiana learning from their losses and close games from last season. This team will be competitive in the Big Ten, and unfortunately the oddsmakers know this so value this year on Indiana could be different from years past. It's no secret that I follow Indiana college sports a bit closer to other schools because my older sister is a Hoosier grad. And last year I saw something different in Indiana football.
To Win Big Ten: Indiana (+5000)
Head coach Kevin Wilson did an outstanding job last year, and this year he looks to build on that 4-8 season from a year ago. Yes, I know Indiana lost their last three games last year by double-digits, but the Hoosiers also lost four games by four points or less. This year will be a totally different story as the Hoosiers have 19 out of 22 starters coming back, and Indiana has two quarterbacks that can control the offense. QB Cameron Coffman most likely will be the starter. His backup, Nate Sudfeld, was a true freshman QB last year and should see some playing time as well. Both quarterbacks can play and run this offense. And no matter who becomes the full-time starter, he has some great targets at wide receiver. While I am in "buy mode" on Indiana this season as far as my weekly wagers, this team is outclassed by the best in the conference and will not be winning the league this year.
To Win The Leaders Division (+1500)
The Indiana Hoosiers will not win the Big Ten Conference and will not compete for the Leaders Division crown because of Ohio State, but I believe the this team can go bowling. Indiana can easily be a perfect 3-0 heading to Week 4 at home against Missouri. And if the Tigers struggle on their first road game of the season, we could see a big upset in Bloomington. Indiana's schedule is not that bad as they have only four true road games, which I see them losing all of. However, it's their home games that look winnable. Their conference home schedule is against teams like Penn State, Minnesota (homecoming), Illinois, and their last game of the year is against Purdue. Indiana has lost their last five home finales by an average of 23 points per game, but this year they will beat Purdue. Indiana has played in two bowl games since 1993, and their last bowl game was in 2007 against Oklahoma State, which they lost, 49-33.
If you attend the University of Indiana you pretty much know that their basketball team will be dancing during March Madness. However, bowling in late December or January is normally a pipe dream. Normally the Big Ten gets seven teams in bowl game matchups, and this year they will get seven teams bowling. However, with Indiana getting a bowl invite, I see Northwestern watching at home. This is Kevin Wilson's best team since he has been head coach, and I see Indiana finishing with the same record they had in 2007 when they went to the Insight Bowl.
Raphael Esparza is fresh off The Strip as he was the Sports Book Manager at Aria Resort & Casino. Last year he had a winning football season, and this year he looks for another stellar football year. You can get $60 worth of free picks from Esparza for any sport by clicking here (first-time clients only).
Raphael Esparza, the Vegas Sports Informer
Follow Raphael Esparza on Twitter @VSIdocsports