2013 Kentucky Derby Handicapping: Experience
by Trevor Whenham - 5/1/2013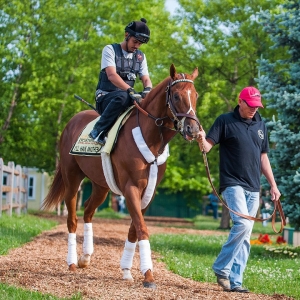 It seems like every year lately we have to address the same storyline in the Kentucky Derby — the lack of racing experience as a two year old. All thoroughbreds have a birthday on Jan. 1 regardless of when they were actually born. Back in 1882, a horse named Apollo won the Derby after having started his career earlier in his three year old year. It didn't seem like much of an accomplishment at the time, but history has proven it to be monumental. In 131 years since, no other horse has been able to replicate what Apollo did. In other words, every single Derby winner since 1882 has had at least one race as a two year old. That's a trend!
This year the so-called "Curse of Apollo" is a story because of Verrazano. He'll be one of the favorites at post time, but he has run just four times, and his debut was on New Year 's Day this year. Verrazano hasn't lost yet, and he captured the imagination of bettors with an incredible 16-length victory in his second outing in February.
Recent history does not paint a bright picture for Verrazano. In the last 57 editions of the Derby, we have seen 48 horses run who did not run at two. 18 of those horses have fallen short in the last 21 years, including Bodemeister last year. Bodemeister finished second after running out of gas down the stretch, but even that degree of success is rare. Only Strodes Creek, who was second in 1994, and eventual two-time horse of the year Curlin, who was third in 2007, have factored into the trifecta over the last two decades.
Fans of Verrazano will point out that he only missed racing as a two year old by a single day. If they are historians, they could even point out that Fusaichi Pegasus won the Derby in 2000 after running just once as a two year old. That was on Dec. 11 — just three weeks sooner than Verrazano started. They could also point out that Fusaichi Pegasus was foaled on April 12 — relatively late in the year — so he was reasonably immature when he debuted. In contrast, Verrazano was foaled Jan. 27, so he's more mature than most of the inexperienced horses that have come before him. It's up to you to decide if those details are just trivia or if they are enough to help Verrazano overcome what has turned into an overwhelming trend.
So, why is it such a big deal for a horse to run as two? Why has it consistently crippled even very good horses in the Kentucky Derby to have missed out on juvenile racing? Here are three of the biggest reasons:
Adversity
The Kentucky Derby is a truly crazy race. There are more horses by far than a horse will ever see in another race. The distance is longer than they have run before and longer than they are likely comfortable running. The crowd is absolutely out of control — fueled by gallons of mint juleps by post time. There is almost no way that a horse can totally avoid adversity of some type in the race. What separates a winner from an also-ran is the ability to take that adversity in stride and overcome it. Some of the ability to do that is instinctive, but it is only seasoned and developed from encountering adversity in previous races. When a horse doesn't race at two he doesn't have a whole lot of chances to see adversity, and what he has seen has occurred recently, so it is less ingrained. For Verrazano that is a major concern. He likes to press the early pace, so he has never had to deal with a whole lot of traffic around him. He has also managed to stay outside of almost all of the pressure he has faced — something that will be almost impossible to replicate in the Derby. We have no idea how Verrazano will face the inevitable adversity he will face because we have never seen him face it before. Will he cower under the challenge or will he rise up and exhibit new levels of fight?
Conditioning
The Derby is a test of endurance far more than speed. Endurance conditioning is built slowly. It takes many months to build a stamina base. That base is built largely through training, but more benefit is gained from racing than anything else because that's the only time horses operate at their highest levels of performance. When a horse has only been racing in his three year old year, then his stamina base is going to have holes in it compared to more established runners. That's especially a concern for a horse that Verrazano because the distance is a bit of a concern given his pedigree anyway.
Why the wait?
Owners and trainers don't like it when their horses aren't running — they aren't making any money. That's especially true for a guy like Verrazano's trainer, Todd Pletcher, who is very successful running two year olds. If the horse didn't run as a two year old — especially in this case when he was born early so he should have been mature — then you can't help but be a little concerned.
Want free Kentucky Derby picks from some of the best horse racing handicappers around? Doc's Sports offers $60 in free Kentucky Derby picks that you can use on any of Doc's Sports horse racing handicappers. This offer comes with our no obligation guarantee, and no credit card is required. This credit can be used for any of the Triple Crown races or for any sport and handicapper at Doc's Sports. Click here for more details and to take advantage of this free $60 picks credit today.
Read more articles by Trevor Whenham