2013 Kentucky Derby Horses in the Belmont Stakes
by Trevor Whenham - 6/4/2013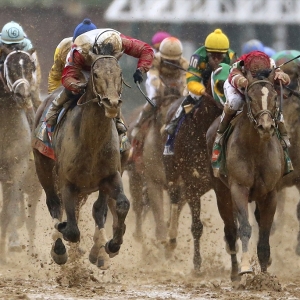 We are likely to see a surprisingly large field for the Belmont Stakes this year — as I write there are 14 horses likely to be entered. Even more remarkable, though, is that 10 of the 19 horses that were entered in the Kentucky Derby this year are likely to be back for another shot at Triple Crown glory in the Belmont.
Included in that number is the Top-3 finishers — Orb, Golden Soul, and Revolutionary — along with Preakness winner Oxbow, Overanalyze, Palace Malice, Vyjack, Will Take Charge, Giant Finish, and Frac Daddy. That's a remarkably high number of repeat entrants.
With so many in that category, it only makes sense to look back at the recent past to see how horses that ran in the Kentucky Derby have fared in the Belmont Stakes.
2004 - Just nine horses were entered in the Belmont, and only two were from the Derby. Smarty Jones was heavily-favored and had scared most other horses away. He just finished second, though. The upset winner, Birdstone, had also run in the Derby, so the two Derby entrants combined for a $139 exacta.
2005 - Three of the 11 Belmont entrants had previously met in the Derby. Giacomo seemed like an unlikely winner of the Derby, and he proved just how much of a fluke it was by finishing a very underwhelming seventh in the Belmont. The very impressive Afleet Alex had made up for a disappointing Derby by winning the Preakness, and he added the Belmont crown to his trophy case. The bottom half of the $44 exacta was Andromeda's Hero, the third Derby entrant.
2006 - This year we are seeing the Derby and Preakness winners face off. In 2006 we saw neither horse. Barbaro had been injured in the Preakness, and Bernardini was pointed elsewhere. That led to a very wide-open race. Five of the 12 Belmont entrants were Derby entrants. For the third year in a row, the exacta, which paid $92, was made up of Derby horses, with Bluegrass Cat finishing just behind Jazil.
2007 - This race had only seven horses in it, but it was one of the most compelling and thrilling Belmont's in history — at least when a Triple Crown wasn't on the line. Three strong Derby horses were back for more — Preakness winner Curlin, Tiago and Hard Spun. They were all beaten by super filly Rags To Riches, but they finished second, third and fourth. That was a superfecta that was easy to hit with a four-horse box, and it paid $242.50.
2008 - Big Brown was the heartbreaker on this day. It seemed certain that he would win the Triple Crown after he had absolutely crushed the fields in the Derby and Preakness. I'm not sure that he has even made it to the finish line yet, though, because he was so slow in the Belmont. There were three other Derby horses, but the impossible longshot winner, Da'Tara, was not among them — though Derby horses did finish second and third.
2009 - Six of the 10 Belmont entrants had run in the Derby. The trifecta of Summer Bird, Dunkirk and Mine That Bird all came from that group and paid a nice $295, with the exacta paying $121, which was good enough to double your money even if you boxed all six Derby horses.
2010 - The 2010 Derby was one I would just as soon forget, and it showed just how bad it was in the Belmont. Just three of the 12 Belmont entrants ran in the Derby. They finished eighth, ninth and 10th. Ugh.
2011 - Seven of the 12 Derby horses were in the Belmont, including, like this year, both the Derby and Preakness winners. Those horses filled six of the top seven spots in the Belmont, but they missed out on the first spot — Ruler On Ice pulled off the upset. Preakness winner Shackleford was fifth, which was one spot ahead of Derby winner Animal Kingdom.
2012 - There were supposed to be four Derby horses in the field, but Derby and Preakness winner I'll Have Another was scratched. Derby third-place finisher Dullahan was favored, but it was Union Rags, who was second choice in both the Derby and Belmont, who came out on top.
So, the bottom line is that while the Derby winners haven't completely overwhelmed the fields in the Belmont over the last nine years, they have had more than their share of success. Derby horses have won five of the last nine editions of the Belmont. Four of those five horses topped a Derby horse exacta.
While I wouldn't recommend doing it every year — certainly not this year with 10 Derby horses in the field — you could have actually made a nice profit by betting an exacta box of the Derby horses each year. Since 2004, the total cost of those exacta boxes would be $260, and they would have returned a nice total of $396, for a profit of $136 and an ROI of 52 percent. You could certainly do worse.
Doc's Sports has been a leader in Triple Crown handicapping for more than four decades, and we have a great offer for new clients. Get $60 worth of Belmont Stakes picks free with no obligation to buy anything. Not credit card is needed, and you won't ever have to talk to a salesperson. Get your $60 in Belmont Stakes picks here.
Read more articles by Trevor Whenham