2013 Kentucky Derby Pace Scenarios
by Trevor Whenham - 4/30/2013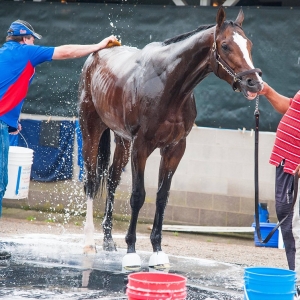 When handicapping the Kentucky Derby, you have to pay close attention to pace. Basically, that means you have to look at how horses prefer to run a race and whether the race is likely to allow them to run like they want to. A beneficial pace can make it easier for a horse to win, while a problematic pace can kill the chances of a horse. Last year provided a perfect example of both. Bodemeister liked to be near or on the lead, but he was forced to run far too fast and ran out of gas. That killer early pace tired out much of the field and allowed closer I'll Have Another to pick up the pieces down the stretch and win with relative ease.
This year's race offers an interesting pace scenario. There isn't major speed, and there are a lot of horses that are going to be patient. That could lead to a slower pace, or it could cause a horse or two to really try to exploit the situation and run away with the pace early on. Here's how the field sets up:

Setting the pace
Unlike some years, there isn't an exceptional amount of front-end speed. In fact, just three horses will likely be seeking the lead early, and one of the three will settle for less than first if need be. Longshot Falling Sky is most likely to set the pace because he has no chance to win the race any other way. He has the most early speed in the race and could get crazy early on. Santa Anita Derby winner Goldencents likes to be in close contact with the lead and is likely to be the first chaser, at least, and perhaps the leader if he gets the right break. Potential favorite Verrazano is the third front-runner, though he has more patience than the other two and would likely accept being a length or two off the pace as long as he is outside and alone. Last year Trinniberg and Bodemeister locked up in a speed duel that caused ridiculously fast early fractions. That isn't likely to be the case this year.
Stalking the pace
There will be a large group of runners chasing that early pace and looking to stay close. How close they stay depends upon how fast the early pace is. Ideally they would like to be within five or fewer lengths. Itsmyluckyday will likely be at the front of the pack and is likely to start pushing the leaders after a half mile or so. Oxbow has found trouble in his last two races by getting stuck too far off the pace, so Gary Stevens will likely look to be close to the leaders this time as well. Vyjack, Frac Daddy, Lines of Battle, Palace Malice, and late entrant Giant Finish will likely also be around this group. Because this second group of horses is reasonably large and will be fighting for little space on the track, it is likely that jockeys will settle somewhat off the pace instead of burning their energy early on.
The middle-of-the-pack closers
There are two types of closers in a race like this. Some will look to stay in contact with the stalkers — perhaps within five or six lengths — and then launch a controlled move in the final furlongs. These horses would ideally like to be in the top half of the field by the halfway point of the race. Horses in this group include Todd Pletcher horses Overanalyze and Charming Kitten, popular runner Mylute, and longshots Black Onyx and Will Take Charge. None of these horses strike me as particularly tied to their running style, so they could wind up closer to the pace or further off if that is where the better trip can be found. Because there are so many deep closers in this field, though, being closer to the pace would be better than being further away for these horses.
The deep closers
The second kind of closer is the one who will look to make a move late after running way off the pace early on. They don't care what the pace is early in the race because they won't be chasing it. The faster the race is early on the better, because the front-runners are more tired and easier to pass. The lack of blazing speed could make it tougher for these horses. At the very least it will make the timing of their moves crucially important. That's because if they wait too long, they might not be able to get to the front, but if they move too soon then they'll run out of gas before the finish line. Deep closers include Normandy Invasion, Java's War and Golden Soul. More interestingly, though, potential favorite Orb and Revolutionary, who will be ridden by Calvin Borel, will also be looking to make a deep move.Those two horses will draw plenty of bets, so handicappers will have to really assess if they think the race will set up well for them, because there won't be excess value on either horse. Java's War and Revolutionary are likely to be at the back of the pack early, because neither starts well. Because of Borel, it's also likely that Revolutionary will look to make his move closer to the rail than the other runners.
Doc's Sports is offering free Kentucky Derby picks! New members can receive this offer. No obligation is required, and by signing up (no credit card required), you will get a $60 credit that you can use for Kentucky Derby picks or any Triple Crown race from the horse racing handicappers at Doc's Sports that offer this service. Click here for more details and to take advantage of this free $60 picks credit today.
Read more articles by Trevor Whenham