2013 Kentucky Derby Trends
by Trevor Whenham - 5/1/2013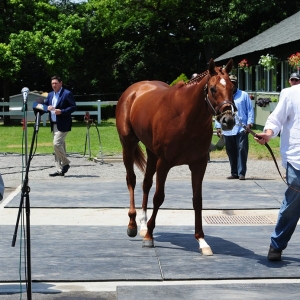 Handicapping the Kentucky Derby is very tough. Bettors need to look for every advantage they can find to come out with more money in their pockets than they started with. Here are five Kentucky Derby trends that could help point you towards the winner:
Fewer than six career races
No trend shows how much and how quickly horse training is changing at the highest levels than this trend. Between 1933 and 2007, we had seen just three horses who had run less than six times before the Derby win the race, and all three had run five times. Things have changed. In 2008, the Derby was only Big Brown's fourth race. Two years ago Animal Kingdom only had four previous starts. Last year I'll Have Another had just five starts. A trend that had only had three exceptions in 75 years has produced three exceptions in the last five years. This year we will see several horses deliver what would likely be the fatal blow for this trend. Potential favorite Verrazano and longshot Falling Sky have just four previous races under their belts. Five others — Normandy Invasion, Vyjack, Black Onyx, Giant Finish and Golden Soul — have only run five times. That's more than a third of the field that fits under the six-race threshold that used to be viewed as almost sacred. Times have changed.
No races as a two year old
Unlike the last one, this is a trend that just keeps proving its worth. Way back in 1882, Derby winner Apollo had not run as a two year old. That means that all of his races had occurred since Jan. 1, because that is the day that all thoroughbreds celebrate a birthday regardless of when they were born. In the 131 years since, no horse has replicated Apollo's feat. Not one. Every single Derby winner since has run at least once as a two year old. It isn't rare to see a horse try, either, so this is a trend with a real sample size behind it. Since 1944, we have seen 57 horses that have tried to overcome a lack of two year old experience. Obviously, none have won, but only three — in 1948, 1994, and last year with Bodemeister — have been able to finish second. There are a number of reasons why this trend could be so overwhelmingly strong. Horses without two year old experience have faced less adversity, so they don't react as well when facing inevitable Derby issues. Inexperienced horses could lack the endurance base needed for this race. There could also be a good reason why the horse wasn't run as a two year old, and that problem — an injury, immaturity, slow development — could come back to haunt them in this test. Potential Derby favorite Verrazano is the lone horse in the field to try to challenge this trend this year. He came as close as you can to a two year old debut without making it, though — he ran for the first time on Jan. 1.
Fewer than three races as a three year old
This is another one that used to be very strong but is now fading. In fact, the trend is all but dead. Between 1937 and 2007 there were only six winners that has run less than three times as a three year old before the Derby. Since then, though, we are on a five-race streak — Big Brown, Mine That Bird, Super Saver, Animal Kingdom, and I'll Have Another all ran just twice to prepare for their Derby win. This year five horses — Java's War, Overanalyze, Revolutionary, Normandy Invasion and Mylute — have run only twice this year. Lines of Battle is even less experienced — the UAE Derby was his only race of the year. Interestingly, the six horses with less than three races is a big step backwards from last year when there were 10.
Unbeaten runners
Verrazano is unbeaten in four career starts. If he makes it to the starting gate then he will be the 24th Derby entrant without a loss. The horses who have gone before him have enjoyed solid success — well above the normal expectation for an entered horse. Seven of the 23 unbeaten horses have gone on to win. In the last decade we have seen six unbeaten runners, and half have won — Smarty Jones, Barbaro and Big Brown. Last year Gemologist not only suffered his first loss, but lost very badly — he wound up 16th.
No prep race win
The horses that tend to get the most attention leading into the Derby are the winners of prominent prep races. That is certainly the case this year — Orb won the Florida Derby, Verrazano took the Wood Memorial, Revolutionary came out on top in the Louisiana Derby, Goldencents won the Santa Anita Derby, and so on. It isn't as much of a handicap as you might think for a horse to have failed to win one of those big races — or any stakes races at all as a three year old, for that matter. Since 1980, there have been 11 winners who made the Kentucky Derby their first stakes win of the year. This year the horses looking to join that list include Giant Finish, Golden Soul, Mylute, Normandy Invasion and Palace Malice.
Doc's Sports is offering free Kentucky Derby picks! New members can receive this offer. No obligation is required, and by signing up (no credit card required), you will get a $60 credit that you can use for Kentucky Derby picks or any Triple Crown race from the horse racing handicappers at Doc's Sports that offer this service. Click here for more details and to take advantage of this free $60 picks credit today.
Read more articles by Trevor Whenham