NBA Handicapping: Oklahoma City and the Russell Westbrook Injury
by Trevor Whenham - 4/26/2013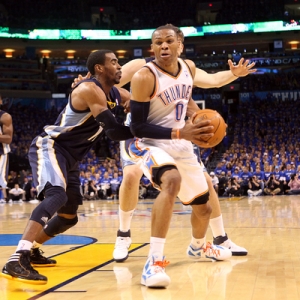 I was pretty sure it was a joke when I saw people freaking out on Twitter about Russell Westbrook this morning. He is such a model of health and consistency that I didn't even consider his absence a possibility. It couldn't happen. Except it has.
If you've missed the news, Oklahoma City's point guard has suffered a knee injury and is out indefinitely as he awaits surgery. The injury came late in Game 2 against Houston on a seemingly innocent play — a collision with rookie Patrick Beverley. The result was a torn lateral meniscus, though that came as a clear surprise. Westbrook finished the game, and though he skipped practice on Thursday, all indications from him and the team were that he was fine and would be ready for Friday. The doctor's had something else to say Friday morning, though.
Needless to say, this is a big deal. One of the two big title threats in the Western Conference is down one of their two best players. As bettors we need to seriously consider the impact that can have now and in the future:
Uncertain impact
It is always very tough to assess the impact of an injured star player. In this case, though, it is particularly tough because we are on uncharted ground. We don't know how the Thunder will perform without him because they have never done it. Westbrook, incredibly, has never missed a game in his career. He has played all 394 regular season games in his career — the most of any active player — and 45 playoff games. They aren't just pedestrian minutes, either. Westbrook sits fourth in the NBA in terms of the highest percentage of a team's points that one player scores or assists with 29 percent. Right above him is Kevin Durant at 30.6 percent, and Westbrook's absence will have an impact of some sort on that as well. More than any team, the Thunder rely on their starters and keep them together. This is a massive hole, and we can't be sure how well they can fill it.
We also can't be sure how well Westbrook will handle this. Getting injured is never easy, and for it to happen at such a key time is tough. He's never been through it before, so how he responds, how well he bounces back, and how quickly he rehabs are all total guesses.
Uncertain timeline
From a handicapping perspective, the toughest part of this is figuring out how long it could last. That would be an issue during the regular season, but it matters so much more in the playoffs when a slump just can't happen. A typical timeline for an injury like this is 4-6 weeks after surgery. Until that surgery happens — and it hasn't yet been scheduled — you can't be sure that there aren't further issues that could complicate things. Some players can come back faster — Metta World Peace just came back after 12 days — but that isn't the norm. In fact, it is far more common for it to take more than six weeks than it is to resolve so quickly.
Four weeks would wipe out this series and the next — and more. So, even the best end of the typical range is likely too long. This is bleak.
Scary replacement situation
The Thunder made some moves in the last year because Westbrook is so durable and productive. They traded away James Harden, who played some point minutes. They shipped away backup point guard Eric Maynor in February for cap flexibility down the road. The two moves seemed reasonable at the time, but now they have created issues. Derek Fisher is in the lineup, but has been used as a shooting guard more than a point guard — he has played just 11 minutes all year without a point guard on the court. Now he'll have to be a backup to new starter Reggie Jackson. The second-year player out of Boston College has never started a game (obviously) and is averaging just 14.2 minutes. The only game he played major minutes was the last game of the season. Jackson has played just 19 minutes all season with this starting lineup, so the growing pains are going to be significant. Again, good luck figuring out what to expect from Jackson and the team in this totally uncharted situation.
The future
The Thunder should still beat the Rockets. They have a two-game lead and a big talent advantage even without Westbrook. After that, though, things get scary. Either the Clippers or the Grizzlies await in the second round. The Grizzlies have always been a tough matchup for the Thunder, and now the Clippers would have a massive edge at the point. It's not impossible for the Thunder to win either series, but it is much tougher than it would have been. Then they play the Spurs (likely). Without Westbrook, the Spurs would have a big, big edge. There are two players the Thunder couldn't lose, and they just lost one. Unless he comes back soon, this will have a bad outcome.
Betting impact
Needless to say, this has had a big impact on lines. Oklahoma City opened as three-point favorites in Houston before this news broke, with a total of 211.5. Both numbers dropped by three immediately. The longer-term impact has been even more significant. At the Las Vegas Hilton, for example, the Thunder jumped from 4/1 to 8/1 to win the title in a flash. They were 4/5 to win the West when the playoffs started, and now sit at 3/2. Oklahoma City's woes have obviously impacted the Spurs, too. Before the injury the Spurs were 3/1 to win the West. Now they are favored at 13/10. The moves are dramatic, and my sense is that they will settle down slightly when the dust clears — especially if Oklahoma City wins on Saturday and Jackson isn't embarrassing.
Read more articles by Trevor Whenham