NBA Handicapping: Strong Road Teams
by Trevor Whenham - 2/6/2013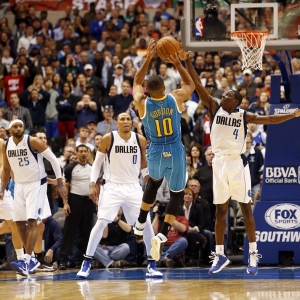 Winning games on the road in the NBA is hard. Very, very hard. Do you know how many teams in the league have a better road winning percentage than they have at home? Just one — the Bulls. On the other hand, there are some pretty good teams that are just terrible when they don't sleep in their own beds. Indiana, for example, is 20-3 at home but just 10-16 on the road. Denver is 21-3 and 10-15. Utah drops from 18-5 to 9-17. Not all teams are that bad, but most suffer a fairly significant drop off. Because teams are generally much worse on the road than at home, when a team does perform better than generally is expected away from home they can be very useful for bettors. Here are four NBA teams that are stronger on the road than their home records would lead us to assume:
Chicago Bulls
The Bulls sit at 14-8 on the road, and that is despite losing three of their last five away from home. Injuries have been a serious problem for them recently, and that hasn't helped their overall success. There have been some easy wins along the way as you would expect, but they have won in Madison Square Garden twice and in Miami as well. The biggest reason for their success is that they are far from reliant on their offense. This is a team that rebounds well and defends brilliantly. They only score enough to win consistently because they don't allow many points. It is easier for an opposing crowd to rattle an offense than a defense. Since the Bulls don't rely on hot streaks offensively as much as other teams, they have the luxury of just focusing on what they do best and enjoying the benefits. From a betting perspective, what is most interesting about this team is that not only do they defy expectations on the road, but they do so for bettors as well. At home they are an awful 7-19 ATS — a total disaster for any bankroll. On the road, though, they are a nicely-profitable 13-9 ATS. That shows that the combination of their comfort on the road and their struggles at home makes for real road betting opportunities for bettors who are paying attention.
Golden State Warriors
The Warriors are a better team at home like every team other than Chicago. They only have two fewer wins on the road than at home, though, and at 14-12 away from home they are a solid road contender. There are seven current playoff teams that don't have a winning road record, so Golden State gets credit on this front. The team has been pretty straightforward to handicap on the road as well — if you think they are going to win then you should bet them, and vice versa. They are 14-12, and 14-11-1 ATS, so they are largely covering when they win and really losing when they lose. Not everything is smooth for them on the road, though — they allowed 140 points, including an NBA-record-tying 23 three-pointers, in Houston last time out.
Milwaukee Bucks
The Bucks aren't a particularly good team, but what makes them interesting for bettors is that they don't really seem to care where they play. They are 13-10 at home and 12-12 on the road. Those records practically mirror each other and show that the team is consistent if not spectacular. They have lost and failed to cover their last two on the road and haven't covered their last four games overall, but at 14-10 ATS away from home they have still been a solid bet away from home. In an interesting quirk of scheduling, though, the Bucks have only had one trip of more than two games so far this year, so they haven't been as tested as they could be on the road. They won and covered three of four on their extended trip, though, so they obviously have the potential to do well on longer trips.
New Orleans Hornets
New Orleans is a lousy road team at 8-18. The point is, though, that they are lousy at home, too, where they are 7-15. That means that they are essentially just as bad on the road as at home. That consistent lousiness can be useful for bettors. You can see what I mean when you look at the ATS records. Bettors expect them to be lousy at home, and they really are — 9-13 ATS. Because they are so bad at home, bettors get lazy and just assume that they are going to be worse on the road. That means that lines that would be big at home are even bigger on the road. The Hornets have enough talent to exploit those inflated road lines. They are a very impressive 17-9 ATS on the road. Not only is that very profitable, but it is enough to make the team profitable on the whole season. This is a perfect example of how deceptive road strength can be valuable for bettors even when it isn't overwhelming.
Read more articles by Trevor Whenham