NBA Odds for Division Winners with Betting Predictions
by Alan Matthews - 10/8/2013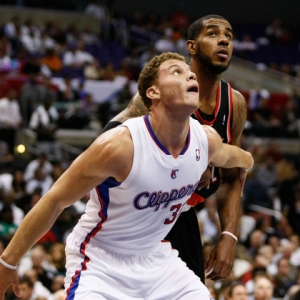 The NBA season tips off in three weeks with a highly-anticipated matchup between the Chicago Bulls (with Derrick Rose!) and the Miami Heat leading the opening-night schedule, which means the books are starting to roll out the props in a big way. I'll hit on some player props in the coming few weeks, but let's start with an overview of each division. All odds are courtesy of Bovada.
Atlantic Division - Brooklyn (-200), New York (+175), Toronto (+1400), Boston (+3300), Philadelphia (+6600): The Atlantic has had three playoff teams each of the past three seasons, but that would clearly be a huge upset in 2013-14. Brooklyn finished five games behind the division-winning Knicks last year but clearly has jumped ahead of their rivals. Brooklyn made the biggest trade of the offseason in landing Celtics veterans Kevin Garnett, Paul Pierce and Jason Terry in a total salary dump for Boston. Now Brooklyn can start a former all-star at every position: Deron Williams, Joe Johnson, Pierce, KG and Brook Lopez. The Knicks' big move, meanwhile, was adding former No. 1 overall pick Andrea Bargnani from Toronto. He can shoot a bit but is terrible defensively and can't rebound. J.R. Smith is recovering from offseason knee surgery -- and will face a five-game suspension when healthy -- and, shocker, Amare Stoudemire is already hurting. The Celtics and 76ers care more about the 2014 draft than this season, especially Philly, which should be the worst team in the NBA. The Raptors might be a fringe playoff team with a full season of Rudy Gay. They are drooling over perhaps landing Canadian Andrew Wiggins in next year's draft as well. I might roll the dice on New York repeating here. Why? The Nets don't care a lick about the regular season and will need to limit the minutes of KG and Pierce. I can see them sitting out at least a handful of games each. Thus, the Knicks could steal the division.
Central Division -- Chicago (-150), Indiana (+140), Cleveland (+1600), Detroit (+1600), Milwaukee (+6600): The Bulls were pretty quiet this offseason, adding only Mike Dunleavy. But they didn't think they needed to do much with Rose's return, and he's looked good in the preseason thus far. I think Bulls management will finally convince Tom Thibodeau to not ride his stars Rose, Luol Deng and Joakim Noah such heavy, heavy minutes in the regular season. All three have broken down in the postseason the past two years. Plus, I'm sure Rose will have some rust for a month or two. That could mean a few less regular-season wins. Thus, I like Indiana here. The Pacers upgraded their bench this offseason with additions Luis Scola, Chris Copeland and C.J. Watson. That was weakness No. 1 last season. They also have Danny Granger back from injury, although he could be traded. I'd love to take a chance on Cleveland, but Andrew Bynum doesn't seem like he will be ready to start the season. I don't trust him or rising star Kyrie Irving to stay healthy.
Southeast Division -- Miami (-10000), Washington (+1200), Atlanta (+1400), Charlotte (+20000), Orlando (+20000): Do I even need to address this division? I don't see the Heat approaching 66 wins again as I think they will take it somewhat easy in the regular season after three straight long playoff summers. The Heat don't much care about home-court advantage in the postseason; they feel confident they can win anywhere. The key is to keep Dwyane Wade healthy. No other team has a realistic chance here. Atlanta will be typically mediocre, and Washington might sneak into the playoffs.
Northwest Division - Oklahoma City (-400), Denver (+550), Minnesota (+1000), Portland (+1800), Utah (+1800): Here's my big surprise of the season: Take Minnesota to win the division. Maybe I am too high on the Wolves, but they are my pick as the Golden State Warriors breakout club of this season. Ricky Rubio and Kevin Love are healthy, and Minnesota filled a gaping hole with the addition of Kevin Martin, thus helping to weaken the Thunder. Remember, too, that OKC point guard Russell Westbrook will miss at least the first 4-6 weeks, and there's no telling how sharp he will be when he returns off that torn knee ligament suffered in the playoffs. Denver looks to have taken a step back with the loss of Coach George Karl and Andre Iguodala, and it has Danilo Gallinari trying to return from a serious knee injury. If Love and Rubio can stay healthy, I love Minnesota's value here.
Southwest Division -- Houston (+130), San Antonio (+140), Memphis (+400), Dallas (+1600) New Orleans (+2500): This might be the deepest division top to bottom in the NBA because I could see all five teams competing for playoff spots. The Pelicans should be much improved with the additions of Jrue Holiday and Tyreke Evans -- they will be fun to watch, for sure. The Grizzlies are the NBA's best defensive team. Dallas still has Dirk. I do believe the Rockets bandwagon is a bit overcrowded right now. Obviously Dwight Howard makes them better, but they still have flaws. The Spurs are so consistent that it's tough to pick against them here. I suppose age catches up to them at some point, but perhaps there will be one more title run.
Pacific Division -- L.A. Clippers (-250), Golden State (+180), L.A. Lakers (+1000), Sacramento (+10000, Phoenix (+20000): When was the last time the Lakers were the third-favorites in their division? Never? Certainly has to be the first time the Clippers are favored as they won their first Pacific title a season ago and have added J.J. Redick, Jared Dudley and, perhaps more important, Coach Doc Rivers. Everyone loves the Warriors after last season's playoff run and the addition of Iguodala, but remember how much they count on Andrew Bogut and how injury-prone he is. The Clips should run away with this barring a Chris Paul injury because they were .500 when he was injured last year.
Read more articles by Alan Matthews