2014 NBA Rookie of the Year Odds and Predictions
by Alan Matthews - 10/14/2013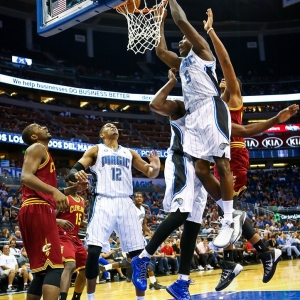 I am not afraid to admit when I am wrong -- even embarrassingly so. To be honest, if I was right on these prop predictions stories all the time, I wouldn't be writing for this site -- as much as I enjoy it -- but be on some beach in the Caribbean spending my millions of winnings on the Swedish women's dance troupe. I suppose there is always hope of hitting the Powerball one of these days.
So it is with mouthful of crow that I tell you I really liked Sacramento's Thomas Robinson on last year's NBA Rookie of the Year prop. The guy was a beast at Kansas and seemed to be a great fit on a Sacramento team alongside DeMarcus Cousins. Now Robinson looks like bust, proving that just having a NBA body means squat. He only got 15.9 minutes per game for another bad Kings team and averaged 4.8 points and 4.7 rebounds. Robinson was dealt to Houston in February essentially in a salary dump by former Kings cheapskate owners the Maloof brothers. Sacramento got squat for the No. 5 overall pick: Patrick Patterson, Cole Aldrich, Toney Douglas and $1 million in cash. Patterson is OK, while the other two are scrubs and gone.
The Rockets then essentially gave Robinson away in late June, sending him to Portland for two second-round draft picks and the rights to Kostas Papanikolau and Marko Todorovic, two guys I've never heard of and probably won't ever play in the league. There was a method to Houston's madness, however, as it needed to clear all the space it could to get Dwight Howard. It worked.
No. 6 overall pick Damian Lillard of Portland won the ROY honors. He averaged 19.0 points, 6.5 assists and 3.1 rebounds in becoming the fourth unanimous winner of the award. He was clearly the best rookie in the league. No. 1 pick Anthony Davis, the preseason ROY betting favorite, and No. 3 Bradley Beal had their moments, but both had injury problems. I'm not sure No. 9 Andre Drummond of Detroit won't prove the best player of all the 2012 rookies.
So that brings us to the 2013 ROY odds, courtesy of Bovada. The Cleveland Cavaliers won the draft lottery and surprised many by taking UNLV forward and Canadian Anthony Bennett, even though he had surgery to repair a torn rotator cuff in May. It doesn't look like Bennett will get a ton of minutes this year for the Cavs as they have Tristan Thompson ahead of him at power forward, and the team plans to keep Bennett as the four spot instead of using him as a small forward. That was the only knock on the talented Bennett, that he might be a "tweener" in terms of size. He is 14/1 to win ROY, and I don't see that happening. That likely means a second straight season of the top overall pick not winning ROY, which hasn't happened since 2006-07 when Brandon Roy (No. 6) and Kevin Durant (No. 2) won the award, respectively.
It's a tough rookie class to call because there doesn't appear to be a superstar talent, unlike the supremely loaded 2014 class led by Andrew Wiggins. Orlando's Victor Oladipo is the 9/2 favorite. Offensively, the former Indiana star is not ready for the NBA, but he will be a defensive presence right away. Unless you were a Big Ten/IU fan, you probably didn't know who Oladipo was entering last college basketball season. He'll definitely get a ton of minutes on a bad Magic team.
Oladipo is/was followed by NCAA National Player of the Year Trey Burke, formerly of Michigan and now of Utah -- the Jazz traded the No. 14 and 21 picks to Minnesota for Burke after the Wolves took him No. 9. Burke also should get a ton of minutes right away as the Jazz are in total rebuild and are very weak at point guard.
Bennett isn't even the Canadian with the shortest odds, Boston's Kelly Olynyk (13/2) is. The former Gonzaga star was taken No. 13 by Dallas and traded to Boston for the No. 16 pick and two future second-round picks. Olynyk looked great in the Orlando summer league, averaging 18 points and 7.8 rebounds per game. I'm just not sure how much Olynyk plays as Boston has a decent amount of power forwards in Brandon Bass, Jared Sullinger and Kris Humphries, although some of those guys will be asked to play center. The team likely will be play Sullinger and Olynyk together off the bench.
Sacramento's Ben McLemore (7/1) should play a ton with Tyreke Evans no longer with the Kings, and McLemore is probably the best pure scorer among the 2013-14 rookies. McLemore can shoot but has trouble creating his own shot.
I might have liked Portland to go 2-for-2 with small-school stars on C.J. McCollum (8/1) until he recently broke his left foot, the same injury that cut his senior year at Lehigh very short. He was leading the country in scoring (25.7 points) at the time of the first injury. He's obviously out quite a while. I also might have rolled the dice on Washington's Otto Porter (10/1) but injuries have set him back.
Philadelphia's Michael Carter-Williams (8/1) will play perhaps more than any other rookie with how bad Philly will be. At 6-foot-6, he will be tough for opposing point guard to check. Carter-Williams should rack up assists, but he simply can't shoot yet. The Sixers also might be so bad, especially with Nerlens Noel (33/1) out at least the first few months, that voters won't pick Carter-Williams.
Burke was going to be the pick before he broke his right index finger in Saturday's preseason game. After all, he is the highest "profile" of the rookies after leading Michigan to the National Championship Game. However, now that he's out 8-12 weeks following surgery, I doubt he can do enough to warrant the award considering he may miss 30 games. His odds will certainly change as well. Thus, I'd have to go with Oladipo.
Read more articles by Alan Matthews