NCAA Basketball Betting and Handicapping: Scouting the Week Ahead
by Alan Matthews - 12/17/2013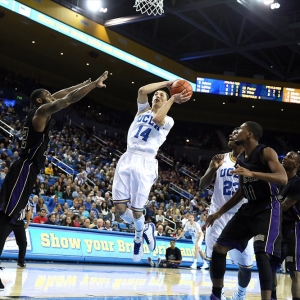 So if I told you that Oregon is a potential National Championship contender with one of the best offenses in the nation, that would sound correct, right? Only I'm not talking about the football Ducks but the basketball version. It might be time to jump on some Oregon futures now while you can still get long odds: +5000 to win a national title at Sportsbook.ag.
No. 13 Oregon (9-0) looks like the top challenger to top-ranked Arizona in the Pac-12. The Ducks are second nationally in points (89.1) and fourth in shooting (.532). They haven't played a ranked team yet but have beaten solid clubs like Georgetown, Mississippi and this weekend Illinois. The Ducks are a transfer heaven as two of their best players are from elsewhere: Mike Moser (UNLV) and Joseph Young (Houston). They combined for 28 points and 14 rebounds in the win over the Illini. They are the team's two leading scorers; Young might be the best player in the Pac-12 so far.
Oregon, which is the only major team still yet to lose against the spread, will only get better starting Tuesday night when Dominic Artis and Ben Carter return from their nine-game suspensions for selling team-issued apparel. Artis is the more important player. He was the team's starting point guard last year as a freshman, averaging 8.5 points and 3.2 assists. In Artis, Young, Damyean Dotson and Johnathan Loyd, the team is stacked in the backcourt. Coach Dana Altman said neither Artis nor Carter start to begin with, but they have been able to practice during the suspension. Last year the Ducks were 23-5 in games in which Artis played and 5-4 when he was out with a foot injury.
Oregon was the Pac-12 Tournament Champion and a Sweet 16 team a season ago, losing to eventual National Champion Louisville in the NCAA Tournament. The Ducks are 14-point favorites for Tuesday's home game against UC Irvine. They host a solid BYU team on Saturday.
Walker To Debut Soon?
One of the best matchups of the week is Tuesday night at Madison Square Garden when No. 16 Florida faces No. 15 Memphis. The Gators, who are 2.5-point favorites, won't have highly-touted freshman Chris Walker for the game but could by the weekend. Walker, a McDonald's All-American, didn't qualify academically for the fall semester but now is eligible and officially admitted to the school on Saturday. He is still awaiting clearance from the NCAA and might have to serve a brief suspension because he took an unofficial visit to another school that was paid for a by a former summer league coach. The Gators could definitely be a title threat if Walker is as good as advertised. They beat Kansas on Dec. 10, and their only losses were close at Wisconsin and at Connecticut, two Top-10 teams.
Walker should be good to go no later than UF's SEC opener Jan. 8 against South Carolina. With as fallible as freshman-laden Kentucky looks, Florida might be a smart bet to win the conference. The Wildcats lost their third game Saturday, at North Carolina. The Heels have been amazing so far, losing to Belmont and UAB yet beating Louisville, Michigan State and Kentucky. They have a big one Wednesday against Texas. Then the Horns host Sparty on Saturday.
Big Loss For Aggies
Utah State is one of those dangerous mid-major teams, but the Aggies' NCAA Tournament chances took a big hit this week with the news that star Jarred Shaw was suspended indefinitely for a violation of team rules. The 6-foot-10 senior transfer from Oklahoma State is averaging 16.1 points and 7.8 rebounds while shooting .543 from the field. USU has a busy week with three games in four days starting Thursday against Western Illinois. His likely replacement is Jordan Stone, a career backup who has averaged 3.1 points per game. The Aggies open Mountain West play Jan. 1 at Air Force.
Game Of The Week
In my opinion, the one game not to miss -- especially with NFL Thursdays now over -- is Thursday's matchup between No. 8 Duke and UCLA at Madison Square Garden. The Bruins look legit under first-year coach Steve Alford, ranking in the Top 3 nationally in scoring, shooting and assists. They also haven't played much of a schedule yet, with the lone loss coming at Missouri. Jordan Adams is playing like an All-American, leading the team in scoring at 21.6 points per game and shooting .533 from the field.
I could easily see an upset Thursday, because Duke is liable to be rusty. Its only game since beating Michigan on Dec. 3 was a layup Monday night against Gardner-Webb. Duke struggles against big teams, which was shown in losses to Kansas and Arizona. The Bruins have the 6-foot-10 Wear twins along with 6-foot-9 Kyle Anderson.
It's the first meeting between the teams since 2002. The schools rank No. 2 and No. 3 in total Final Four appearances. UCLA has reached the national semifinal 17 times, while Duke has made it 15 times.
Want free college basketball picks? The ones that members pay for from Doc's Sports expert Advisory Board stable of handicappers? Click here for the no-hassle signup and see your free picks in minutes - $60 worth, which will get you two free days of service. Doc's Sports has enjoyed some unprecedented results the last few years, and we know how to exploit weaknesses in the oddsmakers lines during this time of the season. Don't miss out!
Read more articles by Alan Matthews
---
Most Recent College Basketball Handicapping