NFL Survivor Pool Picks and Advice: Week 10
by Matt Severance - 11/6/2013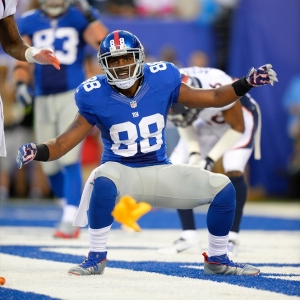 Reason No. 1 why you should try to avoid picking the "Monday Night Football" game in your Survivor Pool as well as avoid "saving" a team for later in the season was shown in Week 9.
The Packers were sizable favorites to beat visiting Chicago for the seventh straight time, and Aaron Rodgers had driven Green Bay down the field on the Pack's first offensive possession. However, then Rodgers was sacked by the Bears' Shea McClellin (about time the former first-rounder did something) and landed hard on his left shoulder. Rodgers wouldn't return, and the Packers lost because Seneca Wallace is lousy. It most likely knocked out more than a few people in your survivor pool competition (I had already used the Packers).
Obviously, a quarterback can get hurt in any game, but at least if you pick a Sunday matchup you can wait until the last minute to make a decision on known injuries. If you aren't sold on the one game you like most, there are multiple games to pick from. If you put all your eggs in one basket, a Rodgers-type injury can wreck everything. And if for some reason you have been holding on to Green Bay to perhaps use the Packers in Week 12 at home against terrible Minnesota, now the Pack are radioactive with Wallace under center (yes, there are reports someone on the team reached out to Brett Favre, but he's not coming out of retirement). Rodgers isn't expected back until the Thanksgiving game at Detroit at the earliest with a small fracture in his collarbone. The Packers should be ashamed of themselves for not having a better emergency plan; the Bears' Josh McCown looked like Johnny Unitas compared to Wallace. Live in the moment when making your weekly choice and try to stay clear of those Thursday and Monday games.
My top pick last week was Seattle, although I had used the Seahawks already. They almost suffered one of the biggest upsets in years, rallying from a 21-0 deficit to keep the dysfunctional Bucs winless. Because I had used Seattle, my next team up was Dallas, and it barely avoided an upset to double-digit dog Minnesota. I also thought Buffalo would upset Kansas City, and the Bills by all rights should have. If Jeff Tuel doesn't throw that interception in the Chiefs' end zone early in the third quarter, the Bills almost surely win that game with a 17-3 lead. K.C.'s only two touchdowns were defensively. The unbeaten Chiefs will get their comeuppance next week in Denver.
So far my top picks this year have been New England, Baltimore, Seattle, New Orleans, Atlanta, Denver, Green Bay, San Francisco and Dallas. On the bye this week are the Browns, Chiefs, Patriots and Jets. As usual, I am going in descending order of confidence with the team listed first choice.
NY Giants vs. Oakland: This will definitely be the first time I've used a 2-6 team as a top choice, but everything points to a Giants win here. They healed up last week on the bye and have won two straight. The defense appears much-improved, and Eli Manning isn't getting picked off at a Testaverdian rate lately. Oakland was destroyed last week and has to play across the country at 10 a.m. Pacific Time.
Tennessee vs. Jacksonville: Even though this is No. 2 in order of confidence, it wouldn't surprise me to see the Jags win here. Most teams are better after the week off, but not the poor Jaguars. They lost their best offensive player, receiver Justin Blackmon, to another suspension. Guy is ruining what is a very promising career. The Titans did lose in Jacksonville last year but should do enough to squeak one out at home Sunday by riding Chris Johnson against a terrible run defense.
Indianapolis vs. St. Louis: This is another game that worries me. The Colts haven't played an afternoon game since Oct. 6 and come off a very emotional big comeback win at Houston. The Rams could have won their past two games, but those were both at home. I don't see Kellen Clemens winning on the road.
Seattle at Atlanta: Rematch of last year's terrific playoff game, and normally I would call this a huge trap for the Seahawks, who have lucked out in wins over St. Louis and Tampa Bay the past two weeks. However, I think that escape against the Bucs will get the Seahawks' attention. I'd feel better if Percy Harvin was debuting, but he remains out.
New Orleans vs. Dallas: When these two played in Dallas in Week 16 last season, it was an all-you-can eat buffet of offense as they combined for a little more than 1,000 yards. Both Drew Brees and Tony Romo passed for more than 400 yards as the Saints won 34-31 in overtime. I expect more points Sunday night. The Saints just don't lose at home under Sean Payton.
San Francisco vs. Carolina: Probably the game of the week with the Niners and Panthers both rolling, combining for nine straight wins. Neither has beaten a team with a winning record in that stretch, however. Have to like the Niners at home and off the bye.
Pittsburgh vs. Buffalo: After giving up a franchise record amount of yards and points last week in New England, I rather expect the Steelers practiced pretty hard this week under Mike Tomlin. Pittsburgh really isn't very good and needs to rebuild, but it's a proud franchise that should bounce back at home even though the Bills may get back E.J. Manuel (who wouldn't start at his alma mater Florida State right now).
Arizona vs. Houston: Maybe the Texans have their quarterback of the future in Case Keenum. I think they beat the Colts last Sunday night if Coach Gary Kubiak hadn't been taken off on a stretcher at halftime. Maybe the team wins this week for Kubiak, who is out indefinitely, under interim coach Wade Phillips. The Cardinals are a quiet 4-4 and have been pretty good at home this season, beating teams like Detroit and Carolina there.
Washington at Minnesota (Thursday): Robert Griffin III became a household name in last year's win over the Vikings with a 76-yard touchdown run in the fourth quarter. NFL defenses are supposed to be too fast for a quarterback to score from that far on the ground, especially going around the corner. RGIII still isn't back to that guy, but the Vikings have nothing to play for and probably won't be hearing many cheers from a disillusioned fan base.
Green Bay vs. Philadelphia: Yep, I do think Wallace can manage the game well enough to win here -- the line dropped a whopping 8.5 points from when Rodgers was the projected starter for Green Bay. The Pack will ride their "Beast Mode" Eddie Lacy to a close win.
Baltimore vs. Cincinnati: Much like the Steelers, I am presuming the Ravens show some pride here and avoid their fourth straight loss. They better, or the playoffs are a pipe dream. The Bengals lost on the road to another desperate team last week in Miami and will again.

Chicago vs. Detroit: Jay Cutler is hoping to play, but I doubt that he does just three weeks off that torn groin. That sounds like a great name for a Seattle band: "Torn Groin". It's a short week for the Bears; Detroit is off a bye and already beat Chicago once this year. However, I think the Bears players really believe in Josh McCown, and frankly I like him personally better than the sourpuss Cutler. McCown will do enough for a close win.
San Diego vs. Denver: The Chargers have already beaten Dallas and Indianapolis in San Diego. I love/hate the Bolts. They choked away last week's game at Washington, but it would be just like them to come back and pull off this upset. I think they do against Broncos interim coach Jack Del Rio (John Fox out indefinitely after heart surgery), taking a tiny but of luster off next week's Chiefs-Broncos showdown.
Tampa Bay vs. Miami (Monday): Maybe actually playing football is exactly what the Dolphins need right now, but I think this whole Code Red mess -- starring Richie Incognito as Pfc. Downey and Jonathan Martin as Pfc. Santiago, with unnamed coach TBA as Col. Jessup -- is such a huge distraction that the Bucs will get their first win. Just from a football standpoint, Miami is now down two of its starting offensive linemen. I would have thought if any team was doing Code Reds it would have been Tampa Bay under dictatorial coach Greg Schiano.
At Doc's Sports our handicappers are obsessed with football and passionate about finding you winners. Want proof? We'll show you what we mean by giving you $60 worth of our member's picks absolutely free. No obligation. No strings. Click here to get started right now.