NFL Survivor Pool Picks and Advice: Week 11
by Matt Severance - 11/13/2013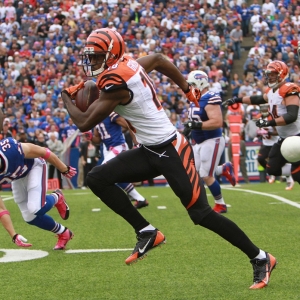 Quite a few surprising results in Week 10 of the NFL season that may well have your survivor pool down to a handful of contestants. The two biggest upsets were the winless Jaguars shocking the Titans in Nashville and the Rams totally punking the Colts in Indianapolis. On a lesser scale, the Panthers upset the Niners in San Francisco and the winless Buccaneers beat the Miami Incognitos.
I wrote last week it wouldn't surprise me to see the Jags win as they were coming off a bye week and that the Colts also worried me as they were playing an afternoon game for the first time in a while and coming off an emotional comeback victory (that they lost by 30 to St. Louis was very surprising). I flat-out picked the Bucs' upset over the clearly distracted Fins.
My top pick was the New York Giants, who beat visiting Oakland 24-20 in an incredibly boring game in which the two quarterbacks combined for 262 yards passing. The G-Men will take it and have won three in a row to climb back into the NFC East race. Do you realize we could be looking at seven new division winners this season? Only the Patriots in the AFC East look like they will repeat for sure, but Denver could depending on what happens Sunday.
So far my top picks this year have been New England, Baltimore, Seattle, New Orleans, Atlanta, Denver, Green Bay, San Francisco, Dallas and the Giants. On the bye this week are the Cowboys, who should take the time to hire a new defensive coordinator, and Rams. As usual, I am going in descending order of confidence with the team listed first choice.
Seattle vs. Minnesota: Obviously Seattle is off the board, I'm sure, for everyone in your competition, but the Seahawks are clearly the team most likely to win this week. They haven't looked great in their past two home games but seemed to wake up in Atlanta last week and now get Percy Harvin in the fold.
Cincinnati vs. Cleveland: Every time I think the Bengals are a Super Bowl contender, Andy Dalton goes in the tank. Cincinnati was looking at a potential No. 2 seed in the AFC, but Dalton has thrown a combined six picks the past two weeks, and the Bengals have lost both in overtime. They might regret last week's loss to Baltimore, giving the Super Bowl Champions hope in the division. Cincinnati lost in Cleveland in Week 4 with Dalton not playing well, but I expect a big-time turnaround on Sunday. Cleveland's only road win is at the Vikings, and that was with Brian Hoyer.
Denver vs. Kansas City: I realize that Peyton Manning's ankle won't be 100 percent and that the Chiefs are going to bring pressure all day long with their league-leading pass rush (and come off a bye). I just don't think Denver loses a home game -- at least until the playoffs when Manning is very mortal.
NY Giants vs. Green Bay: The Giants crushed the Packers last year, and that was when Green Bay had Aaron Rodgers. What will they do against Scott Tolzien? This was originally a prime-time game but flexed out in favor of Chiefs-Broncos.
Philadelphia vs. Washington: I'm starting to get on the Nick Foles bandwagon -- 16 touchdown passes and no picks this season. That's Manning-esque. I realize the Eagles have lost 10 straight games at home, but they are in first place, and I think will play well Sunday. I am curious to see how the Redskins defense plays here. Remember how bad the Philly offense made Washington look in the first half of the Monday night season opener? The Skins have allowed at least 31 points in all but one road game this season.
Tampa Bay vs. Atlanta: The Falcons have officially mailed it in, getting outscored 90-33 in their past three games. Injuries have wrecked their season, much like the neighboring University of Georgia, although I'm guessing Coach Mike Smith will be back (and Mark Richt). The Bucs really do have some talent but are down to their No. 3 and No. 4 running backs, the dynamic duo of Brian Leonard and Bobby Rainey. Mike Glennon will do enough.

New Orleans vs. San Francisco: The Saints just don't lose at home under Sean Payton. And whatever happened to Colin Kaepernick? He has passed for more than 200 yards just twice all season. Part of that is the Niners are run-heavy, but he's not the same guy as last year. Here is guessing Kaepernick has ruined more than a few fantasy football teams. Thankfully, I took Drew Brees over him.
Arizona at Jacksonville: The Cardinals might be the most under-the-radar above-.500 team in the NFL. If they win this week and the Niners lose in New Orleans, something I obviously expect to happen, Arizona would be tied for the final wild-card spot in the NFC (along with potentially the Bears and Packers if they both win). That possibility should be enough to avoid looking past the Jags, who are looking for their first home TD of the season.
Houston vs. Oakland: Are the Texans already punting on the season? Ed Reed was waived and Arian Foster put on season-ending IR this week. It looks like Coach Gary Kubiak will return from his mini-stroke and coach this week. If I was him, I would have stayed out the rest of the season, claiming health reasons. Maybe that would prevent his firing. Oakland's Terrelle Pryor is struggling in his past three games, completing barely half his passes with no TDs. I'll take Case Keenum in that matchup and Houston to end a seven-game skid.
San Diego at Miami: The good news for San Diego: This game is at 4:05 ET, so it's not like a 10 a.m. West Coast start. I'm not sure Miami wins another game this season because of the toxic atmosphere around the team right now. Does Joe Philbin survive this? Probably, but I don't think GM Jeff Ireland does. He should be fired solely for giving Mike Wallace $60 million.
Indianapolis at Tennessee (Thursday): The Colts can all but win the AFC South by beating a Titans team they swept, albeit in two close games, last season. I'll take Andrew Luck over Titans backup Ryan Fitzpatrick.
Buffalo vs. New York Jets: Could the Jets actually alternate wins and losses all season? Wonder if that has been done before. If the trend holds, they lose this one -- although maybe coming off the bye week changes the karma. However, the New York offense has looked terrible on the road this year other than Week 5 in Atlanta. Bills will get payback for 27-20 loss at MetLife Stadium in Week 3 in which New York won despite 20 penalties.
Pittsburgh vs. Detroit: The Lions absolutely should not lose this game as they could find themselves with a two-game lead in the NFC North by the end of the day with a win. However, I don't trust Matthew Stafford out of the dome quite yet, and it's a must win for Pittsburgh to have any playoff hopes.
Carolina vs. New England (Monday): I'm a big believer in the Cats defense, which hasn't allowed more than 15 points during a five-game winning streak. The Patriots scored an NFL-high 55 points in their last game and come off the bye, so it will be very interesting to see which style prevails. I say Carolina's.
Baltimore at Chicago: No Jay Cutler, Lance Briggs or now Charles Tillman. The Ravens saved their season with last week's overtime win over Cincinnati and know they have three straight very winnable games at home after this one. So suddenly Baltimore could be 8-5 and back in the division race if it wins this one. The wretched Baltimore run game, averaging 2.8 yards per carry, gets better against Chicago's No. 31 run defense.
The last word: It's pretty clear-cut Cincinnati this week even though the Bengals dearly miss star defensive tackle Geno Atkins, who is done for the season. Dalton usually follows a bad game with a good one. I don't really see a huge trap game in Week 1 because there is no significant favorite outside of Denver and Seattle, and they are both at home.
Doc's Sports has free picks to give away, and they want you to have them. These are the same picks that members pay for, but you can have $60 worth absolutely free. No obligation. You don't even need a credit card to sign up. Just click here to get started.