NFL Survivor Pool Picks and Advice: Week 12
by Matt Severance - 11/20/2013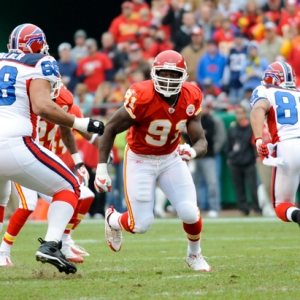 It has been a typically topsy-turvy NFL season where parity abounds, just as Roger Goodell likes it. For example, already seven teams have matched or surpassed their win totals of last year: Detroit, Kansas City, Philadelphia, Arizona, New Orleans, Carolina and Oakland. The first six are going to blow past last year's number and likely make the playoffs, while the Raiders are ... well, the Raiders. But it would be hard for Oakland to fire coach Dennis Allen if it improves by a few wins off last year's 4-12 record, and that looks doable.
I doubt a single result from Week 11 altered your survivor pool competition because I don't think there's one game you could call a legitimate upset. Yes, the Raiders were double-digit underdogs and managed to win at Houston, but the Texans players are already making offseason golf plans in Arizona. A pretty chalk week otherwise. My top choice of remaining teams on my list was Cincinnati, and the Bengals beat the Browns 41-20 thanks to a 31-point second quarter. Cincinnati had more touchdowns than first downs in the first half thanks to defensive and special teams scores. Cleveland was statistically better on the day but coughed it up four times.
There's no clear-cut lock in Week 12 that I see. So far my top picks this year have been New England, Baltimore, Seattle, New Orleans, Atlanta, Denver, Green Bay, San Francisco, Dallas, the NY Giants and Cincinnati. On the bye this week -- the final week of byes -- are the Bills, Bengals, Eagles and Seahawks. As usual, I am going in descending order of confidence with the team listed first choice.
Detroit vs. Tampa Bay: Yes, the Bucs are playing with a bit of confidence all of a sudden, but they have to be careful here. Keep winning, and Greg Schiano is back next season! That should scare the Bucs into another losing streak. The Lions are totally unpredictable -- they scored 27 second-quarter points in Pittsburgh last week but no more -- but they are tough to beat at Ford Field with the Stafford/Megatron aerial show.
Kansas City vs. San Diego: I can't believe I haven't used the 9-1 Chiefs yet, but I still don't quite believe in Alex Smith. The defense, yes, although I don't know why more pressure wasn't brought last week with Peyton Manning playing on one leg. This does worry as a major trap game in between Denver showdowns and it's probably close. The cold weather should hugely benefit K.C.
Baltimore vs. NY Jets: The Jets have set an NFL record by alternating wins and losses through their first 10 games, but that ends Sunday. The Ravens might have blown out the Bears in Chicago last week if not for a long weather delay, and Baltimore still had a shot to win at the end of regulation. The champs played with urgency, and I expect more of the same. Plus, Geno Smith has been terrible lately.
Houston vs. Jacksonville: I know what I just said about the Texans not having any heart, but they still have a lot more talent than the Jags. I like that Case Keenum is starting as he's potentially playing for a starting job next season. If it had been Matt Schaub, the fans would have been booing on every play, and that could have led to an upset.
New Orleans at Atlanta (Thursday): I never like road teams on these short weeks, but they have been better this season. The Falcons are the Texans of the NFC as they too have mailed it in. I never like Drew Brees away from the Superdome, but unless the Georgia Dome has a retractable roof I don't know about, he'll be fine on Thursday.
Pittsburgh at Cleveland: Don't look now, but the Steelers are back in the wild-card chase having won four of six. Ben Roethlisberger has raised his game since a refuted report he would ask for a trade. The Steelers have just one road win so far, but they own Cleveland with Big Ben 15-1 all-time against his home-state Browns.
NY Giants vs. Dallas: Hopefully you put down some money on the Giants to win the NFC East when they were 0-6, because they will be a game behind first-place Philly by beating Dallas on Sunday. The Cowboys can't stop anyone and were torched by Eli Manning in the season opener. New York almost won that despite six turnovers.
Arizona vs. Indianapolis: The Cardinals are starting to look like the Panthers Lite and could find themselves holding down the final NFC wild-card spot by Monday night. Indy can't run the ball, and Arizona is No. 2 against the rush. Could be a long day for Andrew Luck.
Green Bay vs. Minnesota: Scott Tolzien vs. Christian Ponder, how exciting. The Packers have allowed 27 points in each of their three-game losing streak. So can Tolzien get 30? Doubtful, but I think Matt Flynn has now been around long enough to relieve him and get a close win. The Packers have to know if they lose this game the playoffs aren't likely with a short week upcoming and a trip to Detroit.
Chicago at St. Louis: In a very cool gesture, Fox Sports gave Howie Long the day off Sunday, the first time in 20 years he won't be on the pregame show, so he could watch his sons Kyle, a Bears rookie starting guard, and Chris, a very good Rams defensive end, tangle. I believe in Josh McCown here much more than Kellen Clemens.
San Francisco at Washington (Monday): It's about desperation time for the Niners. The preseason Super Bowl favorites aren't going to win the division, and a wild-card spot is now in jeopardy after two bad offensive outings in losses to Carolina and New Orleans. Those are good defensive teams, however. The Redskins aren't. I expect a bounce-back from Colin Kaepernick. One more nail in Mike Shanahan's coffin.
Miami vs. Carolina: Everything screams trap game here for the Panthers. They just beat two Super Bowl contenders in a row and are on a six-game winning streak. Carolina is due a letdown game on a short week. Maybe the Dolphins will "do it for Johnny!" a la "The Outsiders." Yeah, I don't think the players will be too motivated to win for Jonathan Martin.
Oakland vs. Tennessee: Matt McGloin looks to be the Oakland starter. I have no other pertinent information about this game because it's irrelevant. I think the Titans throw in the towel after back-to-back devastating home losses to Jacksonville and Indianapolis. Mike Munchak's a goner.
New England vs. Denver: Tom Brady improves to 10-4 against Peyton Manning, with a rematch coming in January. I think the difference is the New England running game on a night where the weather looks to be a factor.
The last word: I really wouldn't have a qualm with you going with the Chiefs this week instead of the Lions, maybe saving Detroit for next week when they host Green Bay if Aaron Rodgers is out. I simply believe the Chargers, even on a three-game skid, are capable of winning in K.C. and don't think Tampa can do the same unless Jim Schwartz screws things up for Detroit, which you can never rule out.
Doc's Sports has been handicapping the NFL since before every single player currently in the league was born. That's experience. You can get that experience on your side absolutely free. Doc's wants to give you $60 worth of free NFL picks - the same ones that members get. No obligation. Click here to get started today.