NFL Survivor Pool Picks and Advice: Week 2
by Matt Severance - 9/11/2013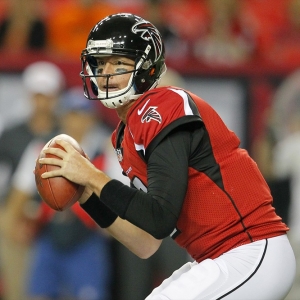 What a crazy Week 1 in the NFL with 12 games decided by seven points or less, tied for the most in NFL history and a record for an opening week. And if you don't think the NFL is getting more pass-heavy than ever, there's this: Three players rushed for 100 yards, and one was a quarterback (Oakland's Terrelle Pryor). Nineteen players (!) threw for at least 250 yards, six for at least 350 and three with at least 400. There was a record 8,143 net passing yards. Also, 19 receivers had 100 yards. The days of going running back-heavy in a fantasy draft are clearly over.
In last week's advice column, I thought New England clearly had the best chance to win. The Patriots did, although they needed a last-minute drive from Tom Brady for a game-winning field goal to win in Buffalo -- the Pats seem to do this early in the year. I also mentioned perhaps going with Pittsburgh at home against the Titans if you didn't want to be locked in with 80 percent of your pool if the Patriots had lost. Alas, the Steelers looked like perhaps the most inept offensive team in the NFL in their 16-9 loss, Pittsburgh's first home-opening loss since 2002. The team was doomed when its second-best offensive player after Ben Roethlisberger, Pro Bowl center Maurkice Pouncey, went down early with a season-ending injury. The Steelers had 195 total yards against a defense that was easily the worst in the NFL last year but looked like the 1985 Bears on Sunday.
I also warned against the Colts at home against Oakland, simply on a hunch. The Raiders' Pryor looked like a legit quarterback and gave Indy a bunch of problems with his mobility. However, Andrew Luck came up with yet another fourth-quarter comeback. I'm still not a big Colts backer, but a win is a win. I predicted a Panthers home upset against Seattle, and Carolina nearly pulled it off.
I would imagine the Steelers upset was the only one that caused a stir in your pool. I doubt anyone took the Jets or Eagles, two other teams who won as underdogs of at least three points. The Jets got lucky, while the Eagles looked revolutionary, at least in the first half against Washington. It's already must-win time for all those clubs that lost in Week 1 because it's very rare for 0-2 teams to reach the postseason.
Here is my list of every Week 2 game in descending order of confidence. The first team listed is the weekly Survivor Pool pick. It's a difficult week with a lot of fairly even matchups on paper.
Baltimore vs. Cleveland: The Baltimore defense was ravaged this offseason, and it was picked apart by Peyton Manning last Thursday, although there's certainly no shame in that. It will happen to better defenses this year, no doubt. The good news is extra time to prepare for a Browns team that still is lousy on offense. Baltimore will play with much urgency and will not lose at home.
Atlanta vs. St. Louis: Is it time to worry about the Atlanta offense? Roddy White clearly isn't 100 percent with a high-ankle sprain, and the Falcons managed only 17 points against a Saints defense that set an NFL record last year in total yards allowed (7,042, more than 900 worse than any other team). The Rams, I believe, will compete for a wild card, but the Falcons simply have to win their home opener now.
New England vs. New York Jets (Thursday): I would jump on the Jets on the spread with the Patriots missing Rob Gronkowski, Shane Vereen and apparently Danny Amendola as well. That Pats offense looked just OK last week with Vereen and Amendola both having big games. This should be close, but the Pats will win at home.
Green Bay vs. Washington: The Packers played the Niners pretty much evenly, and Green Bay might have a running game now with Eddie Lacy. It's a short week for the Redskins and likely another long day for their defense. The Packers will not drop to 0-2 with a home-opening loss.
Cincinnati vs. Pittsburgh (Monday): It's pretty clear to me the Bengals are the class of the AFC North right now -- the only division with four 0-1 teams. Cincinnati outplayed the Bears for about 75 percent of Sunday's loss in Chicago. Stupid penalties and turnovers cost Cincy. Those things should be fixed this week. The Steelers not only lost Pouncey but also linebacker Larry Foote. The running game is non-existent, and Ben Roethlisberger looks old. It's going to be a long year in the Steel City.
Chicago vs. Minnesota: How good is Adrian Peterson? On his first carry of the new season, he had a 78-yard touchdown. It's the longest touchdown run on a player's first carry since the 1970 merger. Peterson scored all three Vikings TDs as otherwise the Vikings were overmatched in Detroit. Peterson owns Chicago in his career (262 yards and two TDs in two games last year), but the Bears can simply focus on him, because Christian Ponder won't hurt them.
Indianapolis vs. Miami: One game in and Mike Wallace is already a crybaby. Why are receivers such whiners? I'm presuming the Fins will throw more to Wallace this week, but Miami has no running game whatsoever. Indy has won seven straight at home, often late.
Philadelphia vs. San Diego: Do I think NFL defenses will figure Chip Kelly's offense out at some point? Yes. Will it be this week? No. The Chargers played the late game Monday night, choking away a 21-point lead, and now have to go across country for a 10 a.m. Pacific start. They will be gassed big time by the hypercharged Eagles' attack. No team is more must-see TV right now than Philly.
Houston vs. Tennessee: I wouldn't bet this game, because it might be a trap. The Texans are due a bit of an emotional letdown after that huge comeback in San Diego, plus they are on a short week. The Titans are feeling pretty confident after winning in Pittsburgh for the first time in 10 years. Still, Houston's talent level is much higher.
FLIP A COIN
I have little to no confidence on any of these remaining seven games, and either side winning wouldn't surprise me. Just wanted to add that disclaimer.
Oakland vs. Jacksonville: I've started a petition on Change.org for the NFL to black this game out even in the two home cities. I'm guessing there are better things to do in the Bay Area and north Florida on a Sunday afternoon in September. The Jags looked really bad last week. Could be the end for former first-round pick Blaine Gabbert, who is out this week.
Seattle vs. San Francisco: A preview of the NFC Championship Game? Obviously one of these clubs would have to win a road playoff game to get there since they can't be the top two seeds. The Seahawks destroyed the Niners in their last visit to the Pacific Northwest.
Carolina at Buffalo: I was on the Panthers bandwagon as a potential playoff team this year. Cam Newton didn't look good last week, and if he stinks again I'm jumping off quickly. It could have been that excellent Seattle defense that made Newton look bad. Whenever you see a matchup that looks almost even, go with the better QB. Newton is over E.J. Manuel.
New Orleans at Tampa Bay: The Saints often don't play well in Tampa Bay, perhaps because of the heat and humidity. Drew Brees often is mortal in outdoor games. But, again, New Orleans has the better quarterback here.
Kansas City vs. Dallas: Let's not get carried away with the Chiefs just because they crushed a terrible Jags team, but this clearly isn't the 2012 club. Cowboys star receiver Dez Bryant likely won't be 100 percent Sunday, and Dallas could have easily lost Sunday night despite getting six takeaways.
Detroit at Arizona: I'd love the Cards here if the game was played outdoors, but I'm sure the dome will be closed (and it's basically a dome even with the roof open). The Lions are built to play indoors with Matthew Stafford, Reggie Bush (stud in his debut) and Calvin Johnson.
NY Giants vs. Denver: Eli is 0-2 against big bro Peyton. This might be the final Manning Bowl we ever see with Peyton getting up there in age. If running back David Wilson can hang on to the ball, I can see the Giants winning a shootout.
The last word: Everyone who took the Patriots last week probably jumps on the Ravens here. Thus, as an alternative for a pool-buster, take the Falcons. As usual, though, wait until the last minute. If White somehow is ruled out, I'd shift down to Green Bay.
Here is one heck of an offer for new clients. Doc's Sports wants to give you $60 worth of member's picks absolutely free. No obligations and nothing to buy. Just proven picks from experienced handicappers. Click here to get started today.