NFL Survivor Pool Picks and Advice: Week 3
by Matt Severance - 9/18/2013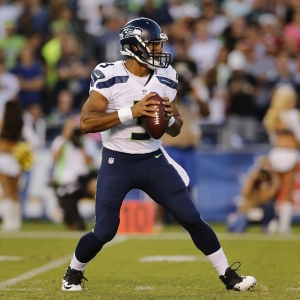 As close as the games have been in the NFL through the first two weeks of the 2013-14 season, there really haven't been any earth-shattering upsets yet to shake up your Survivor Pools despite some close calls. Did you know that 22 games already have been decided by seven points or fewer? That's by far the most through the first two weeks in NFL history (previous high 19 in 2010). There have been 11 games decided by a field goal or less, tied for the most through the first two weeks. Finally, there have been 14 fourth-quarter comebacks so far, tied for the most through Week 2 of any season.
So does this mean there is parity in the NFL and that 15 teams can win the Super Bowl? I say no. There are what appears to be maybe four excellent teams (Denver, Seattle, Green Bay and San Francisco -- I think the latter two still are despite a loss) and a handful of others who are pretty good but also clearly flawed (New England, Chicago, New Orleans, Atlanta, Cincinnati, Baltimore, maybe Miami, Houston, maybe Kansas City). I'd be shocked if one of the four excellent teams doesn't win the Super Bowl. The Broncos really seem to have a clear road through the AFC right now as long as Peyton Manning stays healthy. Do you realize that New England has scored as many points as Oakland so far and is averaging fewer yards than the Bills, Raiders and Dolphins? Sorry, but Rob Gronkowski won't solve everything. Houston, meanwhile, has beaten two inferior opponents on the final play of the game.
Week 3 is interesting because I can all but guarantee you that every player in your pool will jump on either the Seahawks or Broncos. I can't think of any reason why you shouldn't. Here are my picks in descending order of confidence, with the first team listed the pick. Bye weeks start in Week 4.
Seattle vs. Jacksonville: The Seahawks are better than 20-point favorites at some sportsbooks, which is totally absurd in an NFL game. You might think that's a record, but from what I can find the biggest spread in an NFL game was when the Steelers were -27 against the terrible Tampa Bay Bucs on Dec. 5, 1976. Pittsburgh won 42-0. The record-setting 2007 Patriots were at least 22-point favorites twice that year and didn't cover either. No chance in h-e-double hockey sticks that Seattle loses, but I don't think the Hawks play well after last week's emotional win over the Niners.
Denver vs. Oakland (Monday): I can't wait until next week when the Broncos host the Eagles in a game that could reach 100 points. Obviously, Manning should have his way with the Raiders, but the loss of left tackle Ryan Clady will hurt down the line. I might save the Broncos for Week 6 when they host those Jags.
New Orleans vs. Arizona: I think the Saints might be unbeatable at home this year just like they were in 2011. Sean Payton is clearly a difference-maker, but apparently so is new defensive coordinator Rex Ryan. If you would have told me the Saints would be 2-0 by scoring just 39 total points, I would have bet against that. The offense should get going.
New England vs. Tampa Bay: I'd love the points here because the Bucs are desperate, although frankly they might want to lose to get rid of Coach Greg Schiano as it appears many players despise him. No Danny Amendola and Gronkowski likely again for the Pats, and Bucs Pro Bowl safety Dashon Goldson won his appeal and will play, which will be a factor. Pats likely to eke out another win, however, and be the most fraudulent 3-0 team in the NFL.
San Francisco vs. Indianapolis: Andrew Luck's fourth-quarter magic ran out last week against Miami. The Niners are battered from Sunday night's loss in Seattle but also likely embarrassed and will take it out on Indy as Luck faces his former Stanford coach in Jim Harbaugh.
Dallas vs. St. Louis: Don't look now, but Sam Bradford is playing almost like a former No. 1 overall pick. But the Cowboys are usually almost unstoppable offensively at home, and I think that defense makes enough stops.
Minnesota vs. Cleveland: I had a feeling the Vikings were going to take a huge step back this year. Adrian Peterson has looked pretty mortal, and the defense isn't good. Still, it should have little trouble against a lousy Cleveland offense led by career backup QB Brian Hoyer.
Washington vs. Detroit: Matthew Stafford and Calvin Johnson should put up monster numbers on that weak Redskins defense. But the knee injury suffered by Reggie Bush will make the Lions one-dimensional again, and the 0-2 Skins simply have to win or their season is over.
Green Bay at Cincinnati: Don't touch this game. I think the Packers are better and it's a short week for the Bengals. However, a Green Bay loss wouldn't surprise me.
Philadelphia vs. Kansas City (Thursday): It's a very interesting Andy Reid Bowl because both sides want it so badly for vastly different reasons. As usual, though, the home team should win these short-week games.
Baltimore vs. Houston: The Texans are doing it with mirrors, and Andre Johnson has a concussion, although he may play Sunday. Left tackle Duane Brown likely won't. Baltimore could be without Ray Rice. The Ravens should hold server at home.
Titans vs. Chargers: Tennessee might not be that bad, having won at Pittsburgh in Week 1 (that doesn't look like much now) and deserving to win in Houston last week. The Chargers might not be all that bad, either, as they also should have beaten Houston in Week 1 and then went up and down the field last week on the Eagles.
Pittsburgh vs. Chicago: Wow, the Steelers look old, don't they? Remember when Ben Roethlisberger was arguably a Top-5 quarterback? Now I'm not sure he's Top-20, although it's certainly not all on him. The Steelers have some of the worst offensive talent in the NFL. They will play desperate on Sunday night, though, no question. The Bears might be 80 percent good and 20 percent lucky in starting 2-0.
NY Giants at Carolina: Ron Rivera continues to coach scared. Sunday's loss to Buffalo was the 10th time since Rivera was named coach that Carolina lost a game it led in the fourth quarter. He could have gone for it on fourth-and-one late in the fourth quarter at the Buffalo 21 and salted the game but went conservative again, and it bit him again. No team has been better the past two years in short-yardage situations than the Panthers thanks to the beast that is Cam Newton at quarterback -- he can power his way for a yard just about any time he wants. Rivera actually had the audacity to call out his team on Monday! I think the Giants take out their frustrations this week and Rivera's gone during Carolina's bye week.
Miami vs. Atlanta: I'm not necessarily high on the 2-0 Dolphins, but the Falcons will be without key players like starting running back Steven Jackson and linebacker Sean Weatherspoon. The Falcons also lost linebacker/defensive end Kroy Biermann to a season-ending Achilles injury Sunday.
Buffalo at NY Jets: Maybe the Bills were smart to reach for E.J. Manuel in the first round of the 2013 draft and pass on Geno Smith. Bills-Jets seems likely to be the only matchup this year (and obviously when they play again) where we see two rookie quarterbacks face off. Well, unless the Bucs have had enough of Josh Freeman by Week 14 when they host the Bills and turn to rookie Mike Glennon.
The last word: Don't overthink it this week and try to pick outside the Seahawks-Broncos matchups just to avoid getting caught in a group purge. No way either loses. The one potential trap game I see is the Vikings falling to Cleveland. Maybe Hoyer is an upgrade over Brandon Weeden.
Doc's Sports has been a leader in NFL handicapping for more than 40 years. Now we have a great offer for new clients. Get $60 worth of NFL picks absolutely free. No obligation. Nothing else to buy. You don't even need a credit card. Just click here to get started.