NFL Survivor Pool Picks and Advice: Week 7
by Matt Severance - 10/16/2013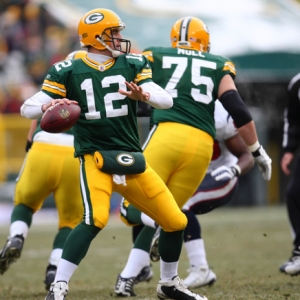 Unless you were silly enough to take the Houston Texans at home against St. Louis as your top pick in Week 6 survivor pool action, you are alive to see a Week 7. That was the only game considered a big upset, and I'm not even sure now that it was. Matt Schaub's confidence is clearly shot -- he left the game hurt, and then T.J. Yates continued a Schaub tradition by throwing a pick-six -- and I think the Houston players have tuned out Coach Gary Kubiak. He won't be back next year. Hey Houston, Lane Kiffin is available. I swear that guy only gets hired because his wife is smokin' hot.
Also, I warned against taking Indianapolis in a sandwich game at San Diego on Monday night, and indeed the Chargers won pretty convincingly. Now they will reaffirm their profile as a wildly-unpredictable team by losing at Jacksonville this week. Maybe. Here are my Week 7 recommendations in descending order of confidence, with the first team listed the pick. So far my top picks this year have been New England, Baltimore, Seattle, New Orleans, Atlanta and Denver. On the bye this week are the Raiders and Saints. It's another one of those weeks where there's really not one dead-solid lock.
Green Bay vs. Cleveland: The Packers are the only double-digit favorite of Week 7, and they have won 22 of their past 23 regular-season games at Lambeau, so I'm quite confident they will win. Am I sure? No. Randall Cobb is the team's second-best offensive player, and he's out, and fellow receiver James Jones likely is too. Poor Browns fans. They just signed receiver Charles Johnson off the Green Bay practice squad over the weekend only to learn, oops, he had a torn ACL. Oddly, this is only the third regular season game ever between these legendary franchises at Lambeau (met five times in Milwaukee). Aaron Rodgers will do enough with backups and Eddie Lacy.
Miami vs. Buffalo: Yes the Fins enter on a two-game losing streak, but they healed up with last week off. I have to pick against any team that signs quarterback Matt Flynn, which Buffalo recently did as backup insurance to Thad Lewis, who has a minor injury but should start.
New England at NY Jets: Maybe the Pats got their groove back after last week's very impressive last-second win over New Orleans in maybe the game of the year so far. They have won six straight in this series, although the Jets gave them trouble in Week 2 in Foxboro. Really, the Pats have played better in this series lately on the road. I also think Rob Gronkowski debuts this week; he better because now it seems he's losing the locker room.
NY Giants vs. Minnesota (Monday): Why would anyone watch this? I've never seen "Big Bang Theory," but I might check it out -- or get caught up on my DVR "Blacklist" episodes -- instead of this matchup of teams with one win combined. About the only interesting thing is that Josh Freeman is supposed to start for the Vikes. Yipee.
Denver at Indianapolis: Were the Colts looking ahead a bit on Monday night when they were lousy in San Diego? I think Peyton Manning wants to win this game as it might be his last time playing in his former city; you never know. It's the first time a game in the common draft era will feature two quarterbacks taken No. 1 overall and played for that same team will meet.

Carolina vs. St. Louis: Why aren't the Rams using Tavon Austin? Shocking how little the preseason Offensive ROY favorite has done. Seriously, who wins that award right now? Geno Smith? Kenbrell Thompkins? DeAndre Hopkins? The Panthers have sucked me back into thinking they can make some noise after crushing the Vikings last week.
Kansas City vs. Houston: I'd rank this higher if Yates is indeed the guy under center for Houston, and Schaub has yet to practice as of this writing. Still, Houston can't be this bad? The Chiefs this good?
Philadelphia vs. Dallas: It looks like Nick Foles will start again this week, and if he beats Dallas to give the Eagles sole possession of first in the terrible NFC East, we have seen the last of Michael Vick barring injury. The Cowboys won't have the De's: Marco Murray or Marcus Ware. Two big losses. And Dallas hasn't looked good in its two road games.

San Francisco at Tennessee: The Niners have it going now, winning three straight and outscoring the opposition, 101-34. Meanwhile, the Titans' Ryan Fitzpatrick is reminding everyone why he shouldn't be a starting QB in the NFL, with the Titans having dropped two straight.
Seattle at Arizona: (Thursday) I honestly wouldn't touch this game as it screams trap. Obviously a short week for both, but that hugely favors Arizona, which has won six of its past seven at home against the Seahawks. Still, Carson Palmer is likely good for three picks against the awesome Seattle secondary.
Detroit vs. Cincinnati: I think the Lions are going to be like the 2011 Saints: A nearly unstoppable offensive force at home, maybe going 8-0 there, but flawed and average at best on the road. It will be fun to watch the NFL's two best receivers, Calvin Johnson (assuming he plays) and A.J. Green, on the same field.
Atlanta vs. Tampa Bay: No Julio Jones, and it doesn't look like Roddy White or Steven Jackson (who turned out to be a terrible addition) for Atlanta. OK, but the Bucs stink, and I'm pretty confident they will be 0-8 outside of Tampa this year. Shoot, maybe there too.
Chicago at Washington: This is Chicago's only game for 24 days. The Bears played last Thursday, and then they have a bye after this week before returning on a Monday night against Green Bay. I only lean Bears here because they had a few more days to get healthy -- especially No. 1 cornerback Charles Tillman and defensive tackle Stephen Paea, a position where the Bears have been ravaged by injury.
Pittsburgh vs. Baltimore: Did the bye week do wonders for Pittsburgh or was Sunday's 19-6 win over the Jets just a case of New York not being very good? Probably a little of both. Maybe if the Steelers win this one, coach Mike Tomlin will put games back into the locker room.
Jacksonville vs. San Diego: Yep, I'm calling it. Schizo-Bolts on a short week playing in a morning start on their West Coast body clocks and looking forward to next week's bye.
Last word: Green Bay seems pretty clearly the easiest pick of the week, but if you want to save the Packers, this might be the week to use the Giants, because you know the opportunity won't present itself again. I'm not overly worried Freeman will do much against them.
Want free NFL picks? Doc's has you covered. New clients can take advantage of this great offer of $60 in free Doc's Sports members' picks for any handicapper on Doc's Advisory Board. Just check out these guys' pages and see what great work they have done making money for themselves and their clients over the years. Click here for this exclusive $60 picks offer.