NFL Survivor Pools Strategy Advice and Predictions: Week 1
by Trevor Whenham - 9/2/2013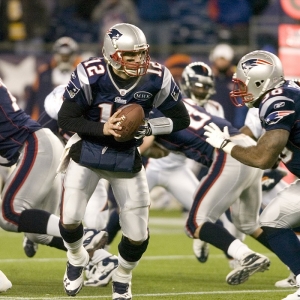 Fantasy football and office pools are great. Outside of betting on the point spread, though, there is no challenge better than a survivor pool. It's a great combination of skill and strategy, and the thrill is heightened because there is absolutely no margin for error. It is a great handicapping puzzle.
For those who aren't familiar with survivor pools, or who are rusty, let's quickly look at what they are. They really couldn't be simpler – you have to pick one team to win a game each week of the NFL season. You don't have to worry about how much they win by or whether they cover the spread. You just have to decide whether they will win or lose. If you are correct and your team wins then you survive to pick another week. If you are wrong, though, then you are done – you have not survived, and someone else is going to win your pool. Once you have picked a team and won you can't pick that team again during the season – that's where the strategy comes in. All in all, they are deceptively simple.
There are many ways to approach survivor pool strategy. In my eyes, though, just two factors are crucial – timing and gambling. Timing means knowing when to use a team and when to save them. The biggest mistake survivor pool players make is saving the best teams to use later. You don't want to die in a gunfight with bullets still in the chamber, so it doesn't make sense to use inferior picks now to save better picks for later. This is about surviving today, so you need to assess what game gives you the best chance of winning and use it. Period. Besides, you never know if the best teams are going to stay strong over the long term. How would you feel about having saved the Broncos this year, for example, if Peyton Manning is injured in week three? Gambling means knowing when to make the safe pick and when to take a risk to try to separate yourself from the crowd. I have a simple rule here – just don't gamble. Leave that to everyone else. The glory in survivor pools comes from surviving, not from surviving with a different team than everyone else. Let other people make the risky picks and bad decisions.
In later weeks, we'll look at strategy more closely when discussing the games that are available. In the first week, though, we don't have to be so strategic because every single game is open to us. Based on this week's schedule, here are four games that stand out above the rest:
New England at Buffalo
Heading into the preseason, I really hoped that the Bills were going to be a useful upset pick. That may eventually emerge this year, but it sure isn't the case right now. They have had absolutely horrible luck at quarterback, and no matter what they ultimately choose to do this week we can be sure it is going to be far from optimal. That uncertainty will affect the entire offense, and it will also hurt the defense significantly since it is likely to be on the field a whole lot. Against most teams that would be a problem. Against arguably the top team in the AFC, though, it spells disaster – especially because the Patriots have the anger over a rough offseason to get out of their system. This one could get ugly, and is a safe pick – and one that will be very popular.
Indianapolis vs. Oakland
The Raiders just aren't very good. All the proof you need is the farce of a press conference head coach Dennis Allen held after the fourth preseason game. He said he knew who his starting QB was, but he wouldn't say. It's as if he felt that that ridiculous move actually gave his team any competitive advantage. It's just bizarre – and a clear sign that this is a desperate team in rough shape. The Colts have some adjustment issues, but they are talented, well-run, and have the big advantage of being at home. Indianapolis is safe here. The other good news here is that while you can only pick a team to win once in a survivor pool, you can pick against them as much as you want. Picking against the Raiders will be a popular and easy path this year.
Tampa Bay at New York Jets
It's easy to pick on the Jets, and they deserve it. They are going to go into this season with real issues at quarterback regardless of what they choose to do. After a tumultuous preseason, they also aren't going to be at peak preparation or focus. The Bucs have solid tools on offense and a defense more than talented enough to exploit the clear weaknesses that the Jets will have. This is the riskiest of the three picks here, but I would have no problem with anyone who wanted to make it.
Tempting game to avoid:
Kansas City at Jacksonville
On paper this is a game that could be attractive. The Chiefs are a far improved team that are a sexy pick to be a surprise. The Jags just aren't very good, and starting QB Blaine Gabbert has been out of action for much of the preseason. While the Chiefs are in a good position to win here, I just don't think that they are worth the gamble here just yet. We haven't seen Alex Smith face live fire with this team yet, and we don't know how well the team is handling the large number of changes that Andy Reid will ask of them. In the longer term I am very optimistic, but it will pay to be tentative at this point.
Doc's NFL handicapping team is confident that a great year is ahead of them. How confident? So much that they are giving away their picks. New clients can claim $60 worth of free picks just by clicking here. No hassle. No obligation. Just great picks.
Read more articles by Trevor Whenham