NHL Handicapping: Penguins Top Contender for Cup
by Trevor Whenham - 5/31/2013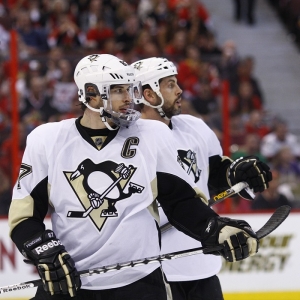 The Pittsburgh Penguins came into the NHL Playoffs as the favorite to win the Stanley Cup, and there is no reason to question that at this point. They are scoring like crazy, getting good play from across the roster, and look angry and determined. I expect them to win the Cup — plain and simple. So, why is that, and what knocks are there against their chances? Let's take a look:
Scoring depth
This team has far more offensive talent than it should be possible to have in this salary-cap era. It's ridiculous. Sidney Crosby is the best player on the planet. Evgeni Malkin is among the top three or four. James Neal, Chris Kunitz, Pascal Dupuis and Jarome Iginla would be a first or second scoring option on half of the teams in the league. Kris Letang and Paul Martin are strong offensive defensemen.
As impressive as the depth is, the fact is that they are all performing well in these playoffs — they are all within the top 21 for scoring overall, with Malkin and Letang tied for second and Crosby one point back. The team has scored eight game-winning goals, and they have come from eight different players — and Crosby and Iginla are not among that group despite strong playoff performances from both. The most significant thing is that as productive as this team has been, they don't feel like they are overachieving. Boston is scoring more than they should be able to, but, if anything, Pittsburgh has left some goals on the table so far. That's scary for everyone else.
Experience
These guys have been here before — the core of the team has made a successful run. That's not unique in these playoffs — the same can be said for the Bruins, Kings and Blackhawks as well. The fact that all four teams are reasonably recent winners, though, shows just how important experience is, and Pittsburgh has it.
Hunger
The Penguins are a team that hasn't accomplished as much as they should have. They have a Cup with Crosby and Malkin, but they have fallen short in other chances and are too good to only have one. They are like the New England Patriots of the NHL in recent years. That clearly bothers them, as shown by their incredible aggressiveness at the Trade Deadline despite already having the best team in the conference. That hunger is a strong motivator, and it seems to be more intense than what the other three remaining teams have.
Coaching
Good coaches are crucial in the playoffs. More significantly, a coach who is tied into his players' needs and rhythms and can get the most out of them at the time is crucial. Dan Bylsma is an excellent coach and is perfectly suited for this team right now. All four teams have solid coaching staffs, but if I had to choose just one head coach for my team from the group it would be Bylsma, and it wouldn't even be close.
Goaltending
This should be a negative because of the meltdown of marc—Andre Fleury in the opening series and the subsequent uncertainty that caused. The team was lucky enough to have a top-rate backup in Tomas Vokoun. He was a cheap addition this year because he was coming off a couple of rough seasons. He has been reborn in Pittsburgh, though, and has shown in the playoffs that he is more than capable of giving the team what they need.
Knocks
Opponents
Boston is a very good team that is just two years removed from a Cup. They are outstanding defensively, have excellent goaltending, and can score. The Kings won just last year, and they have the best goalie on the planet in the nets — and he is red-hot. The Blackhawks are the second most talented team in hockey behind the Penguins, and after their comeback against the Red Wings we can no longer question their toughness or will. This is an exceptionally tough group of teams.
Pittsburgh is the class, and the Cup is theirs to lose, but we would not look back on it in utter shock if they did lose to any of the other three teams. The first two rounds have been relatively simple tests. That ends now.
Defensive corps
The defensemen can score. The goalie can stop pucks. But can the defensemen reliably be counted on to stop the opponents? Pittsburgh's defensive unit is unquestionably the worst of the four remaining in their own zone.
I don't buy the argument that defense wins championships — not with an offense like this. But if the games get tight and the offense isn't clicking, this defense is a concern. This means that it is totally paramount that Pittsburgh sets the tone right out of the gate.
Physicality
Boston plays a brutal, grinding style of play. So does Chicago. The Kings aren't exactly figure skaters. Pittsburgh has struggled with injuries more than most teams. Crosby missed the last month of the season. Neal has been banged up in these playoffs. Malkin has had knee woes in the past. Iginla is no spring chicken. The best way to slow this team down is to wear them down, and none of the players I mentioned will shy away from the fight. The opponents all know that this is a Pittsburgh vulnerability, and they will look to exploit it.
Who have they beaten?
The Islanders were a great story, and they are going to be a very solid team, but they are at least a year or two away from their peak. Ottawa overachieved making the playoffs, never mind winning a series, and they knew it.
The Penguins have looked good winning, but they haven't beaten anyone that they shouldn't have beaten easily. Now they are taking a massive step up in class. They are more than capable of it, but it will be a big adjustment — especially after a full week off before the series starts.
Public betting love
This won't impact their play, but it sure impacts the betting. The public loves scoring, and the more flashy play the Penguins display, the more money they will draw — and they are already drawing plenty. Value is never easy to find on the Penguins, but it will be almost impossible now.
Read more articles by Trevor Whenham