2013 Preakness Stakes Betting and Handicapping Preview
by Robert Ferringo - 5/16/2013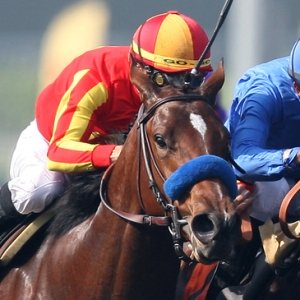 How many horses line up for the Preakness Stakes can tell you a lot about how the trainers and horse folk view the Kentucky Derby winner.
For instance, in 2007 just eight horses came out to test Derby winner Street Sense, and in 2008 there were just 11 horses ready to run at Big Brown. Both of those horses were so well respected that they scared away most competition in the second leg of the Triple Crown.
However, last year there were as many as 20 horses trying to elbow their way into the 14-horse Preakness field to take a shot at Derby winner Animal Kingdom. They had no respect for that horse – which ended up winning the race anyway – and everyone wanted in.
By that rationale, it appears nobody wants a piece of this year's Kentucky Derby winner, Orb. Just eight horses have signed up for this year's run at Pimlico, and most of the top contenders from the Kentucky Derby have elected to sit this one out and prepare an ambush for Orb at the Belmont.
The Preakness Stakes, the second leg of horse racing's Triple Crown, will be run at 6 p.m. on Saturday, May 18 at Pimlico Race Course in Baltimore. Here is a look at this year's field after Wednesday's post positions were announced:
1. Orb (1-to-1) –The Kentucky Derby winner drew the rail in this race. That might give some people pause in terms of betting the even-money favorite. However, if Goldencents breaks quickly, as is his modus operandi, that should clear some room for Joel Rosario and Orb. This horse has won five straight races and is smoking-hot right now. But I do still question his running style at Pimlico. Orb was able to win three races with distances shorter than the Preakness. But they were all at Gulfstream, and, with the exception of the Florida Derby, were all against weak fields.
2. Goldencents (8-to-1) –Goldencents started as a 30-to-1 horse at the Kentucky Derby but was bet down near the race day favorites, running at 7-to-1. He finished 17th mainly because jockey Kevin Krigger pulled up late in the race. However, this horse was never in contention. Goldencents is a front-runner, and in a small field like this should be one of the pace setters. This horse won the Santa Anita Derby in April but did so under intense urging. I just don't know that he's got the goods.
3. Titletown Five (30-to-1) –I can't say I'm very familiar with this horse, but I know a filler when I see one. This mount has run only one race longer than seven furlongs. That was a ninth-place finish in the Louisiana Derby in March against a field topped by Revolutionary, Mylute and Departing.
4. Departing (6-to-1) –This horse is a stalker that is getting a little buzz. He won the Illinois Derby and finished third in the Louisiana Derby against two quality fields. He has won four of his five starts overall and has some momentum heading into Maryland. Departing is another horse that likes to stalk off the pace rather than set it. He's a trendy pick this week.
5. Mylute (5-to-1) –This horse was one of the sentimental choices to win the Kentucky Derby due to female jockey Rose Napravnik. Mylute snuck in to finish fifth in the Derby and ran a pretty good race. But does this horse have enough for a win? I doubt it. I think these odds are off, and I do think the fact that Napravnik is running Pimlico for the first time could be a factor.
6. Oxbow (15-to-1) –Here we have another sprinter that is making this start after a nondescript run in the Kentucky Derby. Oxbow will be among the pace setters early in this race. But, like with Goldencents, the question becomes whether or not he has the raw talent to beat the field. Oxbow has finished in the money just once in his last four runs, a second-place jaunt at the Rebel Stakes. But even the chart from that race stated that he was, "clearly second best". That won't cut it this weekend. But this is a horse I'll be throwing into some exotics.
7. Will Take Charge (12-to-1) –This Lukas horse is, like Orb, a late stalker that wants to make a move down the stretch. Will Take Charge went off at 36-to-1 at the Derby, leaving from Post 17, and finished a game eighth. WTC also won the Rebel Stakes and Smarty Jones this year and is definitely a horse to consider. Lukas horses have been excellent in this venue, and I expect these odds to drop.
8. Govenor Charlie (12-to-1) –The Govenor has won his last two races, most recently at Sunland on March 24. He was held out of the Derby because of an alleged "lower-leg injury". His fastest Beyer Speed Rating is just a 95. This one is a wild card but not one that I'm looking at.
9. Itsmyluckyday (10-to-1) –This was a horse I had my eye on at the Kentucky Derby, and I think he could be a factor this weekend. Itsmyluckyday won the Holy Bull back on Jan. 26 and finished a game second at the Florida Derby to – you guessed it – Orb. The two mounts traded the lead at Gulfstream back on March 30, but Itsmyluckyday didn't have enough down the stretch to take down the eventual winner. It is interesting to note, though, that Itsmyluckyday actually went off as the favorite in that race.
Doc's Sports wants you to try out our expert horse racing handicappers free of charge and is offering new clients $60 in free picks that can be used for any Triple Crown race. Click here for more details on this free $60 offer.
Read more articles by Robert Ferringo