2013 Preakness Stakes Predictions
by Trevor Whenham - 5/16/2013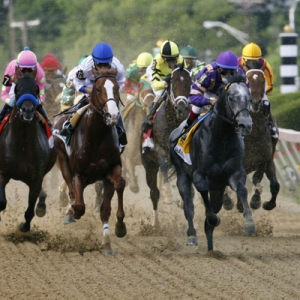 We are on the verge of the second jewel in this year's Triple Crown. It has shaped up as an interesting challenge. Six horses carry on down the trail after the Kentucky Derby, including heavy favorite Orb. They are joined by three new entrants — wise-guy choice Departing, inexperienced Bob Baffert-trainee Govenor Charlie, and major longshot Titletown Five.
It shapes up to be a good race and a very good test of how good the contenders really are. So, what is going to happen? Here are four 2013 Preakness Stakes predictions to guide you in your handicapping:
Early fractions will be swift
We won't see a truly suicidal pace like we did in the Kentucky Derby when Palace Malice ran away on the lead. It's very likely, though, that the pace will be more than honest up front in this race. Goldencents is the horse in the field that needs the lead. He didn't get it in the Derby, and he almost killed himself trying to. He's likely to be pushed by two horses — Bob Baffert-trained Govenor Charlie, and longshot Titletown Five. The latter is the real factor here. He isn't at the level of the other horses in the field, and doesn't have a chance to win if all horses have a good day. His best chance of making something happen is to try to push the pace early, so there is a good chance he'll be aggressive.
With three horses up front it is unlikely that one will be able to get away with taking the lead and setting casual fractions. That's potentially good news for Goldencents, because he appears to be far the best of the front-running horses. It's also good news for the closers — of which there are several in this race — because it gives them a chance when they make their later move. In short, a good early pace gives us the fairest race possible — may the best horse win.
The inside post won't be an issue for Orb
There has been some talk after the post position draw that Orb is handicapped by his inside post. Very few horses have been able to win from the rail in this race.
I just don't buy the panic.
If the horse would be looking for the early lead, then it would be an issue. Orb really won't, though. He is going to drop back and patiently wait for his opportunity. All the inside post will likely do is make sure he is far back at the start. Jockey Joel Rosario will likely ease him out of the gate and swing him to the back of the field and off the rail to be sure he doesn't get trapped when he wants to move. In the Derby he was as far back as 18th and settled in 16th before he made his winning move, so being far back isn't a concern against this competition.
Orb, may not win this race. However, if he is as good as some people think, then the post position won't be an excuse.
Itsmyluckyday will have a better day
One of the biggest disappointments in the Derby was the no-show by Itsmyluckyday. He settled nicely off the pace right where he needed to be and looked comfortable in early fractions. When he was asked to move, though, there was nothing there. He didn't jump or dig in. He just kept loping along. He wound up 15th and wasted a lot of bettors' money.
The fact that he is back for this race, though, makes it clear that it wasn't a physical issue. He has had a huge upgrade in riders as Elvis Trujillo has been replaced by John Velazquez. He has worked well in between the races and should continue to benefit from the distance work he did in training before the Derby.
I expected the horse to be a factor in the Derby, and he clearly wasn't. I'll give him a mulligan, and I expect the same thing here. The public was turned off by the flat performance, so there could be some value to be had.
It won't be the first Triple Crown race win for the winning jockey
Five of the nine riders in this race — Joel Rosario, Gary Stevens, Mike Smith, Martin Garcia and John Velazquez — have won one of three biggest races for three year olds on the calendar. One of those five riders will add another accomplishment to their already impressive records. To keep it simple, that means that I am saying that while there are a few horses that could win; Goldencents, Titletown Five, Departing and Mylute are not among that group.
Free Preakness picks? Doc's Sports has been a leader in Triple Crown handicapping for more than four decades, and we are offering new clients $60 in Preakness Stakes picks – there is no obligation for this offer. Click here for more details and to get your $60 in free picks.
Read more articles by Trevor Whenham