Weekly CFB Mid-Major Betting Report: UNLV Rebels Week 4
by Aaron Smith - 9/19/2013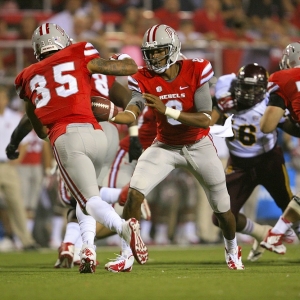 We're back for the fourth edition of the weekly college football mid-major betting report. This year the team in focus is the UNLV Rebels. The Rebels picked up their first win of the season last week, and they are looking to build some momentum this weekend. I'll be keeping a close eye on Twitter feeds, beat writers, press conferences from the program. By becoming an expert on the UNLV Rebels, I hope to show how specialization is one of the most profitable sports betting strategies.
At the end of each mid-major betting report, I'll make a selection on that week's game. Doc's Sports Unit Betting System will be used for every pick. This should allow readers to follow along and track the results of these weekly college football picks. In the first two years of the mid-major report, $100 per-unit bettors were up $1,410.
Last Week's Game
Last week's game was a tale of two halves. Central Michigan dominated the first half, and it looked like UNLV would fall to 0-3. Instead, the Rebels came out and played inspired football in the second half. UNLV outscored Central Michigan 24-0 in the second half en route to a 31-21 victory over the Chippewas. The Rebels were actually down 21-0 in the second quarter before coming back for the win. The 21-point comeback tied a UNLV football record for the biggest comeback in school history.
Nick Sherry threw an interception in his only pass attempt of the game, and UNLV turned to senior backup Caleb Herring starting with their third series of the game. To say that Herring was terrific in this game is a major understatement. The senior provided the spark that UNLV has needed for quite some time. Herring completed 24 out of 28 passes for 266 yards. He also had three touchdown passes and no interceptions. Junior Devante Davis had seven catches for 140 yards, and he caught all three of Herring's touchdown passes.
The work of the defense in the second half shouldn't be overlooked, either. The Rebels defense has struggled all season, but they completely shut down Central Michigan in the second half. After scoring 21 points in the first quarter and a half, the Chippewas were unable to score another point the rest of the game. Unfortunately, Central Michigan's offensive ineptitude led to last week's play on the "over" losing by a mere two points.
Notes of Interest
-UNLV will host Western Illinois (an FCS school) this week. This is the first meeting between these two teams since 1977. Western Illinois is 2-1 on the season, but they lost 29-12 last week at Minnesota in their only game against an FBS opponent year to date. UNLV lost 51-23 at Minnesota in their season opener.
-Taylor Bern, UNLV beat writer for the Las Vegas Sun, pointed out that Caleb Herring was named Mountain West Offensive Player of the Week for his performance this past weekend. Herring became the first UNLV player to earn this honor since running back Tim Cornett was Player of the Week in 2010. How special was Herring's night? He broke Randall Cunningham's school record for single-game passing percentage by completing 86 percent of his passes last game.
-After his monster game against Central Michigan, Devante Davis leads the Mountain West in receiving yards per game with 100.3 yards per contest so far this season.
-UNLV is one of only 13 teams in the nation that hasn't started a senior on the offensive line so far in 2013.
Western Illinois vs. UNLV College Football Odds
Since Western Illinois is an FCS team, there games aren't typically lined. Only a couple books have even released a line on this game, and UNLV is listed as a 12.5-point home favorite at those books. There is currently no posted total available in this game.
Western Illinois vs. UNLV College Football Picks
Since the majority of books don't even have a line on this game, I felt it would be most appropriate to pass on making a selection this week. This is the only game on the Rebels 2013 schedule that isn't even televised. Western Illinois was actually ahead of Minnesota in the third quarter last week, so the Leathernecks aren't a pushover. Don't expect UNLV to just cruise to a victory here.
This is a great chance to sit back and see if UNLV can build some momentum from last week's win over Central Michigan. The Rebels really need to do some damage right now, because they are definitely in the easiest portion of their schedule for the next few weeks. I'll be back with the mid-major report and a selection for next week's Mountain West opener at New Mexico.
Season Results: 0 Wins 3 Losses (-3.3 Units)
Read more articles by Aaron Smith