When Will the Miami Heat's Historic Win Streak End? Taking a Look at the Odds
by George Monroy - 3/11/2013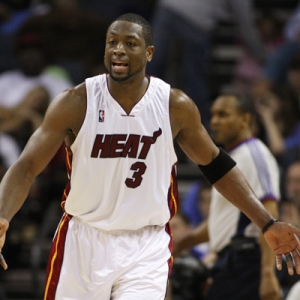 The Miami Heat look terrifying right about now. The team is in the middle of a historic run and simply refuses to lose. The Heat have won 18 straight games with a 'by any means necessary' attitude, and they are on the cusp of entering rarified air.
Miami is tied with five other teams for the seventh-longest winning streak in NBA history. If the team can manage to get their streak into the 20s they'll be sitting in a category that only four other teams have ever been a part of. It would be an accomplishment that not even the great 72-10, Michael Jordan-led Chicago Bulls could accomplish (they won only 18 straight).
During the streak, Miami has done whatever it took to simply win and, sometimes, survive games. They have won off of masterful LeBron James performances and subpar LeBron James performances. They have won close games and blowout games. They have destroyed good teams and barely beaten bad ones. The only takeaway from this streak has been that the Miami Heat look unstoppable.
The team has not lost since Feb. 1 — over a month ago. Since we know that this streak has to come to an end (it does, right?), let's have a look at a few lines from Sportsbook.ag and predict when Miami's streak will end (if it ends at all).
March 12 vs Atlanta: +350
March 13 at Philadelphia: +500
March 15 at Milwaukee: +450
March 17 at Toronto: +700
March 18 at Boston: +350
March 20 at Cleveland: +1000
March 22 vs Detroit: +2500
March 24 vs Charlotte: +20000
March 25 at Orlando: +2000
March 27 at Chicago: +1500
March 29 at New Orleans: +10000
March 31 at San Antonio: +2500
Any game in April: +2000
No losses the rest of the regular season: +10000
March 12 to March 17: After winning 18 straight games you might assume that Miami would be exhausted and ready to lose one of their next few matchups. However, the scary part for the rest of the NBA is that they are not. The Heat have not been skating by and barely winning games during this streak. Miami has defeated their opponents by an average of 10.5 points, and, aside from a close one-point win over Orlando, has not been in any really danger of actually losing a game. With that said, anything can happen in the NBA, but don't expect Miami to lose to the Hawks, 76ers, Bucks or Raptors.
March 18 at Boston: If the Heat can make it to their matchup against the Celtics without a loss, they would be carrying in a 22-game win streak. Boston may not be better than the Heat, but they are a proud team that would love to end a historic winning streak in their own building. Boston can win this game, and getting +350 to do so is also a fantastic price.
March 20 to March 27: If Miami can make it to this portion of their schedule, they would be nearing 30 straight wins and would be within striking distance of the 1971-72 Los Angeles Lakers' historic 33-game winning streak. The Orlando Magic almost beat Miami the first time they played during the streak, and Chicago might have Derrick Rose back by then. Betting on either of those teams at +2000 and +1500, respectively, would be a great wager to make. The Heat also have to play in Cleveland on the 20th, and they would be in for a heck of a matchup if Kyrie Irving is healthily.
March 31 at San Antonio: If the Heat can make it to this game against the Spurs, it would be 29 straight wins. However, make no mistake about it, there is no way the San Antonio Spurs let the Heat leave the AT&T Center with a victory. The steak would end here, and you'd be getting +2500 to bet on the Spurs to do so.
Conclusion
The Heat are playing so fantastic at the moment that it is would not be surprising to imagine them winning 30 straight games. It probably won't happen, but if it did, would anyone really be shocked? Miami could lose any of its upcoming games, but the dates with the most value seem to be at Boston for +350, at Cleveland for +1000, at Orlando for +2000 and at San Antonio for +2500. No matter where this streak ends, the Miami Heat are treating NBA fans to a fantastic stretch of basketball. Remember to bet wisely, and may the spread be with you.
Read more articles by George Monroy