College Basketball Handicapping: High-Profile Disappointments
by Trevor Whenham - 11/20/2014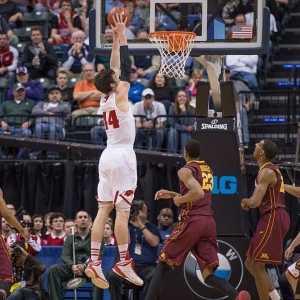 Watching Kansas get completely manhandled by Kentucky on Tuesday night (when was the last time you saw a Top 5 team lose by 32 points?), I couldn't help but think about ranked and hyped teams that may not be all that they were supposed to be. To be fair, though, I don't want to be too negative about the Jayhawks. Sure, they got crushed, but they are young and raw, and we knew that. They also ran into an almost impossibly good team in Kentucky.
It has been said before, but the bench of Kentucky by itself could be a Top 5 team. So, while I am willing to give Kansas a break for now - as long as they bounce back okay - there are other teams I am far less willing to be kind to.
Some ranked teams have gotten credit because of their past, their coach or their reputation - not because of what they are right now. Bettors who rely on the rankings - and lots do early in the season when they are just looking to throw a bet or two on college basketball in between football games before getting serious about the sport in the later winter and spring - can be in real trouble. Those who can spot teams that are overrated, though, can find some nice value in betting against them in some spots.
Here are three big-time contenders that might not deliver what is expected of them all the time:
Arizona Wildcats: The Wildcats, like every team we will talk about here, are very talented. My biggest concern, though, is scoring. As in, how are they going to do enough of it? Their returning talent is more than sound defensively, but they don't have a whole lot of offensive jump.
That means that there is going to be a whole lot of pressure on freshman Stanley Johnson. He's a freak, and he has a very bright future. He's young, though, and head coach Sean Miller knows as well as anyone that even the most highly-touted freshmen can take some time to find their stride and fulfill their potential. If Johnson isn't up to the task, it could put the team in an early hole, and that could just compound issues as the season progresses towards conference play.
It's not that no one on the team can score. It's just that teams that shine generally have a guy who carries the burden and scores relentlessly, and unless Johnson can be that guy in a hurry then Arizona is lacking. I'd love to have Johnson on my team, but I'm just not willing to bet that he'll be an alpha dog consistently right away.
Wisconsin Badgers: One of the biggest problems the Badgers face will come in the new year - the Big Ten is just plain brutal. It's perhaps not quite as strong as the last couple of years, but there is just a ton of depth, and two-thirds of conference games are more than challenging. Teams get beat up in conference play, and it's a contributing factor to why teams from the conference have not been able to go all the way like they should be able to. Contrast it with what a team from the SEC or the Pac-12 faces - far more manageable games on the schedule.
Also, though the team has returned much of their core and are going to be ferocious inside, there is one big missing piece - Ben Brust. I have watched this team play a lot over the last few years, and despite the talent on the roster it was always Brust that I feared. He was the fearless leader, the creative visionary, and the toughest guy on the court. He just wanted to win more than anything, and that carried this team. Guys like Sam Dekker and Frank Kaminsky are very talented and incredibly challenging to match up against, but I don't know that their heart or grit are what they need to be.
Without Brust I am also not convinced that this backcourt is quite good enough. I would much rather have an elite backcourt and a strong frontcourt than the reverse, but Wisconsin is loaded up front and hoping to keep up behind. I don't expect Wisconsin to be a bad team by any means, but they are going to run into more walls in conference play than they probably should.
Kentucky Wildcats: Let me just say before you think I am crazy that this team is obviously exceptional - as good and deep as any I have seen in years. They have a stunning combination of experience and depth. They also play in a very soft conference - Florida ran the table in the SEC last year, and that squad was much inferior to this Wildcats team. I also need to say that John Calipari is uniquely qualified to handle what he has to handle here - it is what he does.
All that being said, expectations are so incredibly high for this team - especially after they destroyed Kansas - that people are going to expect them not only to shoot for the moon but to jump up and slam dunk it. With as many as nine or 10 guys who are headed for the NBA at some point, and only 200 minutes to share around, it is going to be a massive challenge to figure out how to distribute the minutes and keep everyone happy while winning games.
Kentucky teams traditionally play more selflessly than you would expect, but when it falls apart it gets ugly - like when they didn't even make the tournament.
I think that this is the most dangerous team that Calipari has had, but it only makes sense to show some caution when dealing with this team - especially when no one else will. Another big game or two like they had against Kansas and the already fawning media will be totally out of control.
Doc's Sports Advisory Board has set some lofty standards worldwide for college basketball handicapping. They normally do their best work at the beginning of the season. Click here for $60 worth of free college basketball picks. No credit card needed, and you will never deal with a salesman. Also, find out more about Doc's Sports Advisory Board college basketball results here. And find out a loophole that Doc's Sports has exploited that the oddsmakers don't want you to know about by clicking here.
Read more articles by Trevor Whenham