College Basketball Handicapping: the Last Unbeatens
by Trevor Whenham - 1/8/2014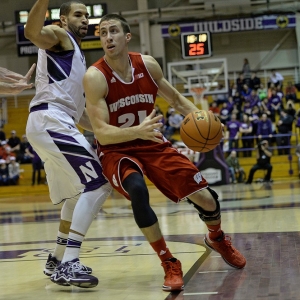 And then there are five. When Ohio State lost at Michigan State on Tuesday night in one of the best college basketball games you could hope to see, they fell to 15-1. That means that just five teams from major conferences remain undefeated. The prospect of a perfect season is an alluring one. No team has gone unbeaten since Indiana way back in 1976, and the great 1991 UNLV squad was the last to enter the tournament without a loss. Can any of the five unbeatens reverse the trend and stay that way all year? If not, then when are they most likely to lose?
This is an appropriate time to be looking at this question. At this time last year there were four unbeaten squads, and it seemed at least one had the chance to go all the way. One week later, all four teams lost. It was carnage. Will we see the same type of thing this year, or are we in a better place? We'll look at the five remaining teams from least likely to run the table to most likely:
Iowa State (14-0): Coach Fred Hoiberg has done an incredible job with this squad, and they have got some very nice wins — and have fought back from some very big holes to gut out some wins. They just don't have what it takes to go all the way, though. They lost four of their top-six scorers from last year. While they have compensated well, the lack of depth will catch up in conference play. Thanks to round-robin play in the Big 12, too, this team faces looming home-and-home battles with Kansas, Oklahoma State, and Kansas State and a return trip to face a Baylor team they just beat at home. That's too much to ask. This team is not only not going to go undefeated — they won't win their conference, either. Jan. 29 they play at Kansas, and then Feb. 3 at Oklahoma State. It would be shocking if they didn't lose at least one of those games.
Wisconsin Badgers (15-0): I don't give the Badgers much more of a chance than the Cyclones, though they are a better team, and I like their chances of winning their conference. They have as easy a schedule as you can get in the Big Ten, but given how absolutely brutal the conference is, that's not saying much. They only have to play Ohio State and Michigan State once and at home, but both games will still be very tough. They have to travel to play at an Iowa team that should have beaten them on Sunday, and they face Illinois and Michigan twice each. Just too many tough games to escape unscathed. The Big Ten is so tough this year that very good teams could still lose four or five times.
Syracuse Orange (14-0): The biggest advantage Syracuse has this year is that few of their ACC opponents know what to expect from them this year. The problem is that they don't know what to expect playing in some ACC buildings, either. Combine that with a freshman point guard — albeit an incredibly talented one in Tyler Ennis — and a roster in general that seems to be playing a bit over their heads, and you have a team that is likely to stumble at some point. They have the talent to keep winning, but they just don't seem dominant enough to run the table in a conference that isn't overwhelmingly strong but is pretty deep and tough. A Feb. 22 trip to Duke looms as the obvious biggest challenge, but I really expect them to have lost by then.
Arizona Wildcats (15-0): The top-ranked team in the country is playing just plain great basketball right now. They have hardly played on the road, but a tough win in Ann Arbor against Michigan shows that they are capable. They don't face a particularly tough Pac-12 schedule, though it is much tougher than it has been the last couple of years. Like Syracuse, their toughest game comes on Feb. 22 when they travel to Colorado. Road trips to UCLA and Oregon could be tough, too, though I don't like how Oregon matches up at all. I expect this team to lose at some point just because they aren't overwhelmingly dominant, and we have seen better teams than this falter at some point. They are capable of a long, long run, though.
Wichita State (15-0): At this point it almost feels like it would be more shocking if the Shockers lost during the regular season than it would be if they ran the table. That's not true, of course — even the most dominant of teams face overwhelming odds against running the table, or it would be done far more often than it is. Wichita State plays in a very weak Missouri Valley Conference this year, though. Indiana State is the only other team that has even remote tournament dreams barring a miracle, and they likely aren't good enough. Wichita State is going to be solidly favored in every game they play, and they have the experience of last year's Final Four run to draw on when things get tense. They also have exceptional coaching. If any team enters the tournament unbeaten, it will be Wichita State, but despite all the evidence pointing in their favor, I'd still bet against it happening.
Read more articles by Trevor Whenham
---
Most Recent College Basketball Handicapping