College Basketball Handicapping: Teams Getting Too Much Credit with Futures Odds
by Trevor Whenham - 2/20/2014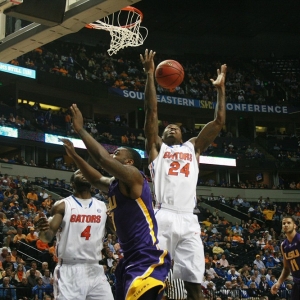 The NCAA Tournament is still weeks away, and there is a whole lot that can and will happen between now and when the last team standing cuts down the nets. People are understandably looking at National Championship futures more than at any point up to now, though, and that will only intensify as the tournament draws near. This is a good time to look — imagine the joy you would have felt in April of 2011 if you had bet on UConn in February of that year, for example.
When I look over the prices for top-ranked teams this year, here are four teams that don't seem to be at an attractive value at all. In my eyes, you will definitely need to look elsewhere for value (all odds are from Bovada):
Florida (11/2): Since Syracuse lost on Wednesday night — an ugly loss at home to Boston College to fall from the ranks of the undefeated — Florida sits as the current favorite to win it all. I find it hard to believe that they are truly that good — or at least that we know that they are that good. They haven't lost since Dec. 2, but in conference play that hasn't meant much. The SEC is really lousy this year outside of Kentucky, and even the Wildcats are troubled. Other than a win at Kentucky last week, they haven't faced many tests, and they lost two of their three or four toughest games of the year — at Wisconsin and UConn. This team may be great, but they are not statistically outstanding, and we can't give them a lot of credit for much of their schedule. At the very least they have a whole lot to prove — and they won't have an opportunity to prove it until well into March. Given that, it would be very tough to convince me that they are worth a gamble at this price.
Wichita State (14/1): The Shockers are now the only remaining undefeated team, and with only three conference games remaining — all against teams below .500 — there is a very good chance that they will stay that way through the regular season. The only other decent team in the Missouri Valley is Indiana State, and Wichita State has beaten them solidly twice this year, so it is quite possible — perhaps even probable — that they will head into the NCAA Tournament without a loss. While I have nothing but respect for the team, their experience, and especially their coaching, it's hard to have much faith in their record. Outside of a very nice win at Saint Louis, they really haven't been tested much this season, so we really have no way of knowing how they would measure up against the elite teams in the country. It's quite possible that they are as good as any team, but it takes too much speculation to be sure to justify backing them at this price. They are going to be a real wildcard heading into the tournament, and figuring out how to deal with them is already making my head hurt — weeks before the tournament starts.
Arizona (10/1): The Wildcats suffered a real setback when Brandon Ashley was injured. He was a key to this team both offensively and on the boards. It seemed like they had the depth to replace him, but they have struggled to play at their best without him. In fact, it has been like this has been an entirely different team since Ashley went down — and not in a good way. Ashley was hurt early in the game against Cal, and Arizona went on to suffer their first loss — a shocking one. Next time out they beat an outclassed Oregon squad by just two points. After a win over a lousy Oregon State team, they lost to Arizona State in double overtime. Then they needed overtime to narrowly escape at Utah on Wednesday night. This team has more than enough talent to get back on track and return to the ranks of major contenders. They are running out of time to find themselves, though, so until they turn things around, this price is just too low to risk any real money on.
Louisville (12/1): The Cardinals are the defending champs, and their 21-4 record is solid, so they are getting a lot of attention from the betting public — more than they likely deserve at this point. They have had some chemistry issues, and they have lost all four games they have played against teams that were ranked at game time. They may be as good as they were last year once the tournament rolls around, but at this point faith in this team would have to be blind because they haven't completely justified it. If you bet on this team at this price it would be because of history and tradition, not because of what they have been doing on the court this year.
Read more articles by Trevor Whenham
---
Most Recent College Basketball Handicapping