College Basketball Handicapping: Top 10 Struggles
by Trevor Whenham - 2/5/2014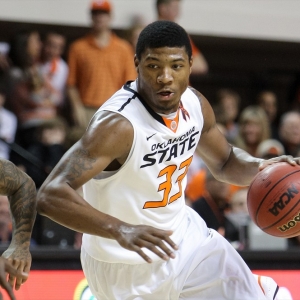 There was carnage in the upper ranks of college basketball this past weekend. Top-ranked Arizona suffered their first loss at the hands of Cal, and four other Top-10 teams — Michigan, Michigan State, Kansas and Oklahoma State -- also lost. Oklahoma State had also lost their previous game during the week, too. So, what can we learn from the worst weekend of the season for Top-10 teams?:
This is college basketball: There isn't a more crazy sport than college hoops. With so many teams, and so many tough conferences, even the best of teams are usually going to run into a challenge or two that gets the best of them. It wouldn't be college basketball if we didn't have a few weekends like this every year. It's a part of what makes the sport so great. If you can't handle the uncertainty, unpredictability and general chaos that college basketball is uniquely capable of providing then you should find another sport to bet on.
The Big Ten is brutally tough: Michigan's loss at Indiana showed just how brutal the Big Ten is this year. The Hoosiers lost two massive talents this year and are in a retooling mode. Even still, though, they have sophomore Yogi Ferrell, who erupted for 27 points against the Wolverines, and freshman Noah Vonleh on board. They are not an elite Big Ten team but are still good enough to win on any given day. Indiana was at home, too, so the win is far from shocking. Really, no outcome in the Big Ten comes as a big surprise.
So is the Big 12: Kansas lost at Texas — a ranked team. Oklahoma State dropped games at Oklahoma and to Baylor. The Sooners are ranked, and the Bears were before some recent struggles. None of those losses are particularly embarrassing or surprising, and they are a sign of just how tough things are in the Big 12. Like the Big Ten, there are few results in the conference that would come as a surprise. Texas Tech and TCU are brutal, but the rest of the conference is tough.
Even Arizona isn't immune to injury: Up until this weekend the Wildcats have been close to flawless — the best team in the country by any measure. Brandon Ashley, third on the team in both scoring in rebounds, was lost to injury early in the game against Cal, though, and the results suffered. Ashley is gone for the rest of the season, so the team will have to adapt to his absence. They are far from the first top team this year to lose a big piece, but their ability to adapt will define their season.
There wasn't a bad loss: When you really want to be concerned is when a top team loses a game they have no business losing. That wasn't the case in any of the losses here. Arizona's loss was on the road and with an injury, and Cal is a decent team. Kansas, Oklahoma State and Michigan all lost to quality conference opponents. Michigan State's loss was the most questionable, but Georgetown isn't terrible, and the game was on a neutral court.
It's a very long season: In a 30-game regular season that spans over four months you can't get too excited about one game or even one stretch of games. Every year we see teams that look unbeatable in January bow out with a whimper in March and teams that looked hopeless in conference play go deep in the tournament. We bet on a game-by-game basis, but we have to have a much wider view of things when it comes to evaluating outcomes.
Oklahoma State overrated?: The Cowboys are in a different situation than the other four losers right now. They have now dropped three straight. While none of the losses by themselves have been horrible, they really shouldn't have lost all three. Their depth is an issue, I don't love their coaching, and the wildly-impressive Marcus Smart has struggled with his consistency lately. The team didn't live up to their 8th ranking, and it was hard to be comfortable with them at that level. Falling down more accurately reflects their potential in my eyes.
Read more articles by Trevor Whenham
---
Most Recent College Basketball Handicapping