College Basketball Handicapping: Top NCAA Betting Games in November
by Trevor Whenham - 11/17/2014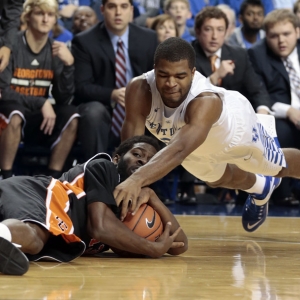 It is a great time to be a college sports fan. College football is entering the final stretch. Perhaps even more exciting, college basketball is now underway. It could be that I am more excited than usual about the start of the hoops season because, as a diehard Michigan fan, the football season died for me weeks ago. Whatever the psychology behind it, the undisputed fact is that there is a lot of really good basketball coming up between now and the end of the month. Here are the four games that stand out as the best on offer - the must-see games (and must-bet games) - of November:
Kansas vs. Kentucky, Nov. 18: It doesn't get any better than this - at least not this early in the season. Kentucky is so ridiculously loaded that more than one person has argued that their bench would, if it was a separate team, be ranked No. 1 in the country. That might be over the top - but only slightly. The Wildcats have played twice so far and have made winning look as easy as they should considering they have played no one at all. Now they get the first real test - and their first of four games before the New Year against teams currently ranked in the Top 10. This game won't conclusively tell us anything about the Wildcats, but it's a good insight to how close the team can come to living up to the massive hype. For Kansas, ranked fifth coming into the game, this is also a great test - albeit one that probably comes a bit too early for a team this young that has lost some key players from last year - Wiggins and Embiid are not going to be replaced in a hurry. It seems as if Kansas would be much better positioned to give Kentucky a strong fight in a few weeks than they are now. If they can surprise and put up a big effort then they could really serve notice. What a game.
Michigan State vs. Duke, Nov. 18: As if the Kentucky game isn't good enough by itself - it's actually the second game on a twin bill being played in Indianapolis. This game is the appetizer for that main course, making tickets to this event the best available in November in a long, long time. It would be better, of course, if Michigan State was coming into it stronger. They narrowly escaped against Navy in their opener, and they have serious concerns surrounding both their depth and their general talent level. I can't help but feel that if this was a generic team coached by a generic coach with this same talent they would not be ranked in the Top 20 like they are now. Regardless, they are going to put up a battle, and since they are fairly close to home they will have crowd support. Duke is very young, but their freshman class is ridiculously strong, and they have looked like seasoned veterans so far. This is a big jump up in class for the teams and a good measure of how ready they are for the big time.
Villanova vs. VCU, Nov. 24: Shaka Smart is at it again. He could have had any number of coaching jobs over the last couple of years, yet he has stuck around with VCU. Now he is rewarded with high rankings and high expectations. Things should not be too tough in the first three games for the team, but this game against the team currently ranked 12th in the country is an excellent test for both squads. Neither team is truly elite or exceptional, but both have the makings of a team that can hang around in the top half of the polls all year and be tournament nightmares come March. This will be a great chance for us to see if either team is as good as we think they are - or as ready to compete now.
North Carolina vs. Butler, Nov. 26: This one doesn't shape up to be a great game on the court. Butler has some talent, but they are at least a year away from their best, and they should be outclassed by North Carolina. What makes this one so interesting, though, is the off-court messes surrounding both squads. North Carolina is mired in an academic scandal that threatens to tear the entire school's athletic program apart, and coach Roy Williams is a central figure in the mess. At least they have a head coach, though. Butler head coach Brandon Miller has left the team for a medical leave, but the circumstances and lack of information about the situation make the whole thing just bizarre. These are two soap operas clashing, and it will be very interesting to see how effectively either program can put that aside and focus on the court.
Doc's Sports Advisory Board has set some lofty standards worldwide for college basketball handicapping. They normally do their best work at the beginning of the season. Click here for $60 worth of free college basketball picks. No credit card needed, and you will never deal with a salesman. Also, find out more about Doc's Sports Advisory Board college basketball results here. And find out a loophole that Doc's Sports has exploited that the oddsmakers don't want you to know about by clicking here.
Read more articles by Trevor Whenham