2015 College Basketball National Championship Contenders with Futures Odds and Predictions
by Trevor Whenham - 4/9/2014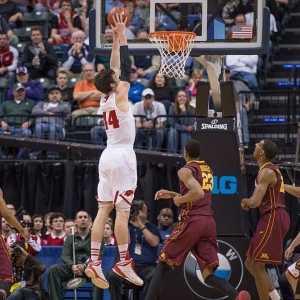 The nets were just cut down to end the 2014 Final Four two days ago, so it is ridiculously early to be looking ahead to 2015. Players haven't completely made their draft decisions yet, and we haven't seen next year's freshmen in action, so we are making a whole lot of guesses at this time when we look forward. Sportsbook.ag has posted futures odds, though, so it's at least worth a look. Here is some of the interesting value - and bad ideas - that stand out for 2015 college basketball National Championship contenders:
Arizona (+600): The Wildcats are likely to lose Aaron Gordon to the draft, but if Nick Johnson returns - and he really should - then the team is going to be loaded. The rest of the core will remain, and Stanley Johnson is a Top 10 recruit who really looks special. This team had some issues that emerged later in the season this year, but they have a good chance of being even better than they were this past season. They are a deserving favorite in my eyes.
Duke (+700): I am assuming that Jabari Parker and Rodney Hood are both gone, but it really shouldn't matter that much. Cook and Sulaimon are back to anchor the backcourt, and three Top 10 recruits are joining the squad next year, headlined by the very exciting Jahlil Okafor. Okafor gives them an inside presence that they really missed against Mercer. This is a very talented team, and it's again deserving of the low odds. If Parker and/or Hood were to pull a shocker and return then they would have to be considered favorites.
Wisconsin (+1200): The Badgers were very impressive this year, and they are poised to be just as good next year. Ben Brust graduates, but the rest of the core is back - as long as Kaminsky and Dekker stay in school. They aren't first-round locks by any means, so both likely will. The team has a formula for success that works, and they are going to be able to follow the same path yet again. These odds are a bit low, but they are a top-level program right now.
Kentucky (+1200): The script here is the same as it always is. They are going to lose several freshmen who were five star recruits to the NBA. They are adding four more five star recruits next year - at least. They are going to be ridiculously talented and athletic but young and raw. Sometimes it works out - this year and 2012 - and sometimes it doesn't - 2013. Until we know who is leaving, and if there is any validity to the Calipari NBA rumors, this is a very tough team to assess.
North Carolina (+1500): It has been a flat era for the Tar Heels recently - at least compared to the expectations early in the Roy Williams tenure. They could shake themselves out of a bit of a funk this year, though, thanks to an exceptional recruiting class coming in. They have three five star recruits coming in, and all three look polished, mature, and ready to go. If they can mesh and find chemistry - two are small forwards, so some creativity and versatility will be required - then they have the makings of a team that could be very tough in what promises to be a much better ACC next year than it was this year.
SMU (+3000): There is some value here - at least in relative terms. This team was snubbed in the NCAA Tournament this year, but they went on to finish second in the NIT. They were a talented team, and the whole core is back next year. Larry Brown will be in his third year with the program, and we should see another big step forward in terms of development - especially thanks to the consistency in the roster. Most significantly, they are adding Emmanuel Mudiay, a Top 5 recruit who is electrifying on the point and seems tailor-made for Brown. This is a team that should take a massive step forward, and they could be really dangerous by March.
Michigan (+3000): This will be a team that will be discounted by many - especially if Nik Stauskas leaves, which he almost certainly will. They could also lose both preseason All-American Mitch McGary and Glenn Robinson III to the draft. If those two come back, though, they would be great elder leaders. With or without them, though, there is plenty of talent here. Caris LeVert took a massive step forward last year, and he is poised to be a superstar next year as a junior. Irvin, Walton, and Donnal should also take a big leap forward, which is characteristic of players under John Beilein, and the incoming class is solid. The odds suggest a major gap between the Badgers and Wolverines in the Big Ten, but that is not necessarily true - and quite possibly not true at all. Depending on how things play out in the next couple of weeks, there could be some real value here.
Doc's Sports has had a winning tradition for more than four decades. Don't believe us? Try us out for free, and we are convinced you will be a believer. Get $60 worth of free sports picks - members' picks just like our paying clients get - here .
Read more articles by Trevor Whenham
---
Most Recent College Basketball Handicapping