College Basketball National Championship Odds and Predictions
by George Monroy - 2/12/2014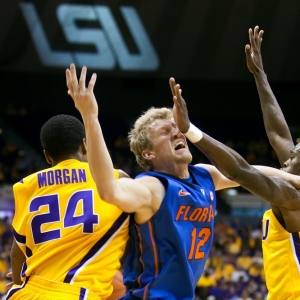 The 2014 college basketball season has been one of the most competitive and downright entertaining seasons in recent memory. The NCAA is full of marketable stars, talented teams, and compelling story lines. For a while there were four undefeated schools that all looked primed and ready to take a shot at running the table, but after a couple of losses, only Syracuse and Wichita State remain unblemished. March Madness promises to be another exciting and drama-filled month of basketball, so before we even get to that point, let's take a look at the 2014 NCAA title odds and go over my college basketball National Championship predictions for which teams have the best value to place a futures wager on. All odds come from Sportsbook.ag.
The Favorites
Florida: +600
Kansas: +600
Syracuse: +600
Florida, Kansas and Syracuse are all ranked in the Top 7 of the AP Top 25 Poll, but the Jayhawks' status as co-favorites seems a bit farfetched. Kansas already has six losses on its record, and even though it remains loaded with talent—Joel Embiid and Andrew Wiggins are projected to be the top two players in the NBA draft—the team is young and struggles on the road. Florida and Syracuse, on the other hand, are both older teams with recent deep NCAA Tournament runs under their belts. The Orange are still undefeated, while the Gators only have two losses through 23 games so far this season. Both teams are expected to make deep runs yet again, and they are definitely showing value at +600.
The Contenders
Arizona: +750
Michigan St. +800
Kentucky: +900
Duke: +1000
Wichita St: +1200
San Diego St.: +2200
Michigan: +2500
Arizona has been outstanding throughout the college basketball season and was considered the nation's best team as recently as 10 days ago—that is until injury cost the squad its spot as one of the co-favorites. Forward and major contributor Brandon Ashley broke his leg in the opening minutes of the Arizona's first loss of the season against California on Feb. 1. The Wildcats will still be a talented group capable of making some noise come March, but they are definitely hurt by losing one of their key players.
Kentucky, Duke and Wichita State are all showing excellent value at +900 to +1200 odds. Wichita State is one of only two undefeated team's left, while both Duke and Kentucky are loaded with talent and seem to be peaking at just the right time. Wichita State is an experienced team that is coming off a Final Four appearance last season and plays the type of defense that championship squads need in order to win games.
The Value Plays
Villanova: +2500
Louisville: +2500
Ohio St: +3000
Creighton: +3500
Villanova and Creighton, in particular, are under-the-radar teams that could make deep runs in this year's tournament. At this point in the season, Creighton's Doug McDermott has been the best player in college basketball, and he leads a very efficient offensive squad with 25 points per game. The Bluejays are one of those teams that may surprise a lot of people once the NCAA Tournament begins.
No. 6 Villanova is another group with excellent value at +2500. The Wildcats are the sixth-ranked team in the nation but are only receiving the 11th-best title odds—the squad can score (averaging 80.4 points per game) but also putS an emphasis on rebounding and playing solid defense. Villanova is being led by James Bell, a 6-foot-6 guard that could be the break-out star of the tournament.
The Bet: there are many solid choices to wager on, and in a single-elimination tournament no bet is necessarily a bad one. However, there are three to four teams that seem to have the best value to place a futures bet on. Florida, Syracuse and Wichita State are experienced squads with recent tournament experience and will probably be right in the national title mix once again. Creighton and Villanova also look great at +2500 and +3500, respectively.
Get $60 worth of free college basketball handicapping picks here. You don't need a credit card, and you will never deal with a salesman.
Read more articles by George Monroy
---
Most Recent College Basketball Handicapping