Commanding Curve Odds to win the 2014 Belmont Stakes
by Trevor Whenham - 5/26/2014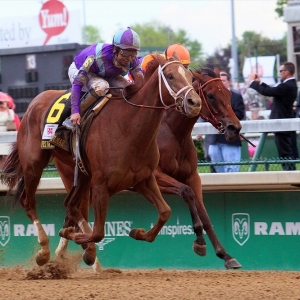 When a strong favorite wins the Kentucky Derby, you don't expect the payoffs for the exotics to be that impressive. Thanks to long shot Commanding Curve, however, they were actually pretty solid this year despite the predictable win by California Chrome. Commanding Curve came from the clouds - both in the race when he came from way back, and in terms of his odds of nearly 38/1 - to finish second in impressive fashion.
Now he's back for more in the Belmont, and trainer Dallas Stewart would dearly like to move one step up on the podium. So, can Commanding Curve win the Belmont? And, more importantly, what are Commanding Curve's odds to win the 2014 Belmont Stakes? Let's look at that and at four other factors to consider when deciding whether this is a horse worth betting on in the Belmont Stakes:
Commanding Curve's odds to win the Belmont: In the Kentucky Derby Commanding Curve was a forgotten horse. At 38/1, only two horses had longer odds than he did to win the race in the 19-horse field. Well, he certainly isn't forgotten anymore. Sportsbook.ag has him at +800, which has him as the fourth choice behind only California Chrome, Preakness runner-up Ride On Curlin and newcomer Tonalist. He is at the same odds as Wicked Strong, the second betting choice in the Derby. This is about where Commanding Cure belongs in this group, and there is certainly more value in his price than there is in that of the favorite and likely the second and third choices as well.
Was the Derby a fluke?: This is the big question you have to ask every time a horse pulls off a stunning result at huge odds in a big race. Is he a horse that just wasn't getting the respect he deserved? Or did he just have the best possible day in the biggest race of his life - a day he isn't likely to ever replicate? You can't knock the race he had in the Derby. He trailed the pace by a long way early in the race, and then he uncorked a very impressive move to make it from 18th to second. Anytime a horse can move like that he deserves respect, but when he does it against a pace that was almost glacially slow then he really has done something. That is a mark in his favor. A knock against him, though, can be found in a comparison to a horse from his own stable. Last year Golden Soul did the same thing - finished a strong second in the Derby at massive odds. He also took the Preakness off to head to the Belmont fresh. It did not go well - he was a non-threatening ninth, and he failed to recapture any of the spark that almost made him eternally famous in the Derby.
The Preakness break: The horse will have gone five weeks between races - a normal break in this racing era. Last year Palace Malice disappointed in the Derby, took the Preakness off, then won the Belmont. In 15 of the last 20 years a horse has run in at least one leg of the Triple Crown before winning the Belmont.
Breeding: The breeding for this horse does not do him any favors when it comes to this massive test of a race. Sire Master Command sires offspring that are at their best around nine furlongs - far less than the 12 furlongs here. He gets little stamina help there, and far less from damsire Lion Hearted, who is a sire of sprinters. It's not that he absolutely can't handle the distance, but there is certainly no guarantee that he will be up to it. The only twist here, though, is that he certainly seemed to be moving forward late in the Derby. Perhaps, like the favorite here, he is going to be able to outrun his pedigree.
Trainer: Dallas Stewart has been training on his own since 1997. He has never won a Triple Crown race, though he has finished second in the last two editions of the Kentucky Derby, and he trained the biggest long shot winner in Kentucky Oaks history. The biggest reason to be optimistic, though, is in what he was doing before he went out on his own. Back then he was a trusted assistant for the legendary D. Wayne Lukas. Two of the horses he took care of in that time were Tabasco Cat and Thunder Gulch - the Belmont winners in 1994 and 1995. He knows what it takes to win this race. Combine that experience with having learned from the frustration last year with Golden Soul, and you have to view Stewart as an asset to this horse.

Wow! Free Belmont Stakes picks. And it could not be easier. Follow the link and sign up (no credit card required, and no salesperson ever), and you can have your free Belmont Stakes picks in minutes. Click here for the no-hassle sign up.
Read more articles by Trevor Whenham