Intense Holiday Odds to Win the 2014 Kentucky Derby with Picks and Predictions
by Trevor Whenham - 4/18/2014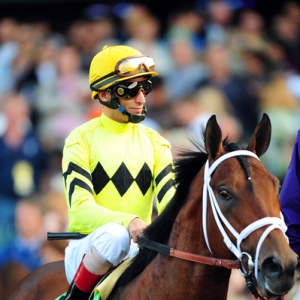 Intense Holiday is a common kind of horse in this year's Kentucky Derby - one that makes my head hurt. At his best he is more than talented enough to win the race. That best is far from certain to appear, though, and like at least 15 horses in this race at this point, it's very difficult to assess what is to be expected of him. This race is always very tough to handicap, but the huge number of horses like Intense Holiday - along with an absence of both real superstars and horses you can quickly toss out - makes this one even tougher than usual. So, can this horse rise out of the pack? Can Intense Holiday win the Kentucky Derby? According to the oddsmakers at Sportsbook.ag, Intense Holiday's odds to win the Kentucky Derby sit at +2500, which has him 11th in the potential 20-horse field.
When trying to make sense of this horse's chances, here are five factors to consider:
Louisiana Derby: Intense Holiday was the favorite in a reasonably-deep Louisiana Derby field at less than 2/1. The frustrating thing, though, is that he essentially beat himself. After running a solid race into the stretch and putting himself in good position to win, things went awry. He reacted badly to a left-handed whip from his rider, and he made what almost looked like a left-hand turn right into the rail. He recovered before a collision but not before his action was completely thrown off and a good deal of momentum was lost. He recovered to finish second, though he never threatened winner Vicar's In Trouble. The challenge, though, is to determine whether he would have been good enough to win with a clean trip or if he still would have been second-best. I really hope that the former is true, because otherwise the glacial 13 3/5 second pace for the final furlong would be a major concern. If ever there was a race for a horse that should be overlooked, this seems like a good candidate.
Prior experience: The race before the Louisiana Derby was the horse's biggest and most impressive win - not tough because he only had two wins, and the first was in a maiden race. He was thoroughly professional crossing the wire first in the Risen Star. He settled well off the pace early, made a move into the stretch, and won by the narrowest of margins after a hard-ridden charge. It was particularly impressive because in the paddock before the race he was almost out of control, so it was something of a surprise to see him settle down for the race. A nice effort. Before that, though, he had raced in four graded stakes and had never finished better than third. That means that we are faced with the challenge of determining whether the Risen Star effort was legitimate and repeatable or if he just had a particularly good day that day.
Trainer: This is yet another entrant for Todd Pletcher - one of at least three and possibly four that he will have in the Derby field. Having a big portion of the field is getting to be old hat for Pletcher. What isn't happening with frequency, though, is winning. Pletcher has had 36 starters in the Derby over his career, and Super Saver in 2010 was his only winner. It remains more than a little mystifying how a trainer who is so incredibly good at getting horses into the Derby field can be so bad at getting them to run their best on the big day. While it would be going too far to say that it's a bad thing to have Pletcher as the trainer for a horse in this race, it certainly doesn't give the horse any bonus points from a betting perspective.
Jockey: Mike Smith had ridden this horse in his last two outings, and he seemed to be a good fit for the most part. He was also the rider of Hoppertunity, though, and chose that horse over this one for the Derby. Finding a replacement was an easy task for Pletcher, though. John Velazquez is Pletcher's most common rider, but his winter and early spring was disrupted by an injury suffered on Breeders' Cup day. That meant he wasn't previously attached, and he will step into this saddle and do just fine.
Breeding: Starlight Racing, which owns this horse, also raced Harlan's Holiday, the sire. That horse won the Florida Derby and Blue Grass Stakes back in 2002, when that double was possible, and then finished sixth in the Derby. He never won a race at a classic distance, but he had several strong showings. As a sire he has had successes like 2012 champion two year old Shanghai Bobby; Into Mischief, who is the sire of Derby entrant Vicar's In Trouble; and Denis of Cork, who was third in the Derby in 2012. Intense Holiday's damsire is Unbridled's Song, the winner of the 1996 Wood Memorial and Florida Derby. He was the Derby favorite that year but finished fifth. He is the son of Unbridled, the 1990 Derby winner. Unbridled's Song died last year, but not before siring many great runners with stamina to spare - last year's three year old champ Will Take Charge, Eight Belles, Dunkirk and several others. In short, then, the horse has plenty of stamina influences to draw from and should have a good chance to handle the distance.
Get free picks from any of Doc's Sports Advisory Board of expert handicappers - and with no obligation or credit card. You can use these free picks for any sport, and you will never deal with a salesman. Click here for your free Doc's Sports picks.
Read more articles by Trevor Whenham