2014 Kentucky Derby Betting Tips and Wagering Advice
by Trevor Whenham - 4/22/2014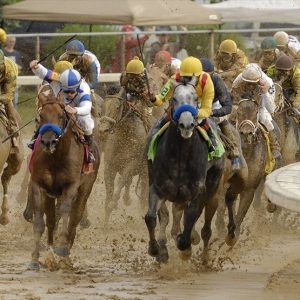 The Kentucky Derby is never an easy race to handicap. When it is as ridiculously wide-open as it is this year, though, handicapping it becomes an almost impossible task. To help you wade through the very murky picture this year to find the winners, here are five Kentucky Derby betting tips:
Look deep
Most years, my advice here is typically to look beyond the elite contenders and consider the next tier of contenders because that's where the winners often come from. The problem this year, though, is that aside from potentially California Chrome - and I am not alone in being somewhat skeptical of the favorite - there aren't any truly elite contenders that have emerged from the crowd to stand out above the rest. People say that parity has come to the NFL or MLB. Well, this year is the ultimate in Kentucky Derby parity - you can make an argument for most of the field, and you can't really automatically throw any horses out without worry. There will obviously be some horses that you like more than others and some that you just don't believe in at all. No matter what, though, your approach to successfully handicapping this race will require you to find ways to cover a lot of horses and a lot of different possibilities and outcomes. This is not the year to go all in on one horse.
It's all about the payout
As with all successful handicapping, those who are looking to profit over the long term should be less concerned with which horse is most likely to win and more concerned about which horses are more likely to win than their odds suggest. When a field as deep and wide-open as this one, you need to be particularly concerned about where the value is. You will likely be betting several horses, so having some value in each of those horses, or at least in most of them, can lead to some very attractive bets despite the overall uncertainty in the race. In other sports you have to be very aware of the public teams - those that the public will bet on disproportionately no matter what the circumstances are because of a star player, because they play in a big market, or because of a history of success. In this race there are going to be public horses that draw more attention than they otherwise might, and bettors need to be aware of them and what they mean. Jockeys like Gary Stevens, Mike Smith and Rosie Napravnik are superstars who draw public bettors regardless of who they are on. Calvin Borel has a magic touch in this race that the public embraces - even when he is riding poorly as he is this year. Graham Motion will draw added attention for Ring Weekend after winning with Animal Kingdom. Bob Baffert is always a star at the Derby.
Be very choosy about the trends you use
There are no shortage of trends you can follow in the Derby . The problem is, though, that you can use trends to identify virtually every horse in the field and also to eliminate every horse. If you pay too much attention to too many trends you'll just get confused and overwhelmed, and you'll wind up essentially guessing in the end. Instead of trying to be sure you are riding every trend, figure out what makes sense for you and judge accordingly.
Pace makes THIS race
They say that the pace makes the race, and that is rarely truer than in the Kentucky Derby. If there is a lot of early speed - like there is likely to be this year - then it can be tough for a horse that needs the lead, or one that needs to be just off of it, to run their best race. On the other hand, that rapid early pace could set things up well for closers - though there aren't many of those this year. Aside from breeding, there is no bigger factor in this race in my eyes than the pace scenario. Study it, imagine how you expect the race to play out, and pick your horses accordingly.
Maintain your perspective
There are 20 young horses running in a chaotic setting at a longer distance than they have ever run and longer than most are meant to run. Picking a winner in this race is very, very tough. That doesn't mean you shouldn't try -- there is nothing I like better each year in sports than trying to decode this race. It just means that you have to have a realistic perspective and know that losing is a very real possibility. Bet money you can lose, know what the reality of the betting is, be smart, and have fun.
Want free sports betting picks? Doc's Sports has you covered - get $60 worth of picks free from any of Doc's Sports expert handicappers. Click here for free picks (new clients only).
Read more articles by Trevor Whenham