2014 Kentucky Derby Handicapping: Experience
by Trevor Whenham - 4/21/2014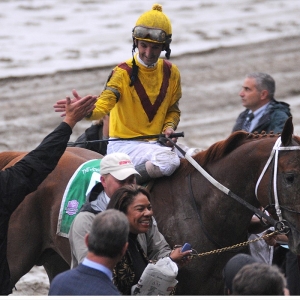 Each year it seems like thoroughbred trainers get more conservative and that horses get more fragile. As such, trainers and owners try to get horses into the starting gate of the Kentucky Derby with the fewest possible opportunities for them to get injured on the way. That means we are seeing more and more horses trying to overcome some serious trends against racing in the Derby with little prior experience. Of those trends, none looms larger than the Curse of Apollo.
In 1882 Apollo won the Kentucky Derby. In the 131 years since, we have not seen another horse win the race who, like Apollo, did not have at least one race as a two year old. All thoroughbreds have their birthdays on Jan. 1 regardless of when they were born, so that means that if a horse born in the last 131 years won the Kentucky Derby then you can be 100 percent certain that he ran at least once in the calendar year prior to his Derby victory. That is one powerful trend.
There have been no shortage of horses that have tried. In the last 58 years we have seen 49 horses try to mess with history in this way. The rate of occurrence has predictably ramped up in recent years. In the last 22 years we have seen 19 horses who debuted at three try to win the Derby. None have, and only three have figured in the trifecta. Bodemeister in 2012 and Strodes Creek in 1994 finished second, and Curlin was third in 2007. Last year Verrazano was amongst the favorites but ran a dismal race and finished 14th. In other words, if a horse didn't run at three and some serious warning bells don't go off in your head then you just aren't paying enough attention.
This year we will have at least one horse trying to break the Curse of Apollo, with the potential for a second if there are enough defections from the field between now and post time. Hoppertunity is definitely in the race barring a calamity , and Bayern is trying to get in. A couple of things stand out about the significance of those two horses. First, both are trained by Bob Baffert. He is far less concerned than many about how things are supposed to be done. Bodemeister was another of his. Second, the two horses actually made their debut in the same race on Jan. 4 at Santa Anita. Bayern cruised to a convincing win in the Maiden Special Weight, with Hoppertunity far back in fifth.
The Jan. 1 deadline seems like such an arbitrary date on the surface. After all, these horses only missed it by a few days. Other champs have not exactly piled up the experience as a two year old - Fusaichi Pegasus won in 2000, for example, after only making his debut on Dec. 11. It has held up with a consistency that so few trends do in any sport, though. So, why has it been impossible for horses that didn't run at two to win the Kentucky Derby? It's hard to pin down exactly, but here are a few major contributing factors:
Adversity
Whichever horse wins the Derby will have overcome massive amounts of adversity. A massive, unruly crowd drunk on bourbon by post time. A field far larger than they have ever faced, and a lot of bumping and congestion that comes with that. Early fractions that are usually fast and could be ridiculous this year. More distance than they have ever run before. There is no tougher race for a horse to win. Their chances of overcoming all that adversity and running their best on the biggest of days are much better if they have previously faced, and learned to overcome, adversity in their races. If a horse hasn't raced a lot then he hasn't faced those challenges before. If all his races have come in the four months before the Derby then he may not have had the time to learn from what has come before and to apply it in another race.
Conditioning
A mile and a quarter might not seem that far if you were going out for a jog, but for horses this young running at full speed this distance is a full-on marathon. Having the stamina to handle the massive challenge of the classic distance requires two things - breeding and a depth of conditioning. You can't rush the conditioning, and you can't experience conditioning gains from training that you can from races. When a horse has not raced at two then he hasn't been able to develop his stamina base as effectively, and he may not be at his best down the stretch in the Derby. If you combine that with stamina concerns from the pedigree, you have real cause for concern.
Why the delay?
Since we know that running at two is an advantage for horses in the Derby, and there are plenty of lucrative races in the fall for top-level two year olds, you always have to be a little skeptical when a horse chose not to run at two. Did he have a physical condition or an injury that limited him in the early stages of his training? Does he have maturity issues? Was there a complication with his training? Was he just not good enough? The absence of two year old races is always a cause for concern.
Get free picks from any Doc's Sports handicapper - there is no obligation for this offer and no credit card required. Just sign up for an account, and you can use the $60 in free picks for any Doc's Sports Advisory Board handicapper and any sport. Click here to get started now.
Read more articles by Trevor Whenham