2014 March Madness Bracket Picks: Midwest Region
by Robert Ferringo - 3/19/2014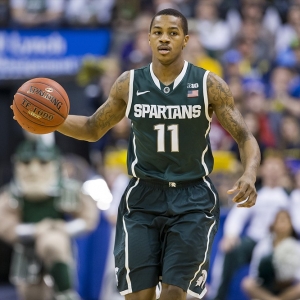 The top four seeds in the Midwest Region can go ahead and hold their own mini-Final Four this year.
Wichita State, Michigan, Duke and Louisville are four of the best teams in the country and among the favorites to cut down the nets in Dallas at the Final Four. And while the seeding of these four juggernauts has caused plenty of babbling from the bobblehead media this week, the reality is that it matters less what order they are presented in than it does what order they finish in.
Here are Doc's Sports 2014 March Madness bracket picks for the Midwest (Indianapolis) Region:
No. 1 Seed: Wichita State Shockers (34-0 Straight-Up, 24-6 Against The Spread)
I have made my feelings about Wichita State very clear . And anyone knocking the Shockers simply hasn't watched this team play. Wichita State is legit. And they posted one of the most profitable college basketball seasons of any team I can remember, covering the spread in a stunning 80 percent of their games despite being posted as a monster favorite. They won by an average of 15.9 points per game, so doubt them at your own risk. The last two teams from mid-major conferences to be posted as No. 1 seeds (UNLV in 1992 and Memphis in 2008) both went to the Final Four, and the last team from the Missouri Valley to be granted a No. 1 seed (Indiana State in 1979) did as well. This team is better than the one that came within minutes of the national title game last year. And if you think they are upset about a potential rematch with Louisville - the last team to beat them, nearly 12 months ago - then you don't know anything about these guys.
Wichita State March Madness Picks: Well, I just declared how legit the Shockers are. Now I'm going to say that they aren't going to the Final Four. Does that make me a hypocrite? I don't think so. This is an outstanding team. But I think they have a brutal path to Dallas, and they will get tripped up just short, similar to what happened to St. Joseph's back in 2004.
No. 2 Seed: Michigan Wolverines (25-7 Straight-Up, 16-13 Against The Spread)
The Wolverines, really, have been one of the nation's biggest overachievers this season. They lost the starting backcourt - including the National Player of the Year - and the best post player (Mitch McGary) from last year's national runner-up. Yet they won the Big Ten regular-season title and made it to the league championship game. They are one of the 20 youngest teams in college hoops with just one upperclassmen (Jordan Morgan) getting real time. Nik Stauskas leads a Wolverine attack predicated on 3-point bombardment. But this isn't some small team of shooters. Glen Robinson is one of several very athletic wing players that are capable of shooting the three as well as getting to the basket. They are also very solid defensively, surrendering just 65 points per game. John Beilein teams are always better as an underdog than as a favorite, though, and we'll see how this young team handles being one of the tournament favorites.
Michigan March Madness Picks: I think that Michigan is going to lose too early and bust some brackets. They'll have a tough Round of 32 matchup with either Arizona State or Texas. And if they survive that - I think they should - then I think Duke will knock off the Wolverines. One way or another I have a hard time seeing this weaker team making a return trip to the Final Four.
No. 3 Seed: Duke Blue Devils (26-8 SU, 18-15 ATS)
I thought that Duke was the top team in the country coming into the season. Jabari Parker and Rodney Hood give the Blue Devils one of the most explosive one-two punches in the sport, and this is one of the top offenses in the nation. This is also the most athletic crop of Blue Devils that we've seen in some time. But Duke is still incredibly soft. They run primarily three- and four-guard offensive sets. That leaves them incredibly vulnerable on defense in the paint, and teams that pound the boards can beat up the Devils. Also, Duke's guards really don't have a lot of chemistry with one another, and I have thought that Coach K. has mismanaged this team by playing Tyler Thornton and Rasheed Sulaimon too much and not playing Marshall Plumlee and Andre Dawkins enough. If he comes to his senses then this team could play on through this brutal bracket.
Duke March Madness Picks: I think Duke has the talent to get to the Final Four. But they have such a glaring weakness in the paint that I don't think they can win a title. They will play well but will come up short.
No. 4 Seed: Louisville Cardinals (29-5 SU, 19-13 ATS)
I hate to ditto the bobblehead media, but the truth is that Louisville was absolutely screwed with its seeding. The Cardinals should've been at least a No. 2 seed but was instead tossed into the Midwest as a No. 4. All the selection committee has done is give the defending National Champions even more motivation. As if they needed it. The Cardinals won the American Athletic Conference regular-season and conference tournament titles, and they enter The Big Dance on a 12-game winning streak. You should know most of the primaries on this team. Russ Smith is the electric lead guard. Montrez Harrell is a beast in the post. Luke Hancock serves the role of ultimate X-Factor. They have several talented role players filling in around that core, and this team has absolutely dominated opponents, winning its last three games by an average of 29.2 points per game.
Louisville March Madness Picks: The Cardinals have the goods. They have talent, balance, experience and great coaching. Now they have extra motivation to go along with it. I don't know that the Cards are good enough to win back-to-back banners, but I can see them coming out of this bracket.
No. 5 Seed: St. Louis Bilikens (26-6 SU, 10-19 ATS)
The Bilikens aren't limping into the NCAA Tournament - they are being dragged in on a stretcher. They have lost four of their last five games and didn't make it past their first game in the A-10 tournament. St. Louis is one of the most experienced teams in the country, with five senior starters doing most of the dirty work. This is a grinding defensive team - rated No. 8 in the nation in defensive efficiency - and they barely lost to Wisconsin and Wichita State this season. Jordair Jett is a stud, and St. Louis' chemistry is off the chart. But they are streaky shooting from the outside, and no one outside of Jett can really get to the basket with any regularity. I think they've had a great season, but it should be ending pretty soon.
St. Louis March Madness Picks: St. Louis is a good team. But they are overmatched and have been exposed as the season has worn on. I think their ceiling is two games - and that is because they are one of the most experienced teams in the country - but I think they are destined to lose a heartbreaker.
No. 6 Seed: Massachusetts (24-8 SU, 16-15 ATS)
Everyone was so busy discussing the merits of Wichita State's No. 1 seed that they overlooked the fact that Massachusetts was probably the most overseeded team in the tournament. On what planet is UMass a No. 6 and Connecticut a No. 7 seed (in the East)? The Minutemen were hot early in the year, getting off to a 16-1 start. But they have been extremely average since then while going 8-7. Point guard Chaz Williams is one of the fastest and most talented guards in the nation. Four athletic players standing 6-8 or taller, including Raphael Putney and Cady LaLanne, surround him. But the Minutemen play like an And-1 all-star team. They take bad shots. They don't rebound. They don't get back on defense. These guys have used their raw talent to beat teams all year. But now that they are dancing with teams from major conferences - they will take on the winner of the Iowa-Tennessee play-in game - they won't be able to get away with that.
Massachusetts March Madness Picks: I don't see the Minutemen beating either Iowa or Tennessee. They should not have been seeded this high, and their dance will be short and sweet.
Best first-round matchup: No. 8 Kentucky vs. No. 9 Kansas State
Both teams spent the majority of the season fondling the Top 25. And both packs of Wildcats have slain Top 10 carcasses this year, with Kentucky taking down Louisville and Kansas State handling Kansas. A lot of people have already penciled in Kentucky against Wichita State in the next round. But K-State freshman Marcus Foster - probably the least-heralded but most-accomplished of all the freshmen on the floor - and the Big 12 rep will be extremely motivated. Also, Kentucky has beaten just one team ranked in the Top 60 since Jan. 18 (Tennessee, at home).
Best potential second-round matchup: No. 1 Wichita State vs. No. 8Kentucky/No. 9 Kansas State
I think that Wichita State is going to take care of whichever squad wins the 8-9 opener. And it should be a great game to boot. Kentucky's size could neutralize Wichita State's play in the paint and on the boards. And if Kansas State advances, it would neutralize a bit of the Shockers' "home"-crowd edge. Regardless, it will be good to see Wichita State get to shove it down the throats of every two-bit ESPN bobblehead that has doubted the legitimacy of their top seed.
Upset Alert (Round of 64): No. 6 Massachusetts vs. No. 11 Iowa/Tennessee
I think that either Iowa or Tennessee could actually be favored over the Minutemen, so I'm not sure how much of an upset this would be. I like UMass. I do. But these guys just don't do enough of the little things that you need to execute to survive in March. Iowa has lost six of its last seven games. But they have a sickening amount of close calls this year and are better than their record suggests. Tennessee has enough size and talent to push back against the Minutemen and a guard, Jordan McCrae, that is at least the equal of Williams. Plus, either Iowa or Tennessee will have a little momentum behind them after winning the play-in game on Tuesday.
Upset Alert (Round of 32): No. 2 Michigan vs. No. 7 Texas
I can't pinpoint it, but I have a feeling that Michigan should be on Upset Alert this weekend. They were brilliant in the Big Ten tournament - when their 3-point shots were falling. But if that well dries up then Michigan is vulnerable. This team barely beat middling clubs like Stanford (68-65) and Florida State (82-80) on neutral courts earlier this year and has lost to bad teams like Charlotte and Indiana. So they are beatable, and Texas is big enough and strong enough to take them down.
Dark Horse Team: No. 3 Duke
I know: I'm surprised as well. But the fact is that the Blue Devils are flying a little bit under the radar in this bracket. And that NEVER happens. But everyone is so up in arms about the respective seeding issues of Wichita State and Louisville that Duke is simply lingering at the bottom of the bracket. I think the Blue Devils have a walk into the Sweet 16. There they could meet Michigan, a team they already beat by 10 points this year. And if they are still playing in the Elite Eight it means they are shooting the ball well. When that happens, they are tough to stop. Duke always has to take everyone's best shot in March. I think they have a team that can punch back and fight its way to Dallas.
Team That Makes Me Nervous: No. 2 Michigan
Again, I just am unsure about Michigan. They were probably the least exciting regular-season champions in a major league in the country. And since they pulled off the Wisconsin-Iowa-Michigan State sweep in late January they have been just OK, going 9-4, with all four losses coming in double-digit blowouts. I get a little anxious about teams that are too reliant on 3-point shooting. Unless they're going in. If you underestimate the Wolverines you'll be kicking yourself. But I just have a feeling this team is a bit overrated right now, and they could be headed for a premature exit.
2014 Midwest Region Schedule and Odds:
No. 12 Xavier (-2.5) vs. No. 12 N.C. State (9 p.m., Tuesday, March 18)
No. 16 Texas Southern (+3) vs. No. 16 Cal Poly (6:40 p.m., Wednesday, March 19)
No. 11 Tennessee (+1.5) vs. No. 11 Iowa (9 p.m., Wednesday, March 19)
No. 2 Michigan (-16) vs. Wofford (7 p.m., Thursday, March 20)
No. 4 Louisville (-16) vs. Manhattan (9:50 p.m., Thursday, March 20)
No. 3 Duke (-13) vs. No. 14 Mercer (12:10 p.m., Friday, March 21)
No. 8 Kentucky (-5) vs. No. 9 Kansas State (9:40 p.m., Friday, March 21)
2014 Midwest Region March Madness Picks: I don't think that this region is as difficult as everyone is making it out to be. I think that the top four seeds have pretty easy roads into the Sweet 16, although one of them (maybe Michigan) probably won't survive the opening weekend. If they do then we're looking at a dynamic regional final in Indianapolis. Duke hammered Michigan in the first meeting this year back in early December. I think they'll do it again here. And I think that Louisville has just enough to hold off Wichita State in a Final Four rematch from last year. I also have the defending champions coming out of this region, winning a brutal matchup with the Blue Devils, and I think the Cardinals will make a return trip to the Final Four.
Robert Ferringo keeps proving himself to be one of the best college basketball handicappers in the nation. Robert has posted 12 of 17 winning college hoops weeks and 17 of 20 winning college hoops months. He has banked over $10,100 in profit with his side plays this year and $17,100 in profit since Nov. 11, 2012. Robert is a profit machine and you can take advantage of our free, no-strings-attached $60 credit to use toward a purchase of Robert's college basketball selections. CLICK HERE for $60 absolutely free!
Read more articles by Robert Ferringo