NCAA Basketball Handicapping: Wichita State Legit Title Contender
by Robert Ferringo - 2/27/2014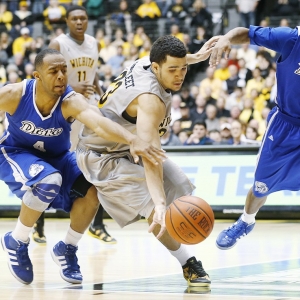 One of the biggest debates in college basketball right now involves the Wichita State Shockers. Most basketball analysts are fighting over their ranking and potential seeding for the NCAA Tournament, while basketball bettors are wondering what value the Shockers have as a national title contender.
Wichita State is currently No. 2 in the nation thanks to their record-setting 30-0 record. The Shockers became the first team in Division I history to reach 30-0 during the regular season when they walked past Bradley on Tuesday.
Sportsbook.ag has Wichita State as +1200 to win the NCAA Tournament. They have the eighth-best odds to win the national title, tied with Kentucky. Florida (+500), Kansas (+700) and Michigan State (+800) are the current frontrunners to cut down the nets in Arlington, Texas.
But there are still a lot of respected media bobbleheads and many more casual basketball observers that still doubt the bona fides of this group. Are they for real? That seems to be the question that everyone is asking and few are answering.
Let me answer: yes, the Shockers are for real. Wichita State is absolutely no joke, and anyone doubting whether or not this team is one of the best squads in the country simply isn't paying attention or doesn't know college hoops.
While some bobbleheads are giving their take on why Wichita is underrated, I feel pretty confident saying that the Shockers have been perhaps the most underrated team in college basketball this year. They are an incredible 20-6 against the spread this season, making them the most profitable wager in the game. They are monster favorites in just about every conference game – and they've still managed to cover roughly 77 percent of the time.
This year's version of Wichita State is even better than last year's national semifinalist team. That squad went 30-9 and earned a trip to the Final Four, where the Shockers were a few bad calls and a second-half collapse away from a slot in the national title game.
Four of last year's top seven scorers for Wichita are back. Leading scorer Cleanthony Early is again the team's primary option. Two-guard Tekele Cotton continues to provide a steady veteran hand on the perimeter. And perhaps the biggest difference and driving force behind this year's enhancement has been the improved play of sophomores Ron Baker and Fred Van Vleet.
Baker played in just 18 games last year thanks to an injured left foot. Van Vleet was a backup point guard averaging just 4.3 points per game. But these two have staved off any sophomore slump and are as good as any 1-2 punch in the country. They combine to average 25.4 points and 8.4 assists per game while shooting a combined 47 percent from the floor.
Baker and Van Vleet, along with the veteran Cotton, give the Shockers a multifaceted backcourt. Guard play wins in March. And Wichita State has one of the best combinations in the league. They can shoot, handle the ball, and they have a deft understanding of their offense. They combine for a nearly 3-to-1 assist-to-turnover ratio, and according to stats guru Ken Pomeroy Wichita State is No. 10 in the nation in adjusted offensive efficiency.
The Shockers get it done on both ends. And defensively is where the real strength of this team lies. They are No. 14 in adjusted defensive efficiency and No. 14 in the country in points per game allowed. This team plays suffocating man-to-man defense, allowing opponents to shoot just 39.7 percent from the field and just 30.9 percent from 3-point land. Those numbers compare favorably to anything that Arizona, Louisville, Florida, Virginia or Syracuse are capable of.
The main shot that bobbleheads have been taking at Wichita State involves their schedule. The seemingly accepted mode of thought is that, "Yeah, Wichita State is 30-0, but they haven't played anyone. Not like the other top teams." I will grant a modicum of validity to that criticism.
However, while the Missouri Valley is having a down year, it's not some pushover league. This isn't the Sun Belt or the Ohio Valley. The Missouri Valley is rated the No. 11 league in the land this year. But it has traditionally been one of the top seven or eight in the country. Indiana State is a bubble team. Northern Iowa has a win over VCU and took Iowa State to overtime. So there is some competition among this group.
Wichita State has the No. 134 ranked schedule in the country. They have a quality win over fellow Top 10 team St. Louis, they handled Tennessee, and the Shockers have true road wins at Alabama and Tulsa. The Shockers also beat a talented BYU team on a neutral court and won at both Indiana State (by seven) and at Northern Iowa (by nine). It's not great, but I've seen major conference teams with flimsier resumes.
Further, Wichita State isn't just beating teams – they are demolishing them. Their average margin of victory for the season is a whopping 15.2 points per game. Their last five wins have come by 20, 29, 14, 16 and 21 points. And only three of their last 18 opponents have stayed within double-digits. That is domination.
Wichita State has a chance to wrap up a perfect regular season when they host Missouri State. I am projecting them as around an 18-point favorite against a Bears team that took the Shockers to overtime on Jan. 11. They will win that game and then head to Arch Madness – the Missouri Valley Conference tournament in St. Louis beginning on March 6.
I don't see anyone beating the Shockers in St. Louis. I think they will go into the NCAA Tournament undefeated, and I think that they deserve a No. 1 seed in the Midwest. That might anger the Kansas crowd, but the Jayhawks will have at least six losses in their jacket by then.
I also don't think that the pressure of the undefeated season is going to overwhelm this team. Wichita State is legit. They have excellent guards, they execute flawlessly within their system, and they are one of the top defensive teams in the country. They have Final Four experience, a strong coach, and they should have a favorable path in the Midwest Region.
That said, while I wholeheartedly believe that they are a title contender, I also think that most of the betting value is gone. The books have taken a pounding from the Shockers this year, and I don't expect that 20-6 ATS mark to continue. The betting value on this team in March will be nil. But I also don't think that it is wise to simply bet against them from here on out because the public is still misjudging them.
Sit back and enjoy the show. Wichita State is a great basketball team taking a shot at history. And anyone that doesn't think they deserve their spotlight is someone whose bets I would book any day.
Robert Ferringo is a lead writer for Doc's Sport and one of the top college handicappers in the country. Robert has posted 10 of 13 winning college hoops weeks and 17 of 20 winning college hoops months. He has banked nearly $8,000 in profit with his side plays this year and nearly $15,000 in profit since Nov. 11, 2012. Robert is a profit machine and you can take advantage of our free, no-strings-attached $60 credit to use toward a purchase of Robert's college basketball selections. CLICK HERE for $60 absolutely free!
Read more articles by Robert Ferringo